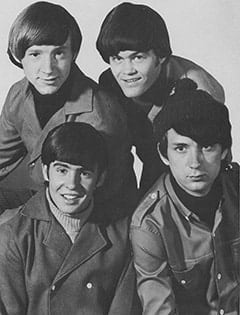 Here's what you've been waiting for: Thanks to your thousands and thousands of votes, the Monkees make their debut in the TS Place Of Honor this issue!
Individually, the Monkees are Mike Nesmith, Mickey [sic] Dolenz, Peter Tork and Davy Jones.
Mike was born in Dallas (Actually Houston), Texas on December 30, 1942. He taught himself to play the guitar and got his start in show business as a country-western singer-guitarist. He branched out into other sounds and was performing at a Los Angeles folk club (Ledbetter's, of Randy Sparks fame) when he was urged to audition for a TV pilot film about a rock group. The rest is history!
Mickey [sic] Dolenz, the long-legged, Hollywood-born drummer is the son of an actor, and has been working in TV since the age of ten. He began as the star of the "Circus Boy" series, went on to guest-starring on shows like "Mr. Novak" and "Peyton Place," and last but not least (hardly!) he became a Monkee!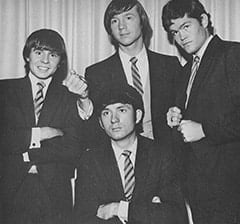 Peter Tork was born in Washington, D.C. on February 13, 1942. He originally planned to become a teacher (he attended Carleton College in Minnesota for three years) but his interest in music finally got the best of him. Now we're getting the best of him as he channels his many talents into Monkee-ing around!
Davy Jones hails from Manchester, England where he was born on December 30, 1946 (Actually 1945). Small-but-mighty, 5'3" Davy started out as a jockey and later went into acting. He had leading roles in two top stage productions ("Oliver" and "Pickwick"), and came to the attention of American audiences when a road company of the latter show arrived (and how!) in this country. Davy's singing and acting talents made him an absolute natural for a role in "The Monkees."
Collectively, the Monkees are absolute dolls. They not only have one of the greatest-not-to-mention-wildest TV shows of the season (on NBC). They're also top hit makers, and every disc they record for RCA-Victor zooms right straight to the top.
After you've finished swinging through various trees because this fab color pinup of the Monkees is THE absolute, let us know who you'd like to see swinging in the TS Place Of Honor next! Your voting ballot appears in this and every issue of TS.