"The first time I saw Peter I didn't particularly notice his act, but when I heard his 'spiel' afterwards I nearly fell over."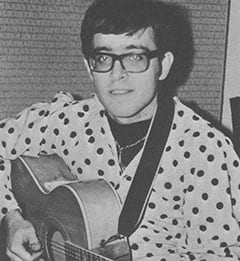 Lance Wakely arrived in Greenwich Village about the same time Peter Tork did. The Village, as you probably know, is the center and meeting place for the talented, but unemployed, "folk" singers and musicians of the world. From the street corners, coffee houses and "basket clubs" of the Village have emerged such stars as Peter, Paul & Mary, Bob Dylan, The Mamas & The Papas, the Lovin' Spoonful and many others. The newest name in the Village "Hall Of Fame" is Peter Tork.
Lance Wakely still lives in the Village, and over the years has acquired what is probably the highest honor in all folkdom: from the famous stars to the least-known Villager, Lance is considered the best guitar player on the scene. They call him "the guitarist's guitarist". One day you'll be reading Lance's story in the pages of 16. Meanwhile, listen to Lance as he takes you back through the years to the penniless but happy days when he and Peter Tork were buddies.
The first time I saw Peter Tork was in a Greenwich Village "basket house" called The Pad. In those days, "basket houses" were all the rage. Unemployed singers and musicians would wander into a coffee house and, with the permission of the manager, would sing a few numbers and then hopefully pass a basket—explaining to the audience that that was the way they got paid. There were lots of guys who did this, but Peter was one of the most successful—and I might add that he never passed a basket; he passed his banjo. But we'll get to that later in the story.
In March, 1963, I arrived in the Village from Chicago. I had been playing acoustical guitar and had been singing for two years with groups and also alone. I had my own rock 'n' roll band in high school, and as a counsellor in summer camp I'd learned a lot about folk music. When I heard the Kingston Trio for the first time—that did it! I decided that I had to be a folk musician. I was 17 and too young to play in Chicago clubs, so I decided to go to New York—to the "great Greenwich Village"—where I "wood shed", "pay my dues" (meaning learning and rehearsing), and then go on to become a famous folk musician. I hitchhiked to New York and arrived in the Village, but I wasn't alone for long. It's easy to make friends there, and there's always someone who will put you up for a night.
The first time I saw Peter was in The Pad, where he had come to do a guest set. I later learned that he had been hanging around MacDougal Street (we called it "Funnyville") for quite a few weeks. About that time Casey Anderson, a folk singer, was holding informal song-swapping sessions at a coffee house that used to be called Abdo's—and Peter used to play there, where he had already gained a reputation as a pretty good banjo picker. Actually, he stood out from the crowd, because he seemed to have a more complete formal music background than the others. For instance, he played the first baroque arrangement of an Elizabethan folk song that I had ever heard—and if you listen to Donovan's latest LP, you'll see that that is exactly what he (Donovan) is doing now.
Anyway, Peter (or Tork, as most of us called him) came into The Pad to do a "guest set"—that meant he was working in another coffee house, but came over to fill in for someone who couldn't make it to The Pad. He had practically no hair (by today's standards, that is) and it was combed straight back. He wore a red-checked hunting jacket, a blue sweat-shirt, beat-up jeans, dirty sneakers, a bedroll on his back and his banjo—which always hung around his neck. I didn't particularly notice his act, but when I heard his "spiel" afterwards I nearly fell over. He really knew how to get the customers to shell out.
"Ladies and gentlemen," he would say, with a great flourish, "as you know, we poor folk singers don't get paid by the management—so we are forced to pass the basket and place ourselves at your generous mercy. If you like what I've done, please make a contribution. This will help keep me off the streets at night, get me a good spaghetti dinner once in a while, and enable me to buy stamps to write home to dear old mom. Now, I'm going to pass my banjo around and if you put in silver it will go 'clink-clink,' but—ah!—if you put in folding money, I will go 'swishhh!' Now, if I go 'swishhh,' everybody will know that you are not only a music lover, but a great philanthropist."
At this point, Peter jumped off the stage and began to pass his banjo around. I was amazed at the "clinks" and "swishhhs" he got from the audience. He was really different; he was funny. He had more personality than all the rest. I remember thinking even then that Peter wasn't just a musician. He was more of an all 'round entertainer.
A few days later I bumped into Tork again, and became aware of another of his outstanding characteristics. He was friendly. In fact, he was the friendliest guy in Greenwich Village! He came right up to me and started talking. Soon, we were having coffee together, and soon we were planning to do sets together. Before I go into that, however, I must tell you about one particularly funny night when I dropped into the Playhouse Cafe while Peter was working alone.
"And now, ladies and gentlemen," I heard him saying, "I'm going to sing you a couple of original tunes. You may not know it, but I have a little brother who is a great songwriter. As a matter of fact, he's working on a complete musical score for the theatre right now. His name is Nick Tork, and you'll be hearing a lot about him one day." Then he launched into one of the most ridiculous and funny tunes I have ever heard. All I can remember about it is its title—Under The Undertaker Gah Goo-Gah. When the audience "revived", Peter launched into another of his brother's ditties—all about an alligator named Albert, who got flushed down the toilet! Well, some of the Village cats may have sneered at that, but the audience ate it up—and Peter got even more "clinks" and "swishhhs" in his banjo!
Another thing about Peter was his willingness. Although all of us wanted to work in the "basket houses", it was hard to get one person to go on stage and get the show started. Peter would always do this—and in a very cheerful manner. He was that somebody you could count on. He was very dedicated to his music and very ambitious, and even though he had a lot to learn vocally and musically there was an aura about him that made all of us feel that if anybody was ever going to make it big time from the Village, it would be Peter Tork.
Peter was also very much the "imp" of the Village. He was like a funny genie, with a lock of hair falling across his forehead and a big smile on his face (except when he would grimace, stick his tongue out and perform various rubber-face antics for the audience). He was very popular with the girls who would come to the Village with their parents on a Sunday afternoon, and—believe it or not—many of the parents were straight-out Tork fans! His songs were accompanied by a good deal of light, humorous patter. In fact, he talked a lot. He sometimes tried to intellectualize his tales and often became tongue-tied and confused in doing so—which only made the audience love him all the more. He always "wrapped up" his act with a classical piece, carefully plucked out on his funky banjo, sans vocal. It usually ended in a race—with Peter's fingers always losing by a few notes here and there. But with his performance he left a happy house—and, as a result, he was very much in demand.
Along about this time I had become friendly with Ned, one of the Phoenix Singers, and I would stay in Ned's apartment while he was on the road. Peter and I were playing sets together now and then, and when Ned asked me to join the back-up group of the Phoenix Singers, he told me they were also looking for someone to replace a fellow named Steve, who had been drafted into military service. Steve played both guitar and banjo and Peter was the only guy in the Village I knew of who could do that too, so I recommended him.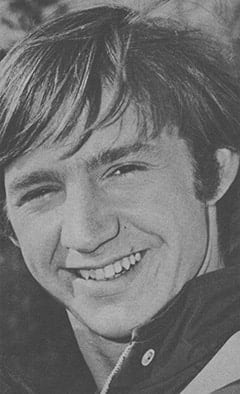 At this point, Peter was living in a three-room, cold water flat on Bedford Street. You'd have to see the place to believe it. It came complete with assorted bugs (you name 'em—his pad had 'em, from roaches on down). Since neither of us could afford a choice in the matter, I moved in with him and we set about decorating the place in "contemporary side-street" (that is, discarded furniture we found in the various Greenwich Village alleyways) and Salvation Army specials. Believe it or not, we didn't even have a shower—so we used to have to "borrow" the shower of the two girls who lived upstairs!
Here's as good a time as any to talk about girls. Next to his music, girls interested Peter Tork more than anything else in the whole wide world. He loved them all—and most of them loved him. Peter wasn't tall, dark or handsome, but he made up for his liabilities with his great warmth, enthusiasm and sense of humor. He was also basically a very kind and giving person. He just had a way of making people happy even when he was broke, freezing cold and there were no prospects for work in the future. That Pied Piper-ish quality Peter had attracted girls of all shapes and sizes. He had many brief romances and a couple of very serious ones, and even to today Peter is still good friends with almost every girl he knew, dated, or fell in love with during his Greenwich Village days.
More about all that later—like in the April issue of 16. It goes on sale February 21. So I'll see you then!