The never-before-told stories about your favorites from the gal who PERSONALLY knows them all!…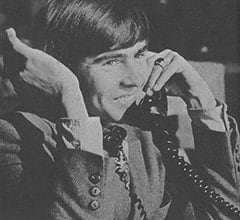 Raider rooters in Columbus, Ohio saw a fantastic show but without knowing, they missed the chance of a lifetime. The bus driver many of them may have passed in the back of the theater was no bus driver—it was FANG!
Hard to believe? The day DRAKE came back from his week-long stand with them he called to tell me all about it. "It was the funniest thing!" he smiled, "JIM and I met PHIL at the airport in Columbus, but he was still pretty weak and could hardly play. The five of them decided it might be good for the group if PHIL could see a total show and watch what everyone was doing.
"So we dressed FANG up in glasses, a bus driver's hat and a funky old jacket—actually it made him stand out more than ever. One girl came up and asked him what time it was, but she didn't recognize him! PHIL said he really loved the show!" Maybe at your next concert it will pay to look closely at the "fans" on either side of you!
Hearing HARPO singing "baby, baby, you're out of sight" the other day, I corrected him. "JIM, it's 'out of time,'" referring to CHRIS FARLOWE'S great single of the same name. And JIM informed me, "I know the words, but I think out of sight sounds better. Try it, it really works!" He was right. The words fit nicely!
The SONNY AND CHER fashion line has been so successful for the couple, that they are now planning to bring out a cosmetic line, accessories and other personal items for American young people. This couple should certainly be applauded for their terrific fan club organization, headed by their managers, JOE and HARVEY. There are no club dues. Members receive fan club cards and monthly newsletters and if they send only the necessary postage, they receive a selection of 8 by 10 photos of SONNY AND CHER. You can join by writing to The S & C International Fan Club, 8560 Sunset Boulevard, Suite 604, Los Angeles, California, 90069.
After finishing his part in "How I Won The War" in Spain, JOHN LENNON with his wife, CYNTHIA, arrived at the London airport looking very smart—he in a fur-collared suede coat, she in a double-breasted white jacket over an almost miniskirt. CYN sported the biggest smile I've ever seen and JOHN'S hair was combed BEATLE-style and not too short at all.
After two years of grueling work, HERMAN finally took a vacation. He and best friend, NORRIE DRUMMOND, searched for sun, but they traveled from the island of Jersey to Paris to Switzerland and found only wet, windy weather. After a week, HERMAN woke up on a Sunday morning and the sun was shining brightly. By this time it was an almost sad sight since this was the morning they had to leave to return to London!
TOMMY BOYCE and BOBBY HART, MONKEE music-men invited me to one of the MONKEES' recording sessions and I gladly accepted. Unlike the film set, their audience was small—there was the engineer DAVE HASSINGER (who also engineers on JEFFERSON AIRPLANE and ROLLING STONE sessions), another technician, Tommy, Bobby and me.
DAVY was putting a final voice on one of the more rocking tracks as PETER, MICKY and MIKE looked on. The song had an instrumental introduction and each time it was played DAVY broke into a wild JAMES BROWN imitation! He was great!
DRAKE LEVIN gifted his 14-year-old sister, LORI with the greatest birthday present ever—a phone call from her favorite MONKEE, DAVY JONES. Lori said, "I tried to be real calm while I was talking to him. I didn't cry until after we hung up!"
I visited JOHNNY RIVERS' new and very elegant home in Beverly Hills and found out he has some beautiful mementos. One, from the owners of the WHISKEY A GO GO, is a solid gold microphone—the exact one which helped bring him and the club into national prominance [sic]. In his bedroom, where he told me he wrote "Poor Side of Town", one wall is covered with photos from his Viet Nam Tour. He also has framed letters of thanks from President Johnson and General Westmoreland—a fine tribute to an outstanding entertainer.
SHORTIES: DAVE CLARK was one of the many stars to congratulate DUSTY SPRINGFIELD backstage after her BASIN STREET EAST opening. He and MIKE SMITH were in New York negotiating the DC 5's second flick.
On their highly successful European tour, in London the BEACH BOYS visited Carnaby Street and bought Edwardian suits. Over 1000 fans greeted them when they flew into the foggy city.
GEORGE HARRISON returned from his stay in India (where he was learning to play the Sitar) dressed in full East Indian garb. His teacher, RAVI SHANKAR, arrived a few days later in Western-style clothes!
THE HARD TIMES have brought a new concept to fan clubs. They don't have one fan club president, but five. And the five presidents are their mothers!
The night-time DATING GAME is coming up with some fantastic prizes! Just ask TOMMY ROE (the new addition to the 'ACTION' family) whom they sent on a weekend skiing date to Switzerland or IAN WHITCOMB who enjoyed a three-day stay in the Bahamas with his date.''
This is the last Meow-w-w-w column I'll be writing for TiGER BEAT, and for a lovely reason. I'm now the proud mother of a baby girl named Andrea, and I just don't have time to run with the groups like I used to. I'll still be the Associate Editor of TiGER BEAT, but from now on my hours are strictly 9 to 5.
Ann Moses will be taking over the column next month and I knew she'll do an outasite job keeping you informed on what's happening. Lots of luck, Ann, and please, all you TiGER BEAT fans, keep writing me. I still love to hear from you. Bye now, and thanks for everything.