WHERE IT'S HAPPENING—It's been a busy day so far! It's just before 3 o'clock on the day FLIP gets ready to go to press and between early this morning and a couple of minutes ago, GENE CORNISH of THE YOUNG RASCALS, NEIL DIAMOND, THE CYRKLE and MITCH RYDER & THE DETROIT WHEELS have breezed into our cheerful offices. It's a wonder we ever get any work done around here. But, then, living with the stars is half the work of putting out FLIP. The other half is putting their exclusive thoughts and pictures together for the world's best informed teen magazine readers—YOU!
THE REAL STORY BEHIND THAT CONTROVERSIAL STONES SHOT—"The photograph of us dressed as women was purely a giggle," said MICK JAGGER (via a London cable from FLIP's Keith Altham), "There's no particular inference or symbolism behind it. We just thought it was funny. The Beatles picture with the meat looked as if there was some thought given to it. This was just something that an American photographer thought up on the spur of the moment. It's not meant to be nasty. We think it's humorous but then maybe our humor is nasty. People must make up their own minds."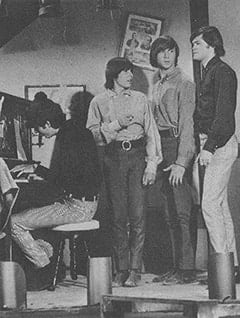 STAR SCAM—THE BEACH BOYS announced their arrival in London by putting out posters on 600 of London's scarlet double-deck buses . . . GENE CLARK, who still appears with THE BYRDS when they appear in Los Angeles (but won't travel with them because he hates to fly), is now a solo star for Columbia Records . . . CHAD AND JEREMY & FRIENDS hope that their touring pop show of the same name works out . . . Instead of presenting a whole gang of performers C & J feature only four acts, all of whom are introduced by Chad and Jeremy, with whom they also casually chat . . . It's an exciting and different format which most pop people hope works . . . SERGIO MENDES & BRASIL '66 are one of the fastest-rising groups in the world . . . They have a very special sound all their own . . . THE ROBBS, THE RAIDERS and THE HARD TIMES get along very well on "Where The Action Is." . . . And all the Action people agree that the secret star to whom much of the show's success is credited is STEVE ALAIMO . . . Steve is the backstage spirit of the show . . . DICK CLARK, for one, recognizes his incredible importance to the show . . . PAUL McCARTNEY will write the music for HAYLEY MILLS' next movie while JOHN LENNON finishes up his acting chores in Germany, where his cut hair was given away to German teens . . . GEORGE HARRISON and RINGO STARR don't have any definite solo plans yet . . . But they'll probably come, if BRIAN EPSTEIN has anything to say about it . . . Watch for The 3-½, one of the cutest singing groups in the country . . . They toured with HERMAN'S HERMITS this summer and won thousands of fans . . . THE MONKEES getting a reputation as a difficult group . . . Which is kind of a shame for four nice guys . . . Did you know that THE TURTLES travel about 200 days out of each year? . . . Don't know whether THE CHICAGO LOOP or THE 13TH FLOOR ELEVATORS is the wilder name . . . MEL CARTER met GEORGE HAMILTON, who is supposed to be as closeasthis to LYNDA BIRD JOHNSON, during his recent trip to New York . . . NANCY SINATRA also happened by, and Mel's trip suddenly became twice as exciting as it was to begin with . . . DONOVAN may be visiting soon.
FINAL SCOOPS—HERMAN just took a well-deserved vacation with one of his best friends, BOB LEVINE, and they went castle-exploring during their three weeks of romping through Merrie Olde England . . . THE RAIDERS will have some big news soon . . . THE KINKS hoping to visit soon . . . THE YOUNG RASCALS sell out more concerts than some of the groups which are supposed to be bigger . . . They must be doing something right! . . . And we'll be back in the merry March issue of FLIP—on sale January 10th! Happy New Year!