What's new with your favorites from coast-to-coast!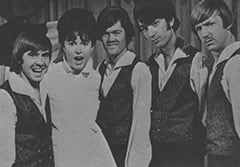 RECENTLY, the MONKEES gave a surprise birthday party for their favorite cameraman, "LIPPY". He is a particular friend of MICKY's, as he used to shoot Circus Boy, in which MICKY used to star! . . . What's this? The BEATLES have only one LP to go for Capitol, and then they split? My guess is that they will form a label of their own—or else stay with Capitol . . . HERMAN gifted his mum, dad and two little sisters with a trip around the world, but they'll be back for Christmas so that HERMAN can spend a cozy Yuletide at home with them . . . Pontiac gave each of the MONKEES a GTO: PETER & MICKY got red ones, MIKE got a white one, and DAVY's is blue with a black top . . . Another MARTIN joined the family's show-biz ranks when DINO SR.'s lovely daughter, GAIL, debuted on her dad's TV show—like, good show, GAIL! . . . Same goes for MR. SINATRA's little girl, NANCY, on her U.N.C.L.E. stint . . . MARK LINDSAY was recently "adopted" by a trippy little black and white kitten, who just showed up at MARK & TERRY's (MELCHER, that is—and he's a boy, all you jealous ladies!) house one day and took over. MARK named his new roomie "St. Thomas"—as in the Virgin Isles, not in Aquinas . . . Whither BOB DYLAN? He is muchly missed . . . JOHN PHILLIP LAW just returned from doing an adventure flick in Spain . . . MIKE NESMITH insisted on washing off his pencilled-in moustache when he and the rest of the MONKEES were photographed with our ed, GLORIA, when she visited their set recently. Said it wasn't dignified. Now—if JOHN and PAUL could pick up on that— . . . DIANA ROSS of the SUPREMES did not marry the owner of Talma-Motown Records, BERRY GORDY (yet). Another ridic rumor, mates.
GARY LEWIS reported on December 5 to his Unc Sam and will be in the Army for two years. He and the PLAY BOYS have quite a few records left in the can, and they will be released right on schedule. Also, GARY will do an occasional TV show and some special appearances during his tenure, so maybe it won't be so bad, after all . . . Australia's No. 1 male singer, ROBIE PORTER, is now living in the U.S. and is recording on MGM Records. His first LP is out and it is bee-you-tee-ful—don't miss it! . . . Singer-comedian TED MARKLAND is now an actor, and a aurned good one, podner. Dig him on Bonanza for an opener . . . LUKE HALPIN just signed to star in Ivan Tors' production of Lost Island—a film which may turn into a TV series. Hope so . . . No pix of groovy LEONARD NIMOY (alias Dr. (Mr.) Spock of Star Trek) sans (that means without in French, cherie) his pointed ears and outerspace (as in spaced-out) make-up. Wunner wha' he really looks like? . . . DD & B will play the Steel Pier in Atlantic City this coming Easter. See ya' there! . . . Lovely Miss 16 of 1967 received the key to the cities of Biloxi and Ocean Springs, Miss., when she returned home . . . BOBBY DARIN appeared with PET CLARK on The Andy Williams Show before de-planing for England, where he is doing a flick with GERALDINE CHAPLIN and JAMES MASON.
Contrary to rumor, SANDY BULL (the world's most gifted young guitar and other string instruments player) is NOT dead. He is very much alive in New York City working on his third Vanguard LP. If you missed either of his first two albums, you are the one who is dead. Go get! . . . To squelch another rumor—The Monkees DO sing & play on their own records—I know, I've been to their sessions. PHIL OCHS' first single record, Cross My Heart, is gonna be the living end—as is TERRY MELCHER's recording of Phil's tune, Miranda. If either of them ever get released by these two perfectionists! . . . GeeGee recommended LPs this month include Four Seasons Second Golden Vault Of Hits on Philips; Dave Clark 5's More Greatest Hits on Epic; Psychotic Reaction with the Count Five on Double Shot; Sugar & Spice by the Cyran' Shames on Columbia; Jay & The Americans' Greatest Hits, vol. 11, on U-A; Joan Baez's Noel on Vanguard; Percy Sledge's Warm & Tender Soul on Atlantic; Otis Redding's Dictionary Of Soul on Volt; Los Bravos' Black Is Black on Press; Manfred Mann's Greatest Hits on U-A; and—best of all—Simon & Garfunkel's fabulous Parsley, Sage, Rosemary And Thyme on Columbia . . . World-Pacific, who has the very best Ravi Shankar tracks ever recorded, has come forth with an outasite selection of Eastern sounds, which include the following: Ravi Shankar - Three Ragas; Drums Of North India; Balachander - Sounds Of The Veena; The Sounds Of Subbulakshmi and Kimio Eto-Sound Of The Koto.
GENE CLARK's first solo single is fantastic (hey, GENE, I heard the BYRDS have broken up—any truth to this?). It's called Echoes and is on Columbia . . . CAROLYN HESTER's latest single is I Love My Dog, and it is also on Columbia . . . Well, hail Columbia—I always say!
There is POWER in The Word.