WHAT'S NEW with your favorites from coast-to-coast!
[…]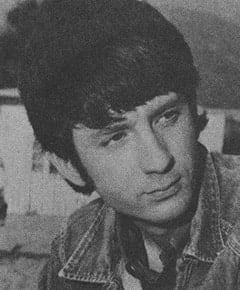 . . . MONKEE MIKE NESMITH is married and does have a 22-month-old son . . .
[…]
. . . LPs recommended by GeeGee this month include The Soul Of The Man "Bobby Bland" on Duke; John Davidson's Time Of My Life on Columbia; The Monkees on Colgem [sic]; Gary Lewis & the Playboys' Golden Hits on Liberty; The Remains on Epic; Dave Clark 5's Satisfied With You on Epic; Chad & Jerry's Distant Shores on Columbia; Tommy Roe's Sweet Pea-Hooray For Hazel on ABC Records; Bobby Hebb's Sunny on Philips; Donovan's wildly beautiful Sunshine Superman on Epic; The Best Of Herman's Hermits, Vol. II on MGM; David Blues' avant-guarde [sic] folk sounds and song—called just David Blue, on Elektra; and, for me jazz luvvers, Herbert Laws Flute By-Laws on Atlantic—and for me longhairs (classical, that is), the fabulously beautiful Mozart: Two Flute Concertos by the Moscow Chamber Orchestra on Angel.
[…]