What's new with your favorites from coast-to-coast!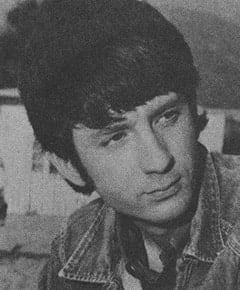 THE NEW SOUND is the WIND . . . JOHN LENNON cut his hair and started an unbelievable clipping spree! Next came MICK JAGGER and then SCOTT WALKER. The only Statesider to pick up on the shearing was SONNY . . . His CHER, by the by, is NOT expecting a SONNY, JR., just yet—so scotch those rumors! . . . SONNY surprised his missus with a $13,000 purple Excalibur SS. That's a brand-new custom-made car, made to look like a veddy old custom-made car . . . FANG just moved into a fab new home in Hollywood. More later . . . MONKEE MIKE NESMITH is married and does have a 22-month-old son . . . RIDDLES OF THE MONTH: Who is the secretly married member of a hot all-male trio? Who is the secretly married member of a very hot all-male quartet? . . . CHARLIE WATTS grew a moustache and so did BILL WYMAN. BRIAN JONES fractured his right wrist, but it's all right now—so don't cry . . . PATTIE & GEORGE HARRISON wore trad Indian outfits during their recent visit there. GEORGE's outfit was Churidar pyjamas and PATTIE's dress was a kurta . . . DRAKE LEVIN's first single on his own is called Childhood's End (Mexico). It was produced by TERRY MELCHER . . . FABIAN married lovely starlet KATHY REGAN on September 24th. Congrats! . . . OTTO PREMINGER says that JONH [sic] PHILLIP LAW is going to be the great new superstar of the century. So do I!
RANDY FULLER has re-organized his late brother's group and is calling it the RANDY FULLER FOUR. They are on Mustang Records and just finished a gig at P.J.'s on the Strip in L.A. . . . Congrattles to my sweet l'il BRENDA LEE for getting that big hit with Coming On Strong . . . GENE CLARK no longer has THE GROUP. He recently recorded an untitled piece with a 16-piece string orchestra. First step towards his first LP . . . LPs recommended by GeeGee this month include The Soul Of The Man "Bobby Bland" on Duke; John Davidson's Time Of My Life on Columbia; The Monkees on Colgem [sic]; Gary Lewis & the Playboys' Golden Hits on Liberty; The Remains on Epic; Dave Clark 5's Satisfied With You on Epic; Chad & Jerry's Distant Shores on Columbia; Tommy Roe's Sweet Pea-Hooray For Hazel on ABC Records; Bobby Hebb's Sunny on Philips; Donovan's wildly beautiful Sunshine Superman on Epic; The Best Of Herman's Hermits, Vol. II on MGM; David Blues' avant-guarde [sic] folk sounds and song—called just David Blue, on Elektra; and, for me jazz luvvers, Herbert Laws Flute By-Laws on Atlantic—and, for me longhairs (classical, that is), the fabulously beautiful Mozart: Two Flute Concertos by the Moscow Chamber Orchestra on Angel.
JANE ASHER's little sister CLARE is a regular on a British "soap opera" called The Dales, but she has no showbiz aspirations. She is studying at a university and hopes to become a teacher of mathematics! . . . Hey, what's all this mail we are getting on RANDY BARLOWE?! Get in touch with me, RANDY—the world is waiting for you! . . . Who are the UNKNOWNS really? . . . In the background of I Call Your Name on the MAMAS & PAPAS' great new LP, CASS is whispering John—John (for JOHN LENNON, natch). DONOVAN answers her back by singing softly Cass-Cass in the background of his The Fat Angel track on Sunshine Superman LP! . . . Look for fantastic new vocal and musical sounds (completely out of the folk bag) on PHIL OCHS' next LP! . . . GENTLE SOULS are Columbia's newest super-discovery . . . Maya (based on the movie) will be a new TV series next fall starring JAY NORTH and SAJID KHAN . . . KEITH ALLISON really did meet PAUL McCARTNEY when the BEATLES were in L.A. time before last. They just sat and stared at each other for a while! . . . Top English group is about to break up because one of them keeps flippin' out! . . . Which one of you southwestern fans copped PETER ASHER's prescription specs? Please send them back to him in care of 16 (745 Fifth Avenue, New York City), and we will see that you get an autographed picture and a personal "Thank you" note from PETER himself. He really needs them!
MARK LINDSAY designed those gorgeous new RAIDER outfits—and they are a work of art, (not Raz, of course). Now he's freakin' out over buttons (who isn't still?). The ones he's wearing here were made for him by the boys at the Big Mother Button Co. If you wanta get in and find out what's way out in buttons, send a self-addressed stamped envelope to Big Mother Button co., Box 2911, Dept. 116, Grand Central Sta., New York City, 10017, and quicklikeabunny you will get a powie, tuned-in, triple-fab list of what's available.
N'oubliez pas le Mot.