The Monkees in NYC from NBC News Archives Script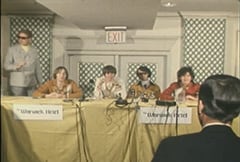 REPORTER:
How much longer do you think you can keep your group together? There's a report that uh, you're soon to break up. Any truth to it?
[Davy gets up to leave.]
DAVY:
That's very true.
[Peter gets up to leave.]
REPORTER:
No, seriously.
DAVY:
Um, we'll be together for as, uh—I dunno.
PETER:
We'll always be together in spirit.
DAVY:
I don't know how long we'll be together, uh… physically.
PETER:
Physically, working as a team together doing the same things all the time, that will probably get, you know, disrupted from time to time, but the way things look now, to me, just offhand, there's no—groups don't, you know, say, "Well, we're gonna bust up right here and now, and this date is the end of it." Groups, you know, don't die anymore, they just sort of fade away.