Gerry Shepard Interview Script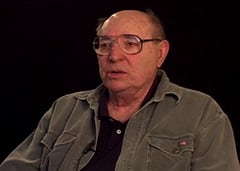 I was raised in Hollywood. And as a teenager, I lived in North Hollywood, and to get a job, you either went to Universal or you went to Lockheed, and Universal paid a nickel more an hour, so that was my choice. And all the guys were at war, so I went in there young. In my high school years, I worked at Universal, worked as a laborer and a grip. Then after the war, I came back and went back to work in the studios. I worked in almost every job in the studios over the years. Been a laborer, a grip, a juicer, a scenic artist. I worked sound. And then I went to the labs and got to handling film with my hands, and it became a whole new ballgame. And I used to go around asking every cutter that came there, "You got a job for me? You got a job for me?" And then finally, one gave me a job, and that's how I got in the cutting rooms.
I had written, produced, and directed a feature, and done a lot of pilots and things like that, and I was at a party in Malibu, and I ran into Bob Rafelson. And—it shows you what networking can do—and we argued all night. We never left the bar. We just sat there and argued. Everybody was circulating, and we argued about film. He would tell me what he wanted to do, and I would say, "Well, that's been done here, and we can do this and that." But at the end of the party, we hated each other. And I was just finishing up a series, and I got a phone call to go over to Screen Gems and see a guy about doing a show there, a new show. Went over there, and I walked in. I says "It's you!", he says "No, it's you!" Ha ha! Then he told me about it. We had two or three conversations. He said, "You wanna do the show?" I says, "Yeah, okay." And that's how it started.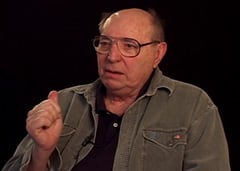 They had a concept. They had evidently run The Beatles' shows, which I hadn't seen, and they ran Help! and A Hard Day's Night, and Bob and Bert Schneider had a concept. Bob Rafelson and Bert Schneider had a concept of what they want to do. They wanted to do an American show with four crazy guys. They wanted to do filmic things and everything. And when I did—the very first romp I did was "Last Train to Clarksville". Very simple, very simple romp. I cut it on the downbeat, and there's a difference between cutting on the downbeat and cutting on the upbeat. It's a very white show, so you cut on the downbeat, one and three. And we—I went and got some stock footage of trains and put it together, and they were happy about it. I think they were sort of elated, because they'd shot a bunch of stuff with Micky out at Griffith Park on the trains, and when they saw what I did with that, they then started getting more excited. And then when we did a—then we started off from there. It's really strange, because when you're working with The Monkees, at that time, they couldn't've even gone to Disneyland, because of their long hair. But by the time the first show hit the air, we already had a big hit record, "Clarksville".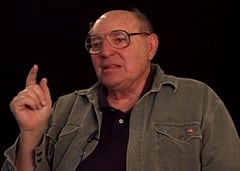 The thing about The Monkees, it was sort of a miracle of co-operation, if you will. Bob and Bert cast that show perfectly. Not only the boys, but the crew. They cast guys who had never done this kind of overachieving type of film. But every guy exceeded anything he had ever done before. And filmicly, I had, as I say, I had not seen any of The Beatles' shows. But when I saw them 'bout fix or six weeks or a couple of months after I started the show, I realized why a lot of people thought we were copying, but we were more sophisticated in our filmmaking. I know that sounds egoistic, but I'll tell you why I say that. If you have The Beatles, all you have to do is turn the camera on and let 'em laugh and run around and say their things with their accents, and you can hold the audience's interest. We took four guys that nobody knew from Adam, and from day one, gave them their character, told their backstory, gave them a want. The want was that they wanted to be great musicians, wanted to—well, they just wanted to be able to pay the rent is what they were really about. And from day one, we did that, and I'm not very humble, but the editing, we kept the pace up so good that they could—people would not get bored with it. That was a time in our country's history when things were very tough, people were not—it was not a happy time. But everybody wanted to be happy. And so this show, we tried to keep it happy. Every cut I made was thinking, "Is this gonna make it happy? Is this gonna be fun? Is it gonna be fun for kids, adults, or film people?" That decision was made on every cut. And the thing I really went for, whenever I could, was for the kids, whether they would laugh, whether they would enjoy it.
We used a lot of stock footage, because you can't shoot craziness. I mean, there's a show on now, You Gotta See That, well, I'd've been pulling out of there and putting it in the show, 'cause it's all those accidents. But we shot so fast and so furious, we couldn't've shot everything we needed, and when I first used the stock footage for "Last Train to Clarksville", it became a secondary thing. I got an assistant, Terry Chambers, who had not been an assistant until this time, and I just put him on finding me stock footage. I say, "Lookit, I need something that's funny about airplanes. I need something funny about accidents", and he'd bring in thousands of feet, and we'd go through it real quickly, and I'd say let's get this, and let's get that, and we'd put that in. And it was just, it was a running thing.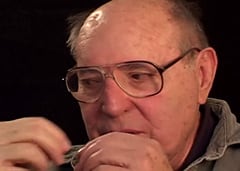 In the old days, this [gestures] was a cut. You'd see guys in the cutting rooms going like that. It was a three foot cut. Nobody wanted under three feet. In fact, you marked it, and you went and measured, yeah, three feet, and you put it in the picture. I never bought that. I never bought into that. I did it at the very beginning, and I think it's like one of those rules that you learn, then once you learn them, you can violate them. You know, it's like never end a sentence in a preposition. Once you know you can… or like, Winston Churchill said, "That's one thing up with which I will not put." Well, that was what I would not put: a three foot cut. When a fourteen frame or a two foot cut would work. And it—an overused word, organic. I tried to make everything organic.
I had studied a little bit about Slavko Vorkapić, who was the master of the montage. He and John Hoffman did amazing things. They did pictures with four frame cuts of streams going over rocks and all that stuff. And so I understood that aspect of it. In fact, later on, when I did Head, I hired John Hoffman, because I needed some old timer. And John Hoffman was an Academy Award winner too.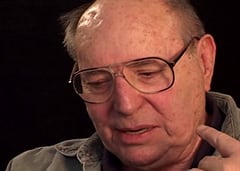 As far as the cutting, quick cutting was concerned, I cut one sequence quick at the very beginning, and Bert came in. He says, "Is that as quick as you can do it?" and I says, "Bert, any quicker, they're not gonna see." So I started cutting to the eyes. I never let the—every time I cut, I'd have people look. So I kept them in the thought process. There's a trick. Old timers will tell you that if you want people to like each other, when you're editing, you always cut while they're looking at each other. You never let them look down and then cut, because if they're not looking at each other, they don't like each other. Well, I used that eye thing driving the cuts. And I found that I could do it quick. And I knew what I was doing. I mean, I've seen guys do it since then, but I don't think they really—they say, "Well, let me chop it short", but I don't think they realize each cut drives into the next one. We had a few cutters there on the show that didn't ever understand that. Mike Pozen came on, and he caught it real fast, and he stayed with me the rest of the time. But some of the other guys… First time cutters, actually. They didn't catch it. Or some old time, couple of old time cutters. But the editing was, I think it was an integral part of why the show was successful. It was quick, but I don't think anybody noticed or said, "Well, let me—why did that cut—" or "That cut bothers me." Each cut forwarded itself to the next cut.
When the boys saw the first thing I cut, they just skyrocketed. And they were thinking of things they could do to give me quick cuts, you know. And Micky was, he was a master on that. And we did, also, we did that fourth wall thing, talking to the audience. "He's gone!" and it became a running, running gag.
Most sitcoms are what we call bedroom, parlor, and bath. You go in, and you do a master, you do a single and a single, next set. You know. My assistant counter one time, he said, "We're averaging fifty-four setups a day." Now, a setup isn't just a take. A setup is we move, re-light, sometimes go to another set, re-light, shoot again. And there was—I cut a show called Mister Ed. I could do that three hours a day, three days a week. I did Addams Family. I could do that easily in a week, taking big lunches. But this show, we did fourteen days. That was our average amount of time, and we didn't take any time off. We were there, eight in the morning 'til ten at night, working. 'Cause we had so much film to go through, and we all cared that we had the best piece of film in there. That caring was in every aspect of this show. This show is—I think everybody took something away when they left this show. They realize that nothing was insurmountable, which was a key word. Also was a word that I used all the time was, "Let's try it", you know, what have we got to lose? They're not gonna take away our driver's license if it doesn't work. So we, they all learned, "let's try it". But that's a double-edged sword, because I've talked to some of the guys when they left that show, and they went to work on another show, they were bored. You know? It was just like oh, this is bedroom, parlor, and bath again. Well, I'll take my check and go home. But this was an exciting show, and I think everybody—I never saw the boys sluff off an obligation in front of camera. They always gave me something I could—I had the freedom to be able to do what I wanted, whatever my creative juices said, I could do, because I always had something going there.
Each guy that worked on The Monkees told me flat. They said, "This is the best fun I've had." And even after it ended, we were all sort of remorseful. We were tired. When the show came to an end after two years, it was sort of a mixed blessing. I sort of wanted to go on, because there were some things that I hadn't tried, I wanted to continue with. Morphing was a thing I really wanted to get into. We had gotten color injection in Head. Nobody was doing that, and we did that. But there was a lot of things I wanted to try, but it was a mixed blessing. Everybody was worn out. Most of the time, you work on a show, guys get—you have a time schedule. Guy's'll get tired. They'll say, "It's good enough. Close is good enough." Or they'll say "Good enough for television" or "Close enough for television." That was one thing we never had on The Monkees. It either had to be right, or we were keep working at it. There was only one way that it would go, and that was the right way. And I think, I see very few cuts that I did that I think were wrong, even today. But there are some, of course. There were some that I wish I could redo, but most of them, I'd sit there, and I smiled. And I said, "Yeah, that was good, that was good." But never was it, "Good enough. Let's go. Let's move on."
Doing a show right, it's like playing golf. You concentrate, you focus on that hole. When the ball goes in, you forget it. What's the next shot? What are we doing next? Give me the next hole. You don't have remorse about what you didn't do right. You have to keep your positiveness going forward.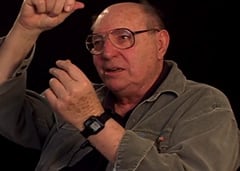 I've always worked on the Moviola. To me, it's the best editing machine ever made. And I went to Israel with an American company to work on a movie there, and they had a Steenbeck. Oh, let me go back. When they first brought the K-E-M in—Bob wanted a K-E-M. He wanted to do that, you know. So I grabbed the sequence in the Moviola, and the guy from Germany grabbed the thing on the K-E-M, and chh, I was done. Cleaner, better, and he was still messing with the K-E-M, and he needed two assistants. I said, "That's labor intensive. Don't buy that thing, Bob." I was really against it. Then later on, I used the Steenbeck in Germany, and I missed the Moviola like mad, and we found a—I mean, in Israel—we found a Moviola, and they brought it in. I just wailed from there on. The Moviola is my thing. Now I've done, I've worked on the Avid, I've worked on… oh god, another couple of… I studied, through the Editor's Guild, they brought in some editing machines, electronic editing machines. I worked on them, and since then, I've worked on pictures who were in trouble. In fact, a friend of mine called me in to help him on a picture that he's doing now, and I'd go in there, and we'd sit there and do it. Maybe I'm just old-fashioned, but I have the need to hold that film, and hold it up side-by-side occasionally. I just feel the need to touch film. I don't think that because it's electronic and it's faster, necessarily, it's better. I think a great writer can write with a pencil, a number two pencil chewed off at the end on a yellow tablet. He doesn't need a typewriter, doesn't need anything. So it's not the machine that you use. I think a good editor understands why you make a cut, how long the cut should be, all of those things built in. I feel that sometimes, you lose some of that by mashing down those keys. There's something wrong. Now, a guy that was raised on that, if he were to get on a Moviola, he'd say just the opposite, but that's my feeling. And I know that some of the great films are still done on Moviolas. Now, every once in a while—I saw a picture, "Cut on an old-fashioned editing machine." And I feel that way. If I were to do a feature now, I would prefer to do it on a Moviola, 'cause I can do it faster, and that's my sensitivity to it.
Now, I'll tell you something. If I had a chance to do The Monkees again on one of these new electronic editors, I'd probably do it, because I could do things very quickly. I could do the morphing, I could do color injection, I could do reverse action dupes, I could do all that stuff very quickly in the room. I could also do a pre-dub on the sound, which is really a benefit. My Moviola I used had two soundheads. It had an over and under soundhead, so I could play the music and hear dialog at the same time. But there are some benefits to it, the new way. I'm just an old-fashioned boy, doing the old-fashioned Monkee show.