"Through the Looking Glass" Lyrics
You call my name, then you run for protection
I reach out to hold you, but it's just your reflection
Through the looking glass

You've been lookin' at your life through a mirror
It's time you started seein' things a little bit clearer
Than through the looking glass

Watch me break through, girl
I still love you, girl

I think you love me by the way you come on, girl
Then I turn around for a minute, you're gone, girl
Through the looking glass

[break]

You're looking through me
Like you never knew me

I've got some things that I'm tryin' to show you
But you fade away, how can I get to know you?
Through the looking glass

Ba ba-ba baaa!
Ba ba-ba baaa!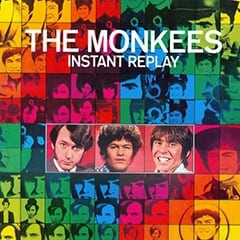 Personnel
Musicians
Producers
Writers
Appears On…
Albums
Other Versions
---
Sources
The Monkees: The Day-by-Day Story of the '60s TV Pop Sensation (2005), Andrew Sandoval, p. 301.

Instant Replay (1995) (CD).