When the stars are out, STAR knows just where to spot them!
"You know Nick, I really think you look better as a blond." Well, what do you think John Taylor was saying to Mr. Rhodes?
Wow!! When Dynasty's Heather Locklear and hubby Tommy Lee do the town, they certainly do it in grand style. We love those outfits, guys!
"Why I do declare Miss Scarlet?" Nope, this belle of the ball is none other than Dallas' Shalane McCall at a fashion show fundraiser for autistic children.
Lea Thompson is flashing her beautiful smile all over town since the success of her movie, Some Kind of Wonderful.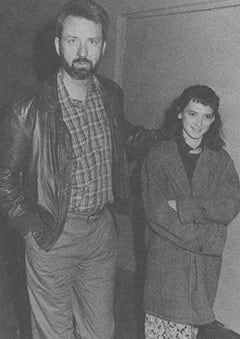 Who's that Monkeeing around with Mike Nesmith? It's his daughter! (Winona Ryder is not Mike's daughter) The two were on their way to catch a movie.
Triple trouble? Rockers Vince Neil (of Motley Crue), Jon Bon Jovi and Michael Des Barres were spotted out and about Los Angeles recently. More power to you guys!
Pretty spiffy Jules!! The lovely ladie [sic] at Julian Lennon's side is Katie Wagner. Although Julian dresses up when necessary, he told STAR that he still prefers his high-topped sneakers.
We caught up with Fame's Jesse Borrego at a Hollywood party where he enthusiastically showed us his new jacket. While we admit that the jacket's pretty nice, we also noted that on the whole, Jesse's rear view is admirable.