SuperTeen spills the beans (or should we say bananas??) from chats with these adorable chaps who'll hit the TV waves next fall!
Get to know Dino Kovas!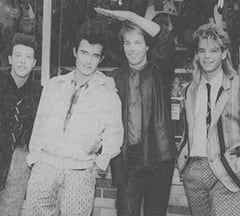 Dino started playing the drums when he was in the fifth grade, and he's been hooked ever since! A native of Detroit, Dino played with a rockabilly band until his successful audition for The New Monkees. This wacky 21-year-old has future aspirations of becoming a cinematographer, but in the meantime, he's thrilled to be a part of The New Monkees! Dino spoke with SuperTeen about his past, his present, and sure-to-be impressive future!
Q: How did you become a New Monkee?
A: I played with a band called Stakeout. Then I read in the Detroit News something about The New Monkees and I figured, 'Hey, I should try this.' The real funny thing was how I got the money to fly to New York for an audition. My car got hit twice in six days and I used the money I received for the damage to get there!
Q: Did you think you had a good chance of being chosen?
A: I am always serious about doing things. It wasn't like I knew they were going to pick me, but I thought I had a chance.
Q: What happened at the audition?
A: They asked me to sing a song for them on the spot. "What could you come up with," they asked me. I said, "Probably an old Elvis tune or an old Ricky Nelson song." I think they liked the fact that I said Elvis and Ricky Nelson instead of singing "I'm a Believer."
Q: Are you tired of the comparisons between The New Monkees and the original Monkees?
A: What I'm doing now is talking at schools and on the radio explaining the situation. A lot of people just don't understand what is going on. They think we are replacing The Monkees.
Q: What do you tell them?
A: We are not going to run around in the same clothes or use the same humor or music. We play regular guys and try not to be so way-out. The TV show we are doing is modern, we are not talking about the '60's. We are representing the '80s. Also, we're starting off as a band while The Monkees started off as a TV show. Who is to say that if you love The Monkees, you can't love the New Monkees too? I've always been a Monkees fan.
Get to know Jared Chandler!
While Jared is a talented bass player, his number one love is acting. And when he's not out there playing his way into our hearts as one of The New Monkees, he's out in the surf, riding those wild California waves! His favorite actors are James Dean, Jimmy Stewart and Aidan Quinn, and Jared has already appeared in two feature films Woo-Woo Kid and Blood Dinner. Here's our interview with Jared!
Q: What is the basic storyline of the series?
A: We are a rock and roll band and we live in this humongous mansion! We have a butler and 1000 rooms!
Q: Wow! Sounds neat! What kind of music do The New Monkees play?
A: It is hard to classify. It is really a mix of everything, and we have so many different influences. It's pop with a twang.
Q: Who are your musical influences?
A: I like all music. Buddy Holly, Elvis, Chuck Berry, Little Richard and Brian Setzer.
Q: What do you do in your spare time?
A: Surf, and if there are no waves I like to go driving out in the hills.
Q: What is your musical background?
A: I had been in a few bands in high school, The Jail Boys and The Wild Rockets. The first band played hardcore punk. The second band played reggae. The last two bands I was with played rockabilly and they were the most successful. It is my favorite music.
Q: Can you tell us about your childhood?
A: I grew up in Europe for eight years. When I was younger I used to do plays. My sister got me involved in community theatre. And all through junior and senior high I performed in school plays. When I graduated from high school, I passed up a theatre scholarship to move out to Hollywood. To get my foot into the door. I guess I kind of did!
Q: Yes, and it sounds like you have much to look forward to. Good Luck Jared!
A: Thanks!
Get to know Marty Ross!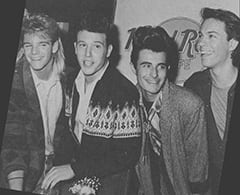 Twenty-seven-year-old Marty plays the guitar and sings for The New Monkees. And according to the musical marvel, he can also play a "terrible" saxophone and an "awful" violin as well! Basically, Marty sees himself as a wacky fellow just havin' a good time. Read on and judge for yourself if you think Marty, is as he puts it, "out of my mind!"
Q: Can you tell us when you decided to go into acting?
A: I decided to when I made the audition for The New Monkees!
Q: Do you have a lot of musical experience?
A: Yeah, I had written a lot of stuff, but I don't know if that had anything to do with why I got the job. I think it was more or less the combination or chemistry between the guys. They wanted someone to represent the kids of the '80s. I think I represent maturity and have a license to be crazy when I want to.
Q: Do you have a girlfriend?
A: No. I did until recently.
Q: What do you like in girls?
A: Honesty, sincerity. I think a devotion to what they want to do in life. Nowadays you have to go full force for what you want. That is very admirable if you see it in a person.
Q: Do you plan on getting married and having children?
A: Sure I do… 50 years from now!
Q: What is your apartment like?
A: I have a rake in front of my door so that I can sweep my way into the kitchen. My neighbors notice me now. They say, "There goes that crazy entertainer down the hall!"
Q: What do you like to do in your spare time?
A: I like to listen to records. My stereo is my pride and joy. And I like to drive up to the mountains.
Q: Who are your favorite musicians?
A: XTC. I think they are the best group. They are from England.
Q: How did you get your first guitar?
A: I took it from my mom! It was a ukelele [sic], smaller than a guitar and it only had four strings. I got my own band together when I was 13.
Q: Thanks for this most interesting interview Marty!
A: You're welcome!
Get to know Larry Saltis!
At 18-years-old, blond cutie Larry is the youngest member of The New Monkees. But what he's lacking in age, he makes up for in pure talent! Larry was a college student in Ohio when he auditioned for the band, and while he's sorry he had to leave, he feels that being a part of The New Monkees is an invaluable experience! Listen in on his interview with SuperTeen!
Q: Are you planning to resume your college education?
A: I will continue my studies through correspondence courses.
Q: Who were your musical influences while growing up?
A: I've always liked Billy Idol.
Q: Is anyone in your family musical?
A: My mom and dad were both in high school bands. They play piano and guitar, I took classical guitar lessons when I was 7. I've always wanted to write songs.
Q: Were you ever interested in acting?
A: Not really, my basic interest was music. I was nervous about acting at first. I really did not think that I could do it. But I feel a lot better now. The other guys helped me along.
Q: What do you think are the differences between The New Monkees and the originals?
A: There will be more music and video. We play our own instruments. But there will be the same type of stories and slap-stick comedy,
Q: What is your character like?
A: From what I've been told—girl crazy!
Q: Are you a girl chaser in real life?
A: No, not really!
Q: What type of girls do you go for?
A: She has to understand that I am a "normal" person and she has to enjoy music and entertainment.
Q: Why do you think they chose you as a New Monkee?
A: They said it was my smile and my innocence. It's very flattering!