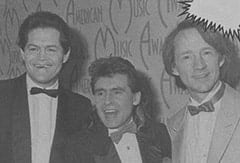 Stars! Glamour! Prizes! Be There!
Janet Jackson was completely in "Control" as she won two out of the nine American Music Awards for which she was nominated. The prizes were for "Nasty" and "What Have You Done For Me Lately," two of her four Top Ten singles of last year, and they marked Janet's coming out from behind the long shadow of her superstar brothers.
The Monkees were selected to read the rules of the American Music Awards and they did a bang up job making all their fans giggle with pleasure. The prizes, they explained, are indeed awarded by you, the fans—making them very, very special to the music community at large.
When Sheena Easton and Billy Ocean announced New Edition as winners in the Favorite R&B Group category, the quartet came up to accept with pride and joy. Their LP of golden oldies was one of the best albums of '86!
Madonna was positively riveting in her Marilyn Monroe look and picked up an award of her own for Favorite Pop/Rock Video By A Female presented to her by Robert "Kool" Bell and Mr. Mister's Richard Page.
A tearful, but joyous Whitney Houston won five American Music Awards, a record for the night. Her mom (singer Cissy Houston) and dad were there to cheer her on, as was her cousin, the talented Dionne Warwick, who ended the three-hour show by leading the entire star-studded audience in her hit, "That's What Friends Are For."
The stars on stage, led by glamorous host Diana Ross, weren't the only show that night. In the audience were two of tomorrow's hottest superstars, Matthew and Gunnar Nelson, twin sons of the late Rick Nelson.
Also on hand were another famous family act, James and Kristy McNichol. This musical and theatrical brother and sister team had their own LP at one time and Jimmy, who performed on General Hospital, still expresses an interest in keeping his musical talents alive.
Apollonia, Prince's former leading lady, posed with Stand By Me's Corey Feldman, who got his own moment in the spotlite when he was photographed sitting in the audience—mugging for the camera, natch!
When Apollonia and Steven Bishop presented the award for Favorite R&B Video Group to Kool And The Gang, you didn't really get a good look at the outrageous outfits they were wearing. Well, here they are—they're as much fun as was had by one and all at the Fourteenth Annual American Music Awards!
Some more winners!
Favorite Pop/Rock Group—HUEY LEWIS & THE NEWS
Favorite Pop/Rock Video—LIONEL RICHIE
Favorite Pop/Rock Video (Male)—BILLY OCEAN
Favorite R&B Video (Male)—LIONEL RICHIE
Favorite Pop/Rock Single—BILLY OCEAN
Favorite Pop/Rock Video Group—HUEY LEWIS AND THE NEWS
Favorite R&B Vocalist (Male)—LIONEL RICHIE
Favorite Pop/Rock Artist (Male)—LIONEL RICHIE