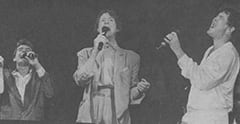 The Monkees are back—and bigger than ever! Are your old Monkees' records worn out and scratched? If so, here's your chance to win a whole new collection! From The Monkees through Changes, Rhino Records has re-released the entire collection of Monkees records—and they can be yours! All you have to do is correctly answer the questions below, and return it to us no later than March 31, 1987. There will be a drawing held between all the correct entries. So, all you Monkeemaniacs, we'll see how good your M.Q. (Monkee Quotient) really is! Have fun and good luck!
Frank Zappa appeared in a scene in the movie Head with David Jones. What animal appeared with them?

Which Monkees hit was drastically rearranged and performed with Julie Driscoll on the 33 ⅓ Revolutions Per Monkee TV special?

Reine, Peter Tork's ex-girlfriend, is the daughter of what famous movie star? (They are likely referring to James Stewart here, but Reine is not actually his daughter.)

Michael Nesmith's mother invented what famous office product?

After The Monkees, David Jones appeared as a rock star in one episode of what TV situation comedy?
Mail To: MONKEE TRIVIA, 7715 Sunset Blvd., Suite 204, Los Angeles, CA 90046. Winners will be drawn at random from all entries received on or before March 31, 1987. Employees of Cambray Publishing, Inc. and their relatives are not eligible.