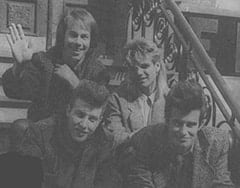 What's The First Thing On A New Monkees' Agenda? Why, Tooling 'Round Town On A Great Big Shopping Spree, That's What!
If you're a faithful 16 reader, you've already got the inside scoop on Larry Saltis, Dino Kovas, Jared Chandler and Marty Ross: The New Monkees! You know that you'll never have to choose between loving the original guys—Davy, Micky, Peter and Michael—and this new, up 'n coming foursome. There's room to love both great groups!
16 regulars were in on the search for the group and became formally introduced in both the February and March issues! You'll find new Monkee magic in lots of future 16's, too—so when the group starts puttin' records on the charts (should be springtime) and that hot TV series on the air (Sept.), you'll already be great friends!
Here's a sneak peek at the zany 'n talented troupe as they took time from their many "meet the press" conferences 'n interviews to have some fun in New York City.
First, we shop…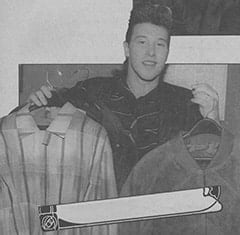 Is there anything that's more fun to do—especially in this shopping mecca—than hit the stores? Larry, Dino, Jared and Marty had spent almost no time in the Big Apple before this and were dazzled by the amount and variety of places to pick up some spiffy new duds. Their favorite spot turned out to be "Members Only" where each guy chose three new jackets. Whatcha think of Dino's choices?
Time for a stroll…
Exploring the city's jumbled streets on foot is really the best way—so many fabulous faces and fascinatin' finds, especially here in the Greenwich Village section—and you can bet this hot-lookin' quartet turned a head or two!
Do we spy a video arcade?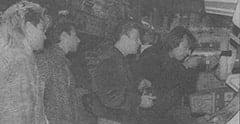 They may be new stars, but Larry, Jared, Dino and Marty are first 'n foremost, fun-lovin' guys—and when the opportunity to try out a new video game presents itself, why, the line forms to the left!
Let's get musical…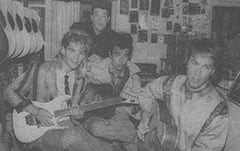 But what tickled the guys most was the variety of music stores around town—a dozen on one block alone! Naturally, they hit them all to check out the guitars. Jared almost bought a pink one! The New Monkees are really talented musicians, but you'll find that out for yourself really soon!