B. Micky and Peter, February 13
C. Davy and Mike, December 30
D. Peter and Mike, February 13.
Micky was best man at the wedding of:
A. Mike Nesmith
B. Rick Klein
C. John Lennon
D. George Harrison
Davy's nickname back home in England was:
A. D.J.
B. Jay
C. Jonah
D. Jones
Peter's birth sign is:
A. Aquarius
B. Gemini
C. Capricorn
D. Aries
Mike has a son named:
A. Joe
B. Christian
C. Davy
D. Sally
Peter was born in:
A. Columbus, Ohio
B. Germany
C. Washington, D.C.
D. New York
Davy's favorite color is:
A. Purple
B. Blue
C. Red
D. Chartreuse
How tall is Davy?
A. 5'3"
B. 5'2"
C. 5'4"
D. 5'5"
Did you know…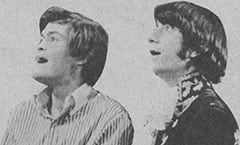 Davy Jones loves steak and kidney pie.
Micky Dolenz starred in the old TV series Circus Boy.
Michael Nesmith's original wool hat was knitted by someone who means a lot to him.
Davy's lowest salary was the 90¢ a week he once earned as an apprentice jockey.
Peter once wanted to become the President of the United States.
Mike is an only child.
Davy never forgets a friend's or relative's birthday.
Micky used to straighten his hair in the early days of The Monkees.
Davy once dated Sally Field.
Davy had a clothing store in Manhattan called Zilch.
Micky's sister Coco wrote a column for TIGER BEAT.
Davy used to bite his fingernails.
One of Peter's favorite books is Stranger In A Strange Land.
Mike collects cars.
True or false
Have you been keeping up with Monkee business? If so, you're sure to score high on this quickie quiz!
Mike used to play in a group called The Missing Links.

The idea for The Monkees show was first conceived when the producer saw the Beatles movie A Hard Day's Night.

Micky is a Pisces.

Davy played the part of "Oliver" in a musical in London and New York.

The Monkees song "Early Morning Blues And Greens" was written by Peter.
Answers
Trivia Test Answers:
C
B
C
A
B
C
B
A
True Or False Answers
F
F
T
F
F
Magazine: Tiger Beat Super Special
Editor: Michael Edrei
Published:
Publisher: D.S. Magazines, Inc.
Pages: 62–63