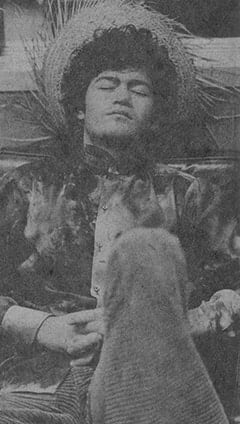 The Monkees' drummer talks about the birth—and rebirth—of the musical phenomenon that's hit big in the 60's and the 80's.
Known and loved by millions as the funny Monkee on the hit TV series The Monkees Micky Dolenz is amazed and delighted with the incredible success of the group's comeback. "I had no idea it was going to be this big," Micky confesses. "Our fans have always been enthusiastic. I think a lot of our success has to do with our songs, which are basically good songs."
Though he's delighted with the Monkees' new surge of popularity, Micky has been down this path before. The son of actor George Dolenz (who played the Count of Monte Cristo on television), Micky was introduced to fame at an early age. By the time he was 10, he was appearing in the TV series Circus Boy and learning to deal with the adjustments that success can bring. "When I was on Circus Boy, it took me for a ride up and down the roller coaster," Micky recalls. "Once you realize it's going to happen, you learn to ride with the curve."
After the show's two-year run, Micky returned to school and planned to study architecture. All that changed when he, along with 400 other hopeful applicants, applied to be one of those "…4 insane boys, ages 17–21…" for NBC's innovative television series. Micky Dolenz became a Monkee!
Even his early experiences in show business, however, could not prepare him for the attention he would receive as TV's zaniest drummer. "That kind of success is exhausting, mind-boggling," Micky says. "I don't remember much about it, subiectively. So much happened so quickly. I'm told I had a great time."
After three years of international recording and TV success, Monkeemania began to cool down and Micky took a much-deserved rest. He spent a lot of time in Southern California, playing tennis and hanggliding. "It took me a couple of years after we disbanded just to recuperate emotionally, intellectually and physically," the Monkee remembers.
It wasn't long, though, before Micky caught the show business bug again and was out touring with Davy Jones, as well as Bobby Hart and Tommy Boyce, two of the musicians and songwriters who wrote and performed some of the Monkee's hit songs. After that stint ended, Micky found himself enthralled with the world of British television. Having directed some episodes of The Monkees, Micky was a natural behind the camera as well as in front of it. He logged in over 60 television production and directing credits, including a drama-play for the Premiere series on BBC, a short film for 20th Century Fox and Paramount Pictures and various commercials and music videos.
Now, Monkeemania has hit again and Micky once again finds himself in the spotlight. Naturally, he is thrilled. "I never thought I'd be rocking past 40," Micky beams. "It's incredible!"
Currently living in England with his wife Trina and their three daughters, Micky's now getting ready for another wave of Monkee business—with plans for more touring, more music, and possibly a movie. "The music's come around after the disco and synthesizers of the seventies," Micky explains. "Wham!; 'Manic Monday' and 'All I Need Is A Miracle' are things we could have done. They don't call it bubble gum anymore."