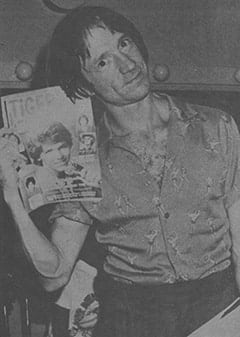 For Peter Tork, being a Monkee again is not something he had planned on doing last year. But with such a good offer, how could he refuse? Peter seemed to have been pretty content teaching music and performing in his own ensemble, The Peter Tork Project. In the past, many offers to reform the Monkees have poured in over the years, but nothing strong enough for them to ever consider working together again. How Davy, Micky and Peter decided to try again was perhaps due to the Monkees 20 year anniversary and that MTV aired the group's popular '60s TV show. Today when Peter talks about his success with the Monkees he looks back fondly and is hopeful of the future. Just after the tour, he took some time out to discuss his life as a Monkee and what he hopes to achieve in the upcoming months.
Q: Hi, Peter, it's always good to talk to you. Having been so busy with the tour, when do you anticipate starting work on the new album?
PETER TORK: We'll be doing the recording sessions soon. Probably after Davy and I get back from Australia. At the moment we're all working on different things.
Q: Have you thought about the next Monkees tour yet and if Mike will be included this time?
PT: We are planning to do another tour sometime in the summer. As for Michael, he is not going to quit being who he is in order to do a tour with us. He's not going to abandon his movies and doing the things he wants to do with his life.
Q: What other new projects might be in the works?
PT: Actually, everything is pretty much tentative right now. Besides the recording session, we will be doing all sorts of things. We plan on staying very visible in the next year.
Q: Weren't the Monkees considering doing a Broadway play?
PT: Yeah, we're thinking about it. We've read a lot of scripts and really found one that was right for us. I really can't say too much about it, only because it isn't totally confirmed yet.
Q: Can you talk about the Monkees movie, then?
PT: Well, we're working on it. It's like the same as everything else. We are in negotiation. We really can't talk about it until we have a firm deal.
Q: How do your children feel about the Monkees new success?
PT: We are all family men now. We all have teenage daughters, except for Mike's daughter who is not a teenager yet. Davy and Micky have young children as well. I think for our children, rock stars are just the same as they are anywhere else. I'm different and the other guys are different, and our children know that. They've seen us before and after a show, and know what life is really like.
Q: Are you ever asked to give advice to kids, like some of your younger fans?
PT: Advice—Well, I would tell kids to stay alert. I think that's about it really. Stay alert or become alert.
Q: You were a teacher for a while. What was that like?
PT: It was great. I enjoyed it a lot. I had a lot of fun teaching. It was a great time for me.
Q: Do you see the Monkees going on for a long time to come?
PT: There's no way of telling right now. There's a lot more we want to do yet. We're having fun together right now. At this point, we can only plan a year or so more. We can not make a five year commitment, but we can safely plan another year or so.
Q: Well, thanks again Peter. We'll certainly look forward to seeing you and the guys soon.
PT: Thank you. We're looking forward to doing another tour.