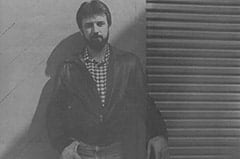 As pioneering guitarist of the Monkees, how could Mike Nesmith assume anything but the frontman position of the well-loved pop group? At 43 years old, the former Monkee has put his teen idol past to rest. For over the past two decades he's concentrated on his record and video company called Pacific Arts located in Los Angeles, California. Born Robert Michael Nesmith on December 30, 1943 in Dallas (Actually 1942 in Houston), Texas, this Monkee was always a country boy at heart. Raised in San Antonio for most of his young life, Mike later graduated from college and relocated to Hollywood to pursue a career in the record industry.
Just like so many other starving would-be folk music artists in the sixties, Mike did a short stint as a protest singer under the name of Michael Blessing. The day he auditioned for The Monkees TV show, little did he know that within a year, Mike Nesmith would become a household name. That fateful day, he walked into the studio to audition for one of the four lead roles, Mike was wearing a pair of faded Levis jeans and his now famous green wool hat. When he walked out, he had no idea that soon after he would not only be the Monkees frontman, but years later regarded as an influential guitarist. The day Davy, Micky, Peter and Mike learned that they would be working as a group, the four artists pulled together their musical influences. As Mike recalls today, "When we found out we were going to be the Monkees, we called a meeting to show each other what ideas we had and find out what direction we wanted to take. We were very much of a garage band as you could hope for. We discussed our musical interest for a while and figured we had better get some new equipment to practice on. We then went into the studio to cut some tracks."
Perhaps today of his former bandmates, Mike has proven to be a most gifted songwriter. His contributions to the rock and country world have been surpassed by only a few. As a musician, his work has been a complete departure from the usual pop music sounds. Before and after the Monkees he had recorded a number of solo albums. However, by the late seventies, his brand of rock music failed to gain any positive interest in America. Mike said, "No matter what may have been said about what I've done, with respect to country, or country rock, I was always a rock and roller. My roots are in rock and roll." After receiving a 25 million dollar inheritance from his mother, who had invented Liquid Paper, he then went on to become a forerunner in music video.
"I realized that's what I always wanted to do," says Nesmith. "That was the reason why I started in the first place. What I had had were some works of art that I couldn't get released anywhere else. So I had to put them out myself." Since then, he's won an Emmy for his experimental work in merging rock music and film. Though Mike didn't take part in the Monkees recent successful 20 year reunion except for a surprise concert appearance in Hollywood, he is seriously considering the possibility of producing the group's next film which may go into production sometime this fall.