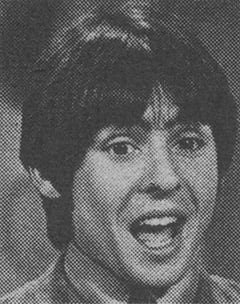 TOMMY SMOTHERS hosted a really outasite party in DONOVAN'S honor at his Beverly Hills estate. Among the guests were JANIS JOPLIN, CROSBY, STILLS AND NASH, MAMA CASS, ERIC BURDON, ANDY WILLIAMS, MASON WILLIAMS, THE MONKEES, THE BEACH BOYS, MURRAY ROMAN, JOHNNY RIVERS and JONI MITCHELL. DONOVAN played for about 45 min. on a platform over the pool. After he finished he made a running dive and went in with all his clothes on . . . DENNIS COLE from the series "Bracken's World" is going to record his first record for the Forward label . . . DAVID CROSBY, of CROSBY, STILLS, NASH AND YOUNG, had a terrible shock when his financee was killed on the way to his home in Mill Valley, San Francisco. The group cancelled their performances at the Fillmore. JOHN SEBASTION took over for them and supporting acts for the three nights were, Fri., SANTANA, Sat., RICHIE HAVENS and Sun., JANIS JOPLIN . . . THE JEFFERSON AIRPLANE'S housekeeper was also in the accident but she is now recovering . . .
THE VANILLA FUDGE won the Golden Gondola award in Venice, Italy. It's the highest award that can be given for singing and the FUDGE were the first American group to receive it . . . BOYCE AND HART did a concert in Alabama for their big event of the year, a Peanut festival. Wonder if they got paid in peanuts? JEANNIE C. REILLY was also on the show . . . Her Laugh-In audience will be surprised at JUDY CARNE'S movie bow in "All The Right Noises," which she filmed in London. Judy plays a straight dramatic role, as the wife in a romantic triangle . . .
JOSE FELICIANO may never give another concert in England. Recently, on a trip to London his guide dog, Trudy, was not allowed in the country because of quarantine regulations which do not permit foreign animals into the country . . . Screen Gems had such good luck with the MONKEES that they are now putting together "SUPER GROUP." It will be of the best looking guys in the country and they will be similar to the MONKEES . . . NEIL DIAMOND played at L.A.'s Troubadour recently and really was a gas. Some of the people that came to see him were: BOBBY DARIN, RICKY NELSON, JOHNNY RIVERS, ANDY KIM, THE PHYNX, and VIKKI CARR . . .
THE BROTHERHOOD composed now of PHIL VOLK, DRAKE LEVIN, and a new drummer who wasn't introduced to us showed up at a press party for RCA's new group LIGHTHOUSE. Also on hand DEL SHANNON, POCO and BRIAN HYLAND . . . Weddings and engagements are really "in" now it seems, THE CLINGER SISTERS lost their oldest MELODY to JIM BELL who used to be in a group with THE MILLINIUM . . . THREE DOG NIGHT played a concert at the Forum in Los Angeles and had a very special guest MARK LINDSAY. MARK never goes to any concerts but he really digs THREE DOG NIGHT. Also on the concert were THE GRASS ROOTS, and STEPPEN WOLF . . .
Speaking of MARK LINDSAY, he was trying to play like PARNELLI JONES one night and came up his driveway at his usual speed of 40–50 mph but instead of stopping just short of the garage door, MARK'S front breaks [sic] went out and he went through the garage door . . . LAURA NERO recently did a week's engagement at the Troubadour and everyone really dug her. Among the guests opening night were, EDDIE FISHER, HEDGE AND DONNA, MAMA CASS, NILSSON, and PETER ASHER.
MICHAEL BURNS, had some bad luck recently when about one month after he finished getting the whole front of his house re-done someone broke in the front door with a crowbar. Only some money was taken but it was the second time in 6 months for MICHAEL . . . Remember JOEY NEWMAN from DON AND THE GOODTIMES? He's still around and in a new group called BLUE MOUNTAIN EAGLE. Be looking for them . . . MAURICE GIBB paid a surprise visit to wife LULU in Las Vegas while she was playing at the Flamingo and they had drinks with FRANK SINATRA. Then MAURICE flew into Los Angeles for one day and got to talk to JOHNNY TILLOTSON who he said he was really excited about meeting because the BEE GEES used to do all of JOHNNY'S material when they were singing in Australia . . .
DON ADAMS will finally be doing his first special. It will be out sometime in February . . . BOB BARKER who hosts "Truth or Consequences" lost his 11 year old blind basset hound for four days but he is back safe and sound now . . . The Custom Tailors of America annually give out awards for the best dressed actors and this year some of them were DON RICKLES, DON ADAMS, and OMAR SHARIF . . . MARK SLADE will make his first European tour early next year. He'll visit at least eight countries and sing with his own band . . . ALAN SUES, "Laugh-In" star is doing a book on athletics, and they're thinking of calling it "Favorite Sports I've Known Intimately," which gives you an idea of how serious it's going to be??? . . . MICHAEL STROKA didn't know what to do this halloween. Last year he and some friends had a formal picnic at midnight in a graveyard. How do you top that??? . . .
BOYCE AND HART celebrated two things on their recent tour of the U.S. One was the anniversary of their 5th year as a singing team and the other was TOMMY BOYCES'S birthday . . . "Laugh-In" star GARY OWENS is boasting of having Morgul the Friendly Drelb appearing with him on the new show he's hosting "Letters to Laugh In" . . . GRAHAM NASH finally got to visit his parents and some of his friends in England after CROSBY, STILLS, NASH, AND YOUNG finished their tour of the U.S. . . . DOUG INGLE of the IRON BUTTERFLY is composing some new music for a joint concert with the FRESNO PHILHARMONIC . . . More BUTTERFLY news, LEE DORMAN, bass player, has bought a new house and because of its location, perched on a hillside on stilts he is trying to get a guarantee that it will stay there . . .
ARETHA FRANKLIN is back on the right track once more. Her doctors report that she has recovered almost completely from the nervous exhaustion compounded by bronchitis that forced cancellation of so many of her personal appearances. She recently did a recording session in Miami and looked and sounded great . . . JOE JR. has bought a new home for he and his bride . . . Everyone was surprised when ROBERT BROWN took himself a bride . . . STEVE ALLEN and SAMMY DAVIS JR. headed up an anti-drug rally at The Hollywood Bowl recently. There were many guest stars including GLEN CAMPBELL, ROBERT STACK, and JOEY BISHOP . . . The idea for the rally came when ART LINKLETTER'S daughter DIANE jumped out of a window after taking LSD . . .
TERRY MELCHER, DORIS DAY'S son has broken up with steady CANDICE BERGEN . . . DEAN MARTIN wants GOLDIE HAWN to star in his next Matt Helm movie but the movie company thinks she is asking too much money . . . BILLY JO ROYAL'S new record "Cherry Hill Park" is doing so well that B.J. is planning to do some more touring of the U.S. . . . Did you know that ANDY KIM wrote the ARCHIE'S song, "SUGAR SUGAR?"