Mike Cole injured in car crash
MICHAEL COLE was "seriously" injured late Wednesday evening, April 9, in an automobile accident on Laurel Canyon Drive in Hollywood. It was a rainy night and MICHAEL had just been picked up at the airport (arriving from a visit to New York City) by singer PAULA KELLY (real name: Dickerson). PAULA was driving her car when it skidded in the rain and collided head-on with a truck approaching from the opposite direction. MIKE suffered facial cuts on his forehead only—and PAULA was not injured, though she spent several days in the hospital under observation. MICHAEL and PAULA were rushed to Cedars of Lebanon Hospital. Several stitches were taken in MIKE's forehead and he was released from the hospital in "excellent" condition on April 17. PAULA, who sings with the MODERNAIRS, is not MIKE's sweetheart or girl friend—she is just a good "buddy." At the present time, MIKE is not only back on the Mod Squad set, but he has also resumed his role as Hollywood's most dashing "playboy"—dating a different girl every night!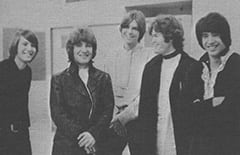 BILL COWSILL has announced that he has "quit" the family act. BILL wants to write for, and produce, other artists. He would also like to record on his own. Lead singer for the COWSILLS is now BOB. However, PAUL, JOHN, BARRY and SUSIE also take turns singing lead. As was announced before, BOB, PAUL, BARRY and JOHN will be appearing as an act, SUSIE will be appearing as a single (as will BILL), and MINI-MOM hopes to drop out of the singing part of the COWSILL family show-biz career altogether—but she will do TV spots and panel shows . . . Swingin' TOM JONES (pictured here with the FIFTH DIMENSION) will be taping his fabulous ABC-TV This Is Tom Jones' show from Los Angeles from now on. It will have re-runs during the summer and it will have a new time slot in the fall, when it moves to Thursday nights from 9 to 10 . . . YELLOW PAYGES jumped for joy when MICKY DOLENZ paid them a surprise visit while they were performing at the Youth Foundation Banquet in Beverly Hills . . . Look for the PHYNX to be a big new group. They not only are adorable and great musicians, but they are also starring in their very own Warners/Seven Arts movie The Phynx, which will go into release all over America at Thanksgiving . . . After appearing for one week with CAROL CHANNING at the Riviera Hotel in Las Vegas, the fantastic BROOKLYN BRIDGE embarked on a five-month concert tour of America . . . The groovy RASCALS just got back from a two-month promo tour all through Europe . . . Congrats to adorable JONAH P. JONES, who just signed a contract with ABC Records. If you'd like to, you can write to JONAH at 9 Ridge Road, Emerson, New Jersey. He promises to answer every letter.
It is very unlikely that DAVID SOUL will be drafted. Keep your fingers crossed . . . 'Twas once upon a time rumored that DINO MARTIN, JR., only dated "older girls." Well, he's finally dating someone his own age. DINO is 17 and his latest crush OLIVIA "JULIET" HUSSEY is also 17. DINO and OLIVIA met when he was in London recently to discuss a publishing deal between his company and the BEATLES' Apple. DD&B will be featured on the Uni soundtrack album for the Cinerama production Follow Me (a groovy flick about three surfers). The boys did one final album for Warner/Reprise before going to their new label Columbia Records. Look for their first Columbia single soon. Meanwhile, back in merrie old England, lovely OLIVIA has been signed to star in a new movie called All The Right Noises . . . SAJ just got himself a beautiful new car. It's a dark green Mercedes Benz. Oh, yes—he got a driver's license too! . . . WHO-er PETE TOWNSEND and his wife KAREN announced the birth of an eight-pound baby girl. Both mum and baby are doing well—as is the WHO's smash hit Pinball Wizard . . . SONNY and CHER named their brand new baby girl CHASTITY (which also happens to be the name of their AI movie) . . . BEACH BOY CARL and ANNIE WILSON (she's BILLY HINSCHE's sis) announced the birth of their first son—JONAH . . . ROGER "The Saint" MOORE married Italian actress LUISA MATTIOLI mid-April. Aren'tcha glad ROGER's series is back on NBC-TV—Friday nights 10 to 11? . . . Surprise! ELVIS is an astrology freak! He's hip to signs, charts and all that! Wonder if he could tell us whatever happened to that famous California earthquake?? . . . Official announcement from BEE GEE's management says that the group is not breaking up! . . . TIGE ANDREWS spent his hiatus from Mod Squad doing interviews in New York City and starring in the musical Three Penny Opera at the Starlight Theatre in Indianapolis . . . JUDY CARNE spent her time off doing Peter Pan at the Starlight Theatre in Kansas City . . . and adorable DACK RAMBO took his TV break to shoot a film in Switzerland called Wild Flowers—so keep your eyes open for that!
Record raves!
Top pick LPs
Nazz on SGC, Man on Columbia and The Illusion on Steed.
Super album
Bob Dylan's Nashville Skyline on Columbia.
Best LP
From Elvis In Memphis on RCA.
Outstanding LP
Phil Ochs' Rehearsals For Retirement on A&M.
Spec's recommended list
Classics IV's Traces on Imperial; Sly & The Family Stone—Stand! on Epic; Johnny Winter on Columbia; Tim Buckley's Happy Sad on Elektra; The Irish Rovers' Tales To Warm Your Mind on Decca; The Adventures Of Keith on RCA; Steppenwolf's At Your Birthday Party on Dunhill; The Velvet Underground on MGM; The Churls on A&M; The Youngbloods' Elephant Mountain on RCA; and Elyse Weinberg on Tetra.