Got a question? And you can't find an answer anywhere? Well, Tiger Beat to the rescue. Each month in our question and answer column you'll get the honest and truthful answers to your questions! Just address your inquiries on any subject to: Tiger Beat Q&A, Tiger Beat Magazine, 1800 N. Highland Ave., Hollywood, Calif. 90028.
Q. Do you know when the Monkees will have their 60-minute special?
A. At this time, no date has been set. However, you can be sure Tiger Beat will be the first to inform you of this very special night. It's extra special because it's the last time we'll see the four Monkees together, since Peter has now left the group, as reported exclusively last month in Tiger Beat.
Q. Who is the boy on page 13 of your November issue? The boy is with Dino and Dino is holding his hand.
A. A slight correction if you please, Dino is shaking the boy's hand. The boy is Dino's tennis partner and friend and they are shaking hands at the end of a match, which is good sportsmanship.
Q. Since you say you are the truthful magazine and you know all, then I hope you can answer my question truthfully. A disc jockey at our local radio station told me that Mark Lindsay was secretly engaged. All I want to know—is he engaged or not?
A. Thanks for your faith in Tiger Beat. We didn't believe this was true, but we checked with Mark to be extra-sure. He told us he is definitely NOT engaged or even considering it.
Q. One of my best girlfriends told me she read in a magazine that the Monkees were caught selling drugs. And she also told me that she read that Davy can't sing and that he uses someone else's voice on records. Please tell me the truth, because if it's true I'm gonna drop dead in my tracks!
A. Please don't. None of this is true and why don't you ask your "girlfriend" about her source of information. The Monkees were definitely NOT caught selling drugs, simply because they don't sell drugs. Also, Davy has one of the most beautiful voices today. And ask your girlfriend this—if Davy can't sing, how can he appear live on the Monkee concerts and sing many numbers by himself?
Q. I was recently watching the "Banana Splits Adventure Hour" and I noticed at the end of the show, the name Jay North appeared under voices. I was wondering if that is the same Jay North that was on "Maya" or another person named Jay North. Can you please tell me?
A. It's the same Jay North that was in the "Maya" series.
Q. Does Mark Lindsay wear contact lenses?
A. Yes, Mark has pretty poor vision and he has several pair of different colored contact lenses. Sometimes he even "mixes and matches" them, by wearing one blue one in one eye and one green one in the other eye on the same day.
Q. I was watching the Elvis Presley special and when he sang "Can't Help Falling In Love," they showed two girls and one of them looked like Ann Moses. What I want to know is, was she at that special? Please tell me if that was her I saw or some other girl who looked just like her?
A. That was Ann Moses you saw.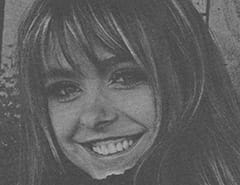 Q. Could you please tell me if Samantha Dolenz has pierced ears? In all the pics I've seen of her she's always had her hair over her ears so I can't tell.
A. Samantha doesn't have pierced ears.
Q. Could you please tell me if Bobby Sherman has made any records recently?
A. Bobby has been recording steadily in his own recording studio ever since the days of "Shindig." However, these were not for any particular label. At this writing, Bobby is negotiating a brand new recording contract and by the time you read this he will probably have a new single out. The minute we have more details, we'll let you know.
Q. Could you please tell me if Chelsea Brown of Laugh-In was in the Monkee movie "Head?" I am sure I saw her in the harem scene. Was she there or not? Anyway, it was an outasite movie!
A. It must have been Chelsea's double you saw, because Chelsea has not made a movie yet.
Q. I just love Gary Puckett, but I never see any stories or anything about him. So I was wondering how old he is and when is his birthday? And another thing. I heard Barry Gibb is 24 years old. Is this true? If he is that old, he sure doesn't look it!
A. Gary Puckett is 26 years old, born October 17, 1942. Barry Gibb is 21 years old, born September 1, 1947.
Q. On the cover of your January issue (down in the corner) you had "Plus: Goldie At Home" and you never had an article on Goldie at home. Watsa matta wid ya? Huh?
A. We're sorry for the mistake. At the last minute some exclusive photos arrived of the Monkees from Japan. If you bought the next issue of Tiger Beat you probably found we ran the Goldie feature in that issue. If not, you can order the February issue from our back issues ad on page 65.
Q. I have heard that Bobby Sherman is 22, is this true? Also, what are his interests in girls and what color of hair does he like best? And what age of girls does he like?
A. It's true, Bobby is 22. To answer your other questions, Bobby loves girls, and this means he sets no limits on what he likes. He does like girls to be very natural and have a good sense of humor. Hair color and age are unimportant to Bobby as long as he and his dates have fun together.
Q. I'm an Elvis fan after seeing his fantastic special. I wonder if you can give me a few facts about him. What are his wife and daughter's names and when is his birthday? Also, what is his next picture and when will it be released? Is he going to make any more specials for TV?
A. Great news, Elvis was so pleased with the ratings of his TV special (it even beat high-ranked "Laugh-In" that week) that he is talking with the producer about doing another one this spring. Let's keep our fingers crossed. His next movie is called "Charro!" and will be released around Easter. To answer your other questions—his wife's name is Priscilla, his daughter is Lisa Marie and his birthday is January 8th.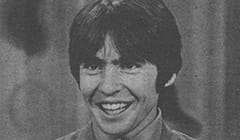 Q. My neighbor told me that in the newspaper she read an article that said Davy Jones got married to a pretty girl with long brown hair. Somewhere along the line I missed out, so please tell me, is he really married?
A. Davy is not married or engaged. (Davy was married to Linda Haines when this article was published.)
Q. I have just read a crummy bunch of magazines that all have stories about Mark Lindsay. The things they said were: He doesn't have any parents. He won't date any girl over 20 years old. He only dates girls over 20 years old. He began acting when he was very little and even had a few roles in the movies, so now he's quitting the Raiders and is going to take up acting again. His ponytail is going in a few months. He is getting married soon. He loves wealthy girls. He won't, never has and never will date a fan. I am burning mad!! Please is any of this true?
A. Rest easy, not a word is true!