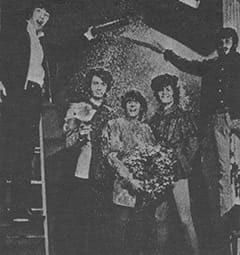 Six or seven years ago tall Taurus Glen Campbell was just one of the everyday people who could plink-plonk a guitar and sing-song a decent ditty in the country folksy way. His voice is no better (or worse) now than then but now he's a world-wide song celebrity, America's hottest male singer, headliner on his own TV variety show and co-star with John Wayne in a galloping western epic, to wit, True Grit. Too bad he dies in the last reel—but that's show biz.
Stardom for Glen, though he didn't know it, had to wait for a 15-year-old son of a preacher man to grow up, split Beckham County in Arapahoe Indian country, Oklahoma, move out to California and start writing award-winning music and melody.
Meanwhile guitar man Campbell played and chorused in various Los Angeles and Nashville recording studios taping anonymous musical support for big-name songmen like Rick Nelson, Knickerbockers, Sonny and Cher and Phil Spector.
These chores earned him between $50,000 and $75,000 a year, or so he says. (A little bragging doesn't hurt anybody.) But was he happy? Yes and no. The bread was tuff yet his ego was hurting. What was happening for him artistically was nothing. Nothing is a no-no, ergo, he sought a way out of the rut.
When top-drawer entertainers can't write their own hit songs they have to hunt tunes in the brain bins of more creative authors and composers: Glen lucked when he plucked a number, By The Time I Get To Phoenix, out of an old Johnny Rivers album where it had been buried and forgotten. He searched out and found the author, Jimmy Webb, the Oklahoma kid, son of a Baptist parson, the songwriter fate had made him wait for.
Jimmy, a college drop-out at 19, was peddling his material to any buyer who could give him rent and eatin' money. Last year, at the age of 21, Jimmy's songs won eight Grammy awards. One of them, the Phoenix tune, rocketed Campbell into the regions of outer space where the musical superstars glow in orbit. What a trip!
The next chart-busting tune, Gentle On My Mind, was by tunesmith John Hartford. Wichita Lineman was Webb-writ as was Galveston which promises to be another giant…
What Jimmy Webb did for Glen Campbell he also did unto others, made them stars: The Fifth Dimension with Up, Up and Away, and actor Richard Harrison [sic] with MacArthur Park and The Yard Went On Forever. Cashbox, leading music trade mag, named Harris as the #1 New Male Vocalist of the Year.
Arkansas-born (Delight, population 407), Texas-reared Campbell is good-looking, easy-going, hard-working, fun-loving, friendly and gassy. In his bachelor days he walked on the wild side. Today, pushing 30, he lives quietly in the conservative suburbs of straight society with Billie, the maiden he met in an Albuquerque night club one New Mexican night in June and later married and who has blessed the union with two neatly-dressed, well-behaved children—and another on the way.
Glen gets a weekly $15 hairdo, shaves close, often wears pin-striped suits, button-down shirts, paisley neckties, white sox and hand-stitched loafers, the picture of a well-respected man in the banking business. As if that weren't bad enough, he has quit playing poker and gin with ordinary musicians, instead he plays golf with the upper classes at exclusive country clubs.
As a reformed teen-age twerp, Glen could have turned out to be a stuffy redneck. Three things saved him: his friendship with turned-on Tom Smothers, his fondness for hippies and his wild sense of humor. One of his complaints: "I've got an Indian fan over in Arizona who keeps sending me smoke signals… COLLECT!"
Turn-On is ABC-TV's answer to NBC-TV's Laugh-In and CBS-TV's Smothers Brothers Show. The show is intended as a satire on a society which has been dehumanized by computers.
The Fool On The Hill may seem not quite right or bright to platoons of plastic people but he's no fool at all in the eyes of the angels of the Lord.
Nor are the youthful European quaints who call themselves The Fool, a name taken from the "Fool at Zero" card in the mystic Taro deck, a reference to the antique doctrine that the "foolishness of God is wiser than the wisdom of man."
Seemon (pr. See-moan), Marijke (pr. Mar-eye-ka), Josje (pr. Yosha) and the newest addition, Barry Finch, have now settled down in Hollywood. The first three, natives of Amsterdam, reached here by way of Greece, Morocco, Spain, Majorca and England. In London the Beatles opened the Fool boutique as an Apple enterprise which sold $250,000 worth of mod designs in a year. When the restless Fool resumed their travels, the Beatles closed the shop and gave the unsold clothes away free to first-comers.
In America the Fool have already released their first musical masterpiece LP, Mercury SR61178. They have leased a Hollywood building for their boutique showrooms, art gallery, workshops and staff offices. The little band of painters, poets, players, singers, instrumentalists, impressionists, composers and designers of fashion costumes; jewelry, ceramics, album covers, book jackets, stage sets, movie sets, posters and far-out visual and audio arts are here to stay.
Not far from the Fool's place will be the new American headquarters of the Apple Corps which is preparing a massive invasion of the American market with recording artists, songwriters and technicians from both sides of the Big Drink.
Paul McCartney and George Harrison have been California dreamin' all through the cold and bitter English winter, one of the worst in history, Derek Taylor wrote us. They plan to commute between London and Hollywood and spend at least six months a year here. Real estate agents are scouting a house which Paul and George will jointly own and live in.
John Lennon prefers England and hasn't spent a day in L.A. since the Beatles tour in August, 1966—Ye gods, was it that long ago? John has his Yoko Ono to keep him warm and Ringo is only happy at the hearth of his home with six TV sets, wife and babies.
Dancing is declining as a tribal rite of American youthniks, according to popband musicians traveling the concert trails to bring their brand of cool to the prairies, bayous, swamps, tall timber and grass roots of 45 or 50 states.
"Kids don't want to dance nowadays," agreed Danny Hutton, Cory Wells and Chuck Negron, vocal trio of the Three Dog Night, new group commencing to happen on the charts. "They just want to sit and be entertained.
"We played the San Francisco Cow Palace in a show billed as a dance, but nobody danced to the great bands like Steppenwolf, Canned Heat, Blue Cheer and the Spencer Davis Group. Some 20,000 people filled the cushion seats and squatted on the huge hard floor looking/listening/swaying their shoulders/shaking their hairy heads, responding to the rhythms of the rock. They were happy though the beat didn't reach their feet.
"Performers who can hold the audience are rewarded with heavy screams and applause, even standing ovations. If the crowd's attention wanders, the act is dead."
Nobody knows better than the Tigress Beat herself, the appallingly alluring Annie Moses, what really happened in the Monkee house. Maybe she's not ready to spill the inside dope. The diff between Annie and other column writers is she knows more than she tells, other ink slingers tell more than they know.
From our own personal disadvantage point outside the pale with only a punctured eardrum at the keyhole, we understand that ¼ of the group, namely Peter Tork, was heaved over the transom and out of the menagerie. Davy, Micky and Mike will do their hairy howling to carry on the Monkee tradition with a new set of managers, trainers and keepers.
Brian Hyland is enjoying one more "comeback"—his fifth or sixth—with the latest Dot single, Tragedy. Funny about Brian, he disappears completely between hit records as if he falls in a hole in the crust of the earth. You don't see or hear of him again until he climbs out with another newie goodie.
It takes all kinds of people to populate the pop music world. The majority are under 30, free, independent, ding-dongy and unafraid to explore and experiment with new musical horizons.
Not Bobby Vinton. He doesn't want to take chances on any of these newfangled songs and sounds. He sticks to the tried and true.
"Why risk anything new?" he asked us in an interview. "I'd rather release a song that was a big hit and proved itself ten or twenty years ago. The current generation never heard it before, and they think it's new."
The attitude works for him. Rare is the week when Vinton singles and albums aren't high on the best-selling tallies. Man, this is weird. He was discovered in 1960 by Guy Lombardo at a hop outside of Pittsburgh, Pa., and he still belongs in the Lombardo bag. As 90 per cent of all single records are bought by teen-agers, Bobby must be a teen idol although he certainly doesn't seem to be the type.
After two years Army duty, mostly Korea, Gary Lewis was in such a fever to reactivate his civvie career that he nearly wrecked his eyes, burnt out a tonsil and sprung a leak in his think tank. Easy does it, the croaker warned him.
First and foremost of his interests and ambitions today are taking care of and being with his growing family. He and Jinky now have one son, John, in the 2nd grade, and a baby daughter, Sara Jane, recently out of diapers.
By day Gary attends Chapman College in Orange County. By night he rehearses his new Playmates band. To play two weeks in Disneyland they had to learn 40 songs in short order.
"My real future lies in acting, preferably comedy like my dad," he says. "I'd like to be a Peter Sellers type.
"I'll be very happy to take any help my father can give me in building a solid career. He has already hinted that he would direct me in two movies, and has talked about helping me do a weekly talk show like Johnny Carson. Who could have a better teacher? Wouldn't it be groovy if my dad would remake some of the old Martin-Lewis comedies with me playing him?"
Cass Elliott, Queen of the Los Angeles Pop Society, holds court in her hilltop chateau on week-end afternoons and nights, attended by aristocrats of the realm of rock as well as many commoners. She's no snob.
Mia Farrow and Steve Brandt, Lou Adler and Peggy Lipton, Pattie and George Harrison, John and Michelle Phillips, Jimi Hendrix, Bill Cosby, Buddy Miles, Frank Zappa, Paul Simon, Steve Stills, Dave Crosby, Joni Mitchell, Johnny Rivers—they all come around.
"They don't just sit and rap," Cass explains. "The impromptu jam sessions, for instance, are outasite! When you see these people in my house it's not because I called Musicians Local 47 directory and told them to send me a bunch of musicians.
"When the gang piles over I send for a wagonload of deli food because I know they'll stay for hours and get hungry. Music happens in my house and it's a joy for me. It can't hurt my kid any, either."
Cass is a gas, a classy lassie who's all heart. Put that in your hookah and smoke it, say the Grassroots.