Sally Field Weds! Doors & Nazz in England! Davidson a Doll!
Flash: Sally gets married!
Sally Field married her long-time steady boy friend Steve Craig in Las Vegas early Monday morning, September 16. In a "divine comedy of errors"—Sally and Steve actually had their honeymoon before their wedding!! Here's what happened. They decided to get married in Jamaica, a British-owned tropical island. They flew there and, upon applying for their license, found that there were "red tape" problems which couldn't be solved without Sally returning to Hollywood for certain papers. So Sally and Steve enjoyed three days of swimming and sunning, flew back to California, then zipped off to Las Vegas where they were united in a simple, informal ceremony which neither of their families attended. Sally explained, "Both of our families knew we were planning to be married, but they didn't know where or when. It may sound kooky to a lot of people, but we wanted to be alone together at that special moment. It was just Steve and me. I don't even remember the marriage clerk's name." Anyway, the bride wore a groovy white satin slack suit and the groom was dressed "thoroughly mod". After the ceremony, Mr. & Mrs. Craig flew back to Hollywood, where Sally promptly went to work on the Screen Gems set for The Flying Nun!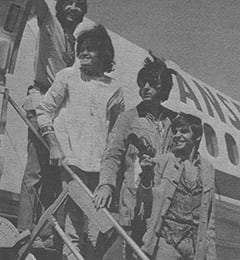 When the MONKEES arrived in Australia in mid-September to begin their Far East tour, they got the second biggest reception (the BEATLES got the biggest) ever given any public personalities! PETER, sporting a bushy beard, greeted the Aussies with the V-hand sign for peace—but the "restless natives" almost stripped DAVY JONES to the bone as he tried to dash from the MONKEE limo into Miller's Brighton Hotel, where the MONKEES were staying! . . . Half a world away in London, the DOORS found themselves the sudden rage of England. All of their performances were a sell-out, including standing room. Oh, yes—the DOORS got bearded too! At least, JOHN and ROBBY did . . . TERRY MELCHER produced a record of CHRIS JONES singing Somebody's Turning On The People. No label or release date known yet. Meanwhile, super-busy CHRIS is being pursued by producer CHUCK BARRIS to play the lead in the movie Or I'll Dress You In Mourning, which is the life story of Spain's top matador EL CORDOBES. If CHRIS accepts, he'll be stuck with a ponytail again—which is the only thing he didn't like about his role as Max Frost in Wild.
One of the groovy groups to be featured on It's Happening before that show went off the air is the IRON BUTTERFLY. BUTTERFLY LEE DORMAN and host-RAIDER MARK youknowho exchanged recording tips backstage before the show . . . Let's hope that groovy guitarist JEFF BECK keeps his promise to do a concert tour in the States this November . . . TOMMY BOYCE and BOBBY HART recently became the proud owners of a 1926 Cadillac that once belonged to W.C. Fields. Between them, TOMMY and BOBBY now own six classic cars . . . JAY NORTH is studying singing in hopes of one day doing a Broadway musical. Didja know that JAY made a record when he was eight years old—and sang it on The Ed Sullivan Show?! You can still write to JAY at 11532 Chicquita Street, Studio City, California . . . Recently, big-hearted TINY TIM gave a free afternoon concert for the children of the employees of Caesar's Palace (night club), where he was booked for a three-week sell-out run.
You won't believe your eyes when you see adorable DUSTIN HOFFMAN—"Benjamin" in The Graduate—turn into "Ratso" in Midnight Cowboy. Just another sample of what a fine acting talent DUSTIN is . . . Look alikes: Actor JON VOIGHT (also starring in Midnight Cowboy) and MARK SLADE . . . The NAZZ, after their whammo appearance at the Cafe Au Go Go in New York, were shipped off to England by SGC Records, where they are now recording their next LP. Awhile back, when they were playing on the same bill with ALBERT KING in Detroit, ALBERT predicted that the NAZZ would soon be America's number one group and that TODD would become one of the world's top guitarists! . . . If you haven't listened to DINO VALENTE's Epic Records LP (which is simply titled Dino Valente), you're missing out on one of the best albums in the market today . . . Best press party of the year award goes to DANNY FIELDS for the swinging soiree he gave NICO at ANDY WARHOL's Factory on the advent of the release of her superb LP The Marble Index. Yep, the party was a gas—but the record's even better . . . What big publishing company refused to publish the script-story of a popular teen-idol group's movie because they consider the text "…in very bad taste"???
Sports personalities are fast becoming teen idols too. First, it was ski champion JEAN-CLAUDE KILLY, then the Detroit Tiger's pitcher DENNY McLAIN (didja hear his organ recital LP on Capitol?) and now it's world free-style figure skating champion TOMMY LITZ. You can see TOMMY when the 29th edition of the Ice Capades comes through your town, and you can write to him c/o Solters & Sabinson, 62 W. 45th Street, New York City . . . The RASCALS will be featured on BING CROSBY's ABC-TV spec next February . . . Doncha dare miss the COWSILLS TV spec on NBC-TV on November 23. BARRY, JOHN and SUSAN will each do soft-shoe dance numbers, and BOB, BILL and PAUL will be featured in various acting skits. Even daddy BUD COWSILL will make an appearance! It looks like the COWSILL family will have their own regular TV show starting late in January. Hope so . . . The first NBC-TV MONKEE spec will go into production before the end of this year and will probably be filmed in England. For further details (in fact, for all the news on the MONKEES), keep tuned to 16 Magazine . . . Wow—didn't JOHN DAVIDSON look completely luvable hosting that "Model Of The Year" TV spec?! . . . Happy news—handsome JOHN HARTFORD is a permanent regular on the Smothers Brothers Show!