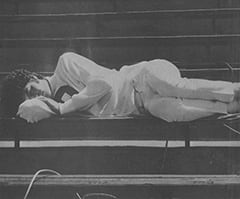 When Micky isn't recording, filming or performing live concerts with the other Monkees, he can usually be found at his home, either tinkering in his workshop, busy making something unusual or running around his studio experimenting with strange new sounds.
In his workshop, complete with power saws, drill presses and a variety of other tools, Micky always finds himself working with metal and wood, his two favorite materials for making pipes, ashtrays, eyeglass frames, incense burners, mobiles and candlestick holders.
In almost every one of Micky's friends' homes you can be sure to find something Micky made and gave to them. I've got a few myself. One is a solid oak candlestick holder and the other is a… very unusual pair of sunglasses. I say unusual because these sunglasses have three eyes.
When Micky gets too tired to either record or work in his workshop he usually just sits around the house and watches television or a movie, or he reads. If it's a movie you can bet it's a comedy. He has some great old "Laurel and Hardy" and "W.C. Fields" that he never gets tired of watching.
If he's reading, it's probably a science fiction story by his favorite author, Ray Bradbury, or something far out and controversial. He just finished reading "Stranger in a Strange Land" and is presently reading "The Hollow Earth."
He doesn't watch too much television; but when he does it's probably "I Spy," "Smothers Brothers," "Rowan and Martin" or a movie about sports about sports car racing.
Micky is constantly on the go. It's a part of his philosophy to busy himself doing fresh and different things, expanding all his ideas, and just being himself above all.