It's been a month of changes here in Hollywood—mostly for the better, but a few unfortunate ones.
It's a girl for Marilyn Wilson, wife of head BEACH BOY BRIAN WILSON and Carni's her name. Apparently BRIAN wanted to name her Carnation, but Marilyn compromised with Carni.
The new ANIMALS—with the addition of madman "ZOOT" MONEY debuted at the Whisky A Go Go with an unreal light show, smoke bombs and a totally great new look and sound. The group's currently touring and back home ERIC's beautiful wife is denying rumors that she's expecting. She says the only thing she's expecting is ERIC's return.
The BUFFALO SPRINGFIELD gave their last concert here at the Long Beach Arena and faithful fans got a great, but sentimental bowing out from the group that was just a small local band two years ago. My best wishes for good fortune to all of them.
And while the ANIMALS were smoking out the Whisky, the new BYRDS introduced their new country/western sound at the Troubadour. Newest BYRD GRAM PARSONS is a soft talking, good looking Southerner who's really getting in the groove as a BYRD.
Had lunch with TERRY KIRKMAN of the ASSOCIATION the other day just as the group returned from their first European tour. Terry's suffering from being "dehumanized" on the road and is looking forward to the group's severely curtailed schedule for the next 12 months. Following a gig at the Latin Casino in New Jersey the group will probably work only about 14 weeks during the coming year—but should be able to produce some incredible albums in that time.
"We've got to be the most misinterpreted group around," said Terry, adding that the clean-cut image that's been built up around them isn't really the ASSOCIATION at all.
Gad—have the rumor mongers ever been at work on all the British acts in town! Much confusion surrounds the immediate future of the YARDBIRDS and CREAM, both lounging about Hollywood soaking up the good California sun.
Close friends say the YARDBIRDS' show here June 4 was their last and that they are all splitting to go their own way—Chris into photography, Keith and Jim into their own group and Jimmy back into producing. But their manager Richard Cole says it ain't so.
"That's rubbish," he told FLIP. "Why is it that everytime we come here everyone says we're breaking up."
Maybe the group's friends know something their manager doesn't.
Similar rumors are flying about the CREAM. Close friends say their double sellout concerts here at the Anaheim Convention Center are their last in this town and their coming tour their last ever, but their publicity office has spent hours on the phone reassuring hysterical editors and fans alike that it's a lie.
The only thing that seems definite is that the group is booked through October, but what happens after that is anyone's guess. It does appear to many, however, that the super trio is tired, very tired, of each other, one night stands, the road and constant physical and emotional exhaustion… And numerous legal problems they've incurred in California in the past few months haven't helped matters any.
Among those who're hoping they don't split is RAIDER drummer JOE JR. who was completely totaled out when he saw ERIC CLAPTON, GINGER BAKER AND JACK BRUCE work for the first time recently.
Also concerned is their booking agent who reports that their recent tour of 60 one nighters was the second most successful tour in the history of the country, topped only by the first American BEATLE tour.
What I'd like to know is why everyone comes to Hollywood to break up. Is there something about this city that makes groups disintegrate?
THE ELECTRIC FLAG, which was a by-product of the STEVE MILLER BLUES BAND, apparently fell apart here, as did England's TRAFFIC, a by-product of THE SPENCER DAVIS GROUP.
And it's anyone's guess what's happening with the MAMAS AND PAPAS, or the LOVIN' SPOONFUL, for that matter.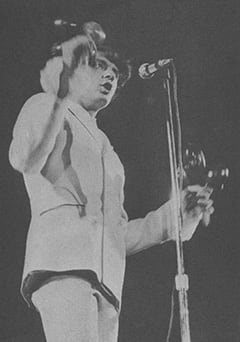 But there are a few new groups being born here that may be able to fill the voids. One of the best is a thing called THREE DOG NIGHT headed by DANNY HUTTON, which has three great singers and a very refreshing sound.
THE YELLOW PAYGES, a local group headed by DANNY HORTER, is now being produced by VIC BRIGGS of the ANIMALS and it looks that this long struggling group may finally get their break. They're also touring with the ANIMALS.
Things to look for soon—MIKE NESMITH'S "Wichita Train Whistle" to blow you over . . . RAIDER alumni group THE BROTHERHOOD to finally get themselves together . . . a comeback from THEM . . . And undoubtedly more group changes before the whole scene gets settled down again.