First it was the Beatles—and now it's the Monkees. Seems like the "older folks" just can't stand it when young people become popular and successful—and manage to stay that way! The Monkees, caught in a crossfire of abuse from magazine writers and newspaper columnists (from all over the world), have a hard time trying to convince one and all that, while Davy, Mike, Peter and Micky are unique individuals, they are still a working team. And that working team is called the Monkees. And the Monkees are NOT finished!
Not only do the guys have three one-hour specs on NBC-TV forthcoming next season, but their old Monkee segments are scheduled for re-runs on Saturday mornings on CBS-TV; their movie is scheduled to be released around Thanksgiving; they are most likely playing concert tours of America during the month of August; and—needless to say—they are still cutting single and LP records (their next single is scheduled for release early in August and their next LP—the soundtrack of their movie, which is still called Untitled—is scheduled to be released this coming fall before the movie is released).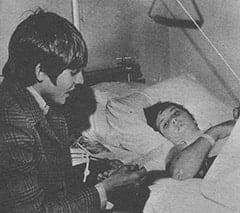 Apart from their efforts as a group the Monkees, of course, are accomplishing a great deal individually. Probably the most meaningful event to take place in Monkee-land lately was David Jones' secret surprise visit to young Rhonda Cook of Phoenix, Arizona. Rhonda, who lost her left leg after being run over by a car while she was dashing across a busy street clutching a Monkee LP, had whispered to the doctors that her only wish in life was to see Davy Jones. When Davy heard of this, he quietly hopped on a jet and visited Rhonda (and also spent a few moments with her girl friend Patti, who was hit at the same time Rhonda was and who was in the intensive care area of the hospital). The world knows about Davy's first visit to Rhonda, but no one but 16 (and you) was advised that Davy went back late in May to visit Rhonda in the hospital for the second time. In fact, he missed the party Mike held to celebrate the release of his rock-symphony LP on Dot records, The Wichita Train Whistle.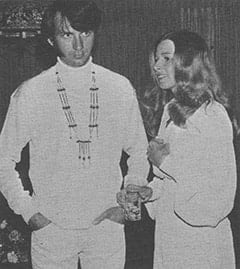 On May 27, Mike and Phyllis Nesmith had a big blast at their beautiful Beverly Hills home to celebrate the release of the above-mentioned LP. Lynne Randell, who was among the guests at the Nesmiths' party, called 16 to exclaim, "The LP is brilliant! It's fab! It's a blast!" Lynne went on to describe how celebrities from all walks of life sat around listening to the record over and over again—and how, when Mike tried to play something else, they insisted that he continue to play The Wichita Train Whistle. Let's all hope this is just the beginning of an arranging–conducting career for multi-talented Mike.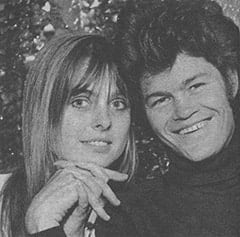 When Samantha Juste decided that it was time to go home to visit her folks for a few weeks Micky Dolenz, of course, took her to the L.A. airport. He presented her with a round-trip ticket, but a week after she was gone he presented himself with the same! Seems he missed Sam too much, so he went off to England to see her and to meet her folks. While there, he appeared on Top Of The Pops (an English TV Show), caught the Scaffold's show (he and Sam ran into Paul McCartney backstage), and tried to sneak off to Scotland to go fishing for a few days.
Peter spent the early spring getting his brand new beautiful home—swimming pool and all—in Studio City ready for a mid-June visit from his brother and sister, Chris and Anne Thorkelson. For more news about Peter, turn to Page 30.