A funny note to recall in this August, 1968—in mid-January of 1967 MICK JAGGER said of the MONKEES—"They've had fantastic promotion in the States, but I think people will get tired of them. I'd give THE MONKEES until July in America, perhaps a little longer." Well, MICK, it's been quite a bit longer!
British fans had a real treat when they attended the New Musical Express (Britain's leading pop newspaper) Poll Winners' Concert. After grooving to 20 top acts including LULU, THE ASSOCIATION, THE HERD, the master of ceremonies brought on the surprise act of the night—THE ROLLING STONES! This was their first live appearance in over a year and everyone agreed it was just as groovy as before.
Hollywood is a fun town and I'm continually reminded of it every where I go. I was dying for a Belgian waffle and decided to have lunch at "Old World" restaurant (it's their specialty) on the Strip and found TERRY KIRKMAN of the ASSOCIATION and JANIS JOPLIN of BIG BROTHER AND THE HOLDING COMPANY had the same idea.
The next day I was out to buy my brother's birthday present, some motorcycle gloves, and who do I run into at the cycle shop but DINO MARTIN. He was buying a crash helmet so he could do some cycle racing.
He'd just returned the day before from a quick two-day trip to Brussels, Belgium where he went to see a Ferrari he wanted to buy. He dug his Lamborghini, but when someone broke the windshield he decided he liked this particular Ferrari better. So, he's selling his Lamborghini (for $18,000, if you're interested). He bought it for $21,000. He's also buying STEVE MCQUEEN'S motorcycle.
It's true that the BUFFALO SPRINGFIELD have split up. It was a sad night when they played their final concert in Long Beach, Calif. Right now there's a possibility they may get together for one live album, which they all wanted to do, but nothing on a permanent basis.
Look for STEVE STILLS to form a new group, while JIMMY and RICHIE will also get a new group together. NEIL plans to produce and sing his own compositions. And, if you're ready for this, DEWEY may be forming a duet with his wife!
The old RAIDERS—meaning PHIL, DRAKE, SMITTY, HARPO, MARK and UNCLE PAUL—were together for the first time since their break-up for a very special occasion in May—the wedding of their manager, ROGER HART. The "new" RAIDERS were there too and it was a very touching scene. Everyone got along beautifully, naturally, and really appreciated the chance to see each other.
CELEBRITY OF THE MONTH: is my very favorite person, NILSSON. Lately the BEATLES have been grooving on his songs too and at their New York press conference when asked their fave American artist, JOHN and PAUL answered "NILSSON." Then, when they were asked their favorite American group, they answered "NILSSON"!
I had a lovely chat with NANCY SINATRA in her new Boots Enterprises office above the Sunset Strip recently and from what she says, ELVIS' new film "Speedway" in which they co-star should really be a fun film. NANCY and EL fight all the way through the flick, but they get together in the end.
NANCY and ELVIS have been very close friends for almost 10 years now and NANCY said it was difficult doing the love scenes. Why? "We could barely stop laughing," she giggled, "it was like doing a love scene with your brother. It was so funny we used to get hysterical. One day the director got furious and threw everybody out and made us go home. We were very unprofessional, but we couldn't help it!"
SOME SHORT ONES: "Fantastic Plastic Machine" is the name of TOMMY JAMES' first feature film, which he'll be doing without the SHONDELLS . . . GRACIE SLICK has posed for a layout in Playboy magazine . . . JIM MORRISON is currently working on a documentary film about the topless dancers of San Francisco and Los Angeles . . . DICK DODD has left the STANDELLS to try it with a solo career.
One of the greatest in-person acts I have ever seen are the CHECKMATES, LTD. They have recently signed with that very with-it label, A & M, so their album sounds should be outasite too. I've never seen an audience become part of the act the way the CHECKMATES make you feel. Talk about love vibrations, they must have invented them. Don't miss them! They're currently touring with HERBIE ALPERT and the TJB.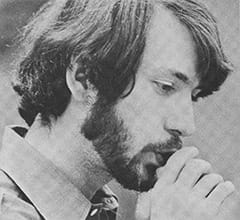 MIKE'S solo album, "The Wichita Train Whistle Sings" is now on Dot Records, so be sure to pick up on the new, new sounds in this album. To introduce it to the press and the disc jockeys, MIKE and PHYLLIS hosted a beautiful dinner party at their home. They really know how to entertain and made it a most wonderful evening!
There was much anticipation for the MAHARISHI–BEACH BOY tour, but it all ended in disappointment. The MAHARISHI barely made it to the first concert because he missed the plane in India because he was meditating. At their New York concert, the third of the tour, 5,000 people walked out in the middle of the MAHARISHI'S talk.
After that the concert tour was canceled. Official reasons for the cancellations were given as the MAHARISHI'S health, since before he came to the U.S. he was treated for a mild case of pneumonia. However, rumors persist that backers feared low ticket sales and all parties were eager to pull out.
If you ever get the chance to meet darling DACK RAMBO don't pass it up! He's the most easy-going, fun-to-be-with guy I've met in a long time. From the minute you enter his home he makes you feel so comfortable. He may be a big Hollywood star now, but he sure hasn't forgotten the great hospitality he learned growing up on a farm in Northern California.
As the CHECKMATES say so well, SOCK IT TO I!