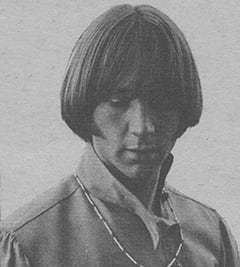 Peter Tork comes from the East but for the last several years he's lived in Los Angeles. People used to say that he was just miserable here and missed the Village—and he does visit there occasionally—but the other day Peter and I were sitting on the Western set where the Monkees were filming and we started talking of all things about nature versus plastic and concrete.
"Peter," I said, "how can you stand to live in Los Angeles if you don't like plastic or concrete?" I mean, Los Angeles has been described as a giant piece of pop art and it's true. Well, Peter was off and running.
L.A. is green
"Los Angeles is a remarkably organic, tree covered place. I live in the Hollywood Hills and it's very rustic, almost suburban, very peaceful, serene for a community. Half the houses are wood and stone and the other half are stucco, which is alright. You know, stucco has overtones of the Spanish influences from way back and it carries with it more than just being concrete. It's gone history. That's groovy, that's all very cool.
"I find Southern California remarkably organic that way. It's true that San Francisco is more so but coming away from New York, it's a paradise!
"My commercial interests are at stake here and the closer I am, the less travelling I have to do and the more time I spend either at work or at home."
Suns at home
Unfortunately, Peter is usually so busy that he doesn't have—or take—the time to utilize the great weather in California. And that's a shame.
"I never go to the beach, I never go to the mountains. I go to Topanga Caanyon; and I sun myself on my own porch and now I'm getting a house in Studio City (it's the back of the Hollywood Hills) and I'm going to sun myself there because I'll have a pool."
Peter didn't live in Topanga because he says it's too far away and he's right. Though it's really groovy, he'd have to drive about 45 minutes to get to work in the mornings. Topanga Canyon, if you've never seen it, is straight up the mountain from Malibu, but still only about 3 miles to the beach. It's almost like another state. They have rustic little shops and lots of wood and stone houses hidden on the mountain sides and people like the late Woody Guthrie (Arlo's famous father) once lived there. Now people like Linda Ronstadt of the Stone Poneys live there.
Pete's new house
Peter also let a secret slip—that he's buying a new house. He described it briefly as an incredible bird house. The man who built it put nooks and crannies all over that birds could live in. A hill goes practically straight up in back of his house and birds live there, too. Once he moves in, he plans to set up a recording studio and tape the birds to use on records. He has one idea where he'd record the birds very loud, then let it fade out until there wouldn't really be any bird calls on the tape, but you'd think there were. It would be something like the end of "Day In The Life" on "Sgt. Pepper's Lonely Hearts Club Band." But Peter's giving it his own distinctive twist.
Peter wanted to talk some more about his new house and Los Angeles, but he had to go back to filming. Maybe next time!