Paris designers may be showing skirts for men—but that isn't what the Monkees are wearing for their movie, thank goodness! Of course, since no one knows what the movie is about, it is conceivable that they might wear skirts—or baby bonnets or western clothes or wooden shoes—but the clothes they wear a big part of the time are just nice, ordinary Monkee clothes.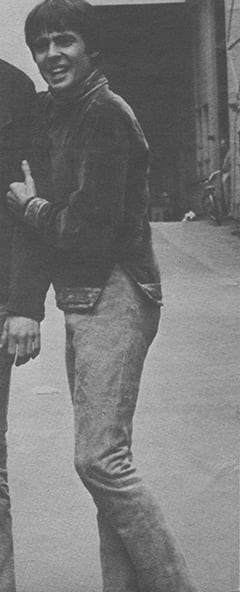 When we first wandered on to the set, however, we thought Davy Jones was just wearing his birthday suit! But as it turned out, he only had his shirt off and he was standing behind a waist-high fence which hid the absolutely fantastic trousers he was wearing.
They were a rich gold color and were specially made for him out of horsehide. They weren't hairy or anything—they actually looked a bit like suede—in fact, very much like a very good quality of suede.
The trousers were cut low on his hips—but not as low as a girl's pair of hip huggers—and were belled slightly at the bottom. He had on white boots which didn't look like they were too high but were probably the ankle variety.
The shirt Davy wears with them is green velvet and has some decorative braid around the neckband. It buttons on the side like an Indian shirt and has long sleeves. It's also very hot, according to Davy, especially when they are filming outdoors in the sun.
Mike looks like a wealthy, hip, young business executive in his outfit. He wears a white turtleneck lightweight sweater and a pair of cocoa colored trousers which are cut sort of like Davy's and bell out at the bottom. Then he wears the most magnificent pair of boots you'll ever see. They are just plain chocolate brown with squared toes, but the styling on them is magnificent. If he ever finds them missing, he'll have to start looking for them in the closets of even his best friends. They are that good looking.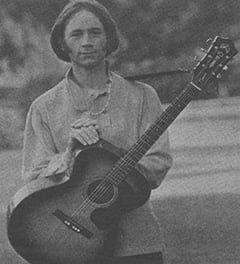 Over his white sweater, Mike wears a jacket which looks like it's made out of corduroy. The pattern of the material is very small brown and green checks. There's a really classic pleat in back and the lapels—which aren't too wide or too narrow—are in brown leather to match his boots.
If you want to be a really nasty person when you go see their movie, continually check out whether or not Mike has his sunglasses on his nose or pushed up on top of his head. He apparently wears them throughout the movie and it's going to be pretty hard to remember to always have them up or down to correspond with the previous action. If there are no mistakes, Mike deserves a medal.
Peter's clothes are typically Peter. He wears green tight levis about the color of Davy's shirt, knee high moccasins (without fringe) and an orange Indian cut shirt with gold buttons, which he usually kept unbuttoned unless they were actually filming a scene. His hair is longer than it was when the Monkees first started, and Davy's is shorter.

Micky wears a pair of brown cords with a rough knit crew sweater which has a red stripe around the neck. Sometimes, he wears a brown suede jacket which sort of matches his pants but most of the time, when he's not in front of the camera that is, he left it off.
The most curious thing about Micky's whole outfit is that he was wearing Adidas shoes. They are the kind of footwear—without cleats that athletes—especially Olympic contenders—wear during their meets. You can always recognize them because they have three stripes on the outside of each shoe. Just in case you're interested, he had socks on.
After checking out everyone's outfit, we almost fell over when I saw them film the last scene of the day. Fully clothed, each Monkee took a run on a long diving board and plunged—fully clothed—into a swimming pool. That's hardly a way to wash clothes!