Your fave-raves turn back the pages of time and recapture the thrills of being THE MONKEES!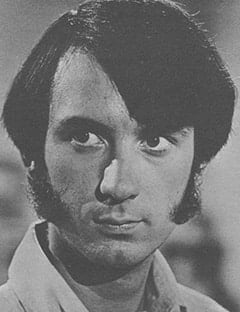 The most important page in my diary was written on the day I knew the Monkees were a reality, and I was told that I had been chosen—from the nearly 500 applicants—to be one of the new foursome! Even then I found it hard to believe! As I signed my name to the contract (which was to change my entire life), I was scared! Who wouldn't be?
I had struggled for such a long time. I was flat broke—and I had no idea what my show business future was. All I knew was that I would never give up—with or without the Monkees, I was determined to be a fine performer and musician. At last, here it all was! But on that eventful day, none of us—Peter, Micky, Davy or myself—knew that. We had strong, positive feelings about the show and its unique approach to TV, and we all really believed that The Monkees would be a great success. The miracle happened and it was! In my secret heart, I'll be eternally grateful to all the young people in America. You see, you are really the ones who made it all possible!
My diary is full of important dates and milestones in my life and career. For instance, I remember vividly the thrill I got when I learned that we Monkees were going to have the opportunity to cut a record that might sell a million copies! Now—when we know we have sold over 23 million records—that first million seems so long ago, although it was only two years back.
Soon after that I started to make a serious re-appraisal of the kind of music and image we Monkees represented to our fans. Thus, the much talked about "Monkee Rebellion" took place—when the four of us insisted that we had something important to say musically. By the way, much later I experienced the same kind of thrill when my song Different Drum was recorded by the Stone Poneys and became a hit. Then, still later, I guess my greatest musical thrill came when months of hard, hard work on a special pet project turned into reality: the day I stood in a recording studio, baton in hand, conducting an orchestra of over 50 of the top musicians in the country who were playing my Wichita Train Whistle opus! The jazz critic for the Los Angeles Times said, "Verbally and musically, Mike Nesmith of The Monkees is one of the most articulate spokesmen of the new and literate breed of pop musicians who spring from the ranks of primitive rock." Wow—I got goose bumps when I read that!!
Needless to say, there are lots of pages in my diary devoted to Phyllis, Christian and Jonathan Darby. I am sure that a quick peek at Phyllis' diary would reveal that some of her most thrilling moments closely parallel mine—like the day we moved into our new home and realized that this was really us! Every stick of furniture, the curtains and the color scheme was our doing and reflected our personalities. Of course, Phyllis is more involved in the household things than I am, but we had long talks about it every day after I returned from working on the TV show at the studio.
My diary is not complete without a page on the first time I returned to Texas after achieving fame as a Monkee. I think all us revel, to some degree, in the "home-town-boy-makes-good" reception. I know that my mother was over joyed when people pointed to our house and noted "that's where Mike Nesmith used to live." But most important of all was the look of pride and happiness I saw shining in my mother's eyes!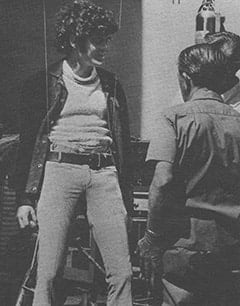 In my diary, September 12, 1966, was a red-letter day for me—as I watched the first Monkee show on television! I made it a point to go home to San Francisco to be with my family that eventful evening. If the reaction was bad, I wanted my loved ones around me. Naturally, good or bad, I should have realized that in their eyes I could do no wrong. Of course, they were all pleased with the show and that made me happy. However, at that time no one guessed that two years later we would still be on the air! It was even more of a thrill when I realized that we had been picked up for a second season—and now that we are going to do one-hour color specs on NBC-TV next season—like wow!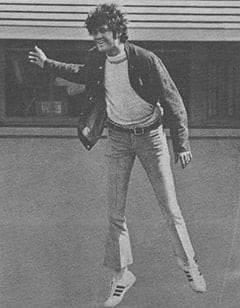 Ever wonder what it's like to walk out on a stage and see 20,000 fans waiting for you? I'l tell you—it's positively thrilling! I experience this thrill every time we do a concert. It's like being born all over again every time the Monkee theme starts, and Davy, Peter, Mike and I hear the screams backstage—and realize that these thousands and thousands of kids had been saving their allowances for weeks in order to be there! All the trials and tribulations of the grueling tour are forgotten. We played 28 cities last summer and it was the same all over. Got one of my biggest boosts when we left the plane in Toronto and saw the hundreds of police (including Royal Mounties!) ringing the field. Davy remarked, "The Queen must be on the plane too!"
On my first trip to England, I was asked if I had ever met the Beatles. I said no—and arrangements were made. Then I met Paul at his St. John's Wood home. Gad—what a day that was! Also met Samantha Juste on that trip. Needless to say, my diary for that day reads, "I love England and all its people—hope to return there soon!"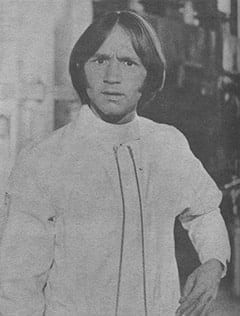 The day we started production on our feature motion picture was another important diary day for me. With the TV show, we spent three days a week in production. But now we were going to spend over ten weeks (five full days per week) on a movie! It was very different and wonderful—and I hope we can do another movie again soon. It was also kinda thrilling that an old idol of mine—Victor Mature—consented to be in the film with us. It was great fun working with him.
Finally, my business managers told me that I could afford to buy some of the things I had always wanted—and then some! The first project I undertook was building and equipping a complete metal workshop in my Los Angeles home. This has always been a pet dream of mine. I get great satisfaction out of working in the shop alone and creating something that is all me. This is my way to relax. Had great fun building my gyrocopter—but I still haven't flown it yet!! Maybe I'm a little scared!!
Oops! Here we are out of room again! That means that Peter will have to wait until next month to reveal his secret diary to you! Hope you can wait 'til then! See you in the September issue of 16—which goes on sale July 23!!