Davy, Peter, Micky, and Mike are trend setters in fashion!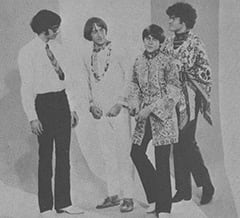 Have you ever stopped to think just how much influence the Monkees have had on groovy clothes? Well if you haven't, it's time to take a look back and see how many groovy things they've done.
Gene Ashman, who designs most of the Monkees' outfits and who is also in charge of the costumes for their new film, has great respect for all the boys as dressers. Gene insists, "People don't give the Monkees much credit for the patterns they've set in fashion. Just look at Mike. He was the first to wear Indian Moccasins and it began affecting people all over the world.
"Two years ago for the teenage fair, I dressed Davy in a tuxedo and he wore a white turtle neck with it and now look what's happened. Everyone everywhere is doing the same thing.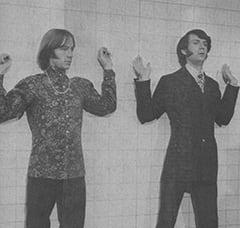 "Micky got on this Indian kick and soon everyone was following him. Peter began grooving with a well-dressed hippie look and showed everyone that you didn't have to look dirty and out of it to be with the hippie trend."
Gene says each Monkee has a real feel for clothes and has an individual style that's all his own. Mike is the western type. Practically everything Mike wears has this rugged, slender look to it. He feels comfortable in these clothes and won't wear much of anything else. Mike takes note of what others wear and admits liking other styles, but for him, it must be the western look.
Davy, of all the Monkees, is the most sophisticated dresser. He's there before styles actually begin. His interest has broadened into opening Zilch and he plans other such stores as soon as time permits. Davy eventually wants to manufacture a line of Davy Jones clothes which Gene will help Davy design. Though he looks good in practically everything, Davy must be careful of some clothes. Because of his size there are garments and fabrics that don't look well on him. He senses this immediately and never wears them more than once.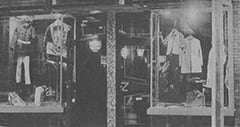 Peter is the Flower Child type of dresser. He grooves over way-out things in bright colors. He digs Love Beads, decals and other adornments that are currently popular with the hippie set. Since Peter is not particularly interested in possessions he probably has fewer clothes than the other Monkees.
Micky is the most casual of all the boys as a dresser. He gets in a habit of wearing one outfit and unless he's in front of the cameras or on stage you'll probably catch him wearing his cut off levis and white T-shirt. Micky doesn't like to spend time worrying about clothes. When he gets up in the morning he just wants to wear something comfortable and quick. But every once in awhile he'll get the urge to splurge and then he'll buy several new outfits and turn up looking groovier than most other show business personalities.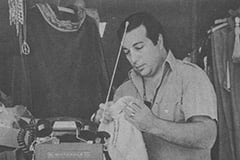 In the new Monkee movie, each of the boys has eleven changes. All of the costumes were designed by Gene with help and suggestions from the boys. Gene tries to give a look to each Monkee outfit that suits the mood necessary for the particular scene being shot. For the new feature-length film, Gene had to design more than 1000 costumes for the entire cast of the picture. It's a wonder he can come up with that many different ideas.
"But," as Gene points out, "when you have guys like the Monkees to design for, everything becomes fun instead of work. I hope I'll go on designing clothes for them indefinitely!"