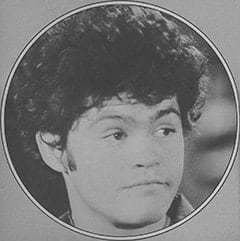 I guess that I can consider myself pretty lucky to have been chosen to be the stewardess on the Monkees' private plane for their last summer tour. It was the best job I ever had and I felt even luckier when Micky invited me to spend a day at his house when the tour was over.
I can remember everything so clearly. I mean, how could you forget such a special day! Micky came to pick me up at my hotel in his red, white and blue bus and soon we were off to his house. Micky's a ball to ride with because he's always saying funny things and making crazy faces at the people in the cars next to you.
After winding through the hills of Laurel Canyon, we arrived at Micky's house. When I walked in I was astounded at what a beautiful house he has up in the mountains. It's designed like a Swiss chalet and the living room is done in dark wood with high beam ceilings and a big, old fireplace at the end of the room.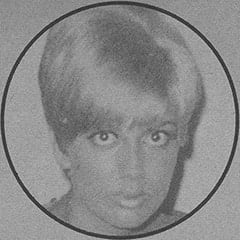 Over the fireplace there is a balcony where his antique dining room table and chairs are. The table reminded me of a King's table because it was so long and the chairs have very high backs. There was suddenly a commotion in the kitchen and there I met Mick's nine cats and You. Five of the nine cats are solid black and just beautiful!
In another room off the living room there was a huge metal object and when I asked Micky what it was he told me it was his new means of transportation to and from the studio. He called it a gyrocopter and he was actually building it himself! He told me that he had to build 51 per cent of it himself or he couldn't get a license to fly, and then he explained that he was going to build the whole thing. It was so big that I wondered how he was going to get it out of the house. When I asked him he laughed and said that he wasn't quite sure and hadn't really thought about it.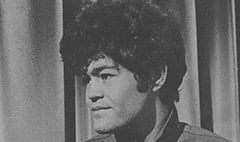 After a bit he suggested that we get something to eat and he darted for the freezer where he pulled out a Hawaiian Ice, which he said was his favorite snack. He told me that one time he had a contest and ate nine of them in a row. It turned out that the Hawaiian Ice was just an appetizer for a Dolenz special lunch. He took a can of chili and a can of corn, mixed them together and heated them up. He said that this was the food he lived on and it was really delicious.
After lunch we went downstairs where I met his best friend and house mate, Tad. Tad looks a lot like Micky—he's very tall and slender and has gorgeous curly hair just like Micky's. Tad was in the workshop making a beautiful lamp and Micky took me over and showed me his lathe where he makes candle holders, incense burners and about a million other objects.
He put a piece of wood on the lathe and within 15 minutes he had made a beautiful candlestick holder, which he gave me as a present. He showed me how to work the lathe, but when I tried it for a while, I found out that it's not as easy as it looks. He suggested that with a little practice I would get better.
Still in the downstairs part of the house we went to his recording studio where he showed me all the equipment and explained what each machine was and what each did. On the far wall of the studio there were four large wooden boxes and when I asked what they did he proceeded to show me.
First he turned all the lights off and then put on the Beatles' Sgt. Pepper album. All of a sudden the whole studio was lit up with the different colored lights, each color going off and on to the different beats in the music. I stood there in amazement during the whole thing. Then he played some tapes that he and Peter had recorded in his studio that were outasite!
Tad came down and said that some friends of Micky's were upstairs so we went up to say hello. There I met Stephen Stills, Dewey Martin and Bruce of the Buffalo Springfield. We all went to the studio again and they all started jamming as I looked on. Stephen played the guitar, Bruce played bass, Dewey was on drums and Micky played a strange instrument that made every sound that you could possibly imagine.
He told me later that it was called a Moog Synthesizer. All that I could see was a keyboard and at least a hundred buttons, switches and plugs. Every time that he pushed a button or plugged in another plug it made a diffent [sic] sound. He explained that the whole instrument was run on the different speeds of sound and that there were so many combinations that he doubted if he would ever hear all of them. He said that it would reproduce every sound in the universe.
After the guys jammed a while Micky suggested we all go outside, where he showed me his fish pond and the redwood Chinese bridge that he built himself to cross over it. We picked some wild flowers that were growing and then we climbed to the top of the mountain that runs up behind his house. The view was so pretty and we could see all over the canyon.
It was getting dark by the time we finished our hike so Micky suggested that I go back to my hotel and change and we would go out to dinner. He had Tad drive me back while he changed and an hour later was back at the hotel to pick me up. This time we went in the GTO that has blacked-out windows so no one can see in.
We went down the Sunset Strip to the Marquis Restaurant which he said that his father had owned when he was smaller. We had a great meal and then went to see "Bonnie and Clyde." Micky really enjoyed the movie and all the way through he was busy explaining the different kinds of camera shots and angles to me.
After the movie we took a short drive up in the hills and checked out the great view of Hollywood. Then he took me back to my hotel and I thanked him for a great afternoon and evening. It was really a day that I will never forget. Micky is a super host and a great person to have for a friend.