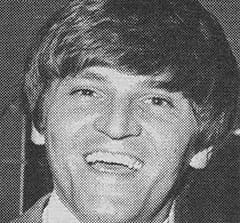 As told to Monkee Spectacular By Joey Paige
It's been awhile since Joey Paige has had a top record, but who can forget his huge hit, "Daddy's Home," or some of his other songs like "Merry-Go-Round?"
Joey is one of Hollywood's most-liked people and when he isn't performing out of town, he often attends parties thrown by top pop stars. Just recently, Joey had the outasite privilege of attending a party thrown by none other than Monkee Micky Dolenz!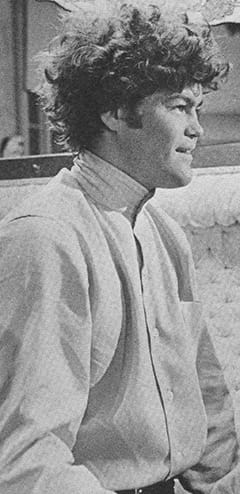 We'd all gone down to a club on Sunset Boulevard—the very tip of the Sunset Strip and near Screen Gems—called the Red Velvet. It's a supper club in the Las Vegas tradition and even Elvis Presley, who rarely goes anywhere, sometimes shows up at the Red Velvet.
This night, the Sundowners were performing at the club and since they are such a great show group, a lot of top performers had come in to watch.
Micky Dolenz was there when I arrived, sitting near the stage and applauding every number. He's a big fan of the group—even before they toured with the Monkees last summer.
During the show, Micky started spreading the word that he'd like to have some people over to his house afterwards, and nearly everyone in the entire club was invited.
By the time the show was over, it was after 2 a.m. Micky must have left quickly because when we arrived at his house in the Hollywood Hills, he was already there being a very efficient host.
Did I tell you that Micky has finally ended part of his problems with people bugging him by building two big doors—sort of like gates—at the entrance to his rustic house? And he keeps a bodyguard there to make sure everyone is cool.
It was a great party: we made popcorn and watched Alice In Wonderland movies. I couldn't believe it at first.
Some of the girls got together in the kitchen and popped tons of popcorn. They had to because there were gads of people there. Anyway, they popped the popcorn and cut up little squares of saran wrap and gave everyone a handful.
Micky lowered a screen from the balcony in his living room and set up his projector and turned on the Alice In Wonderland movies.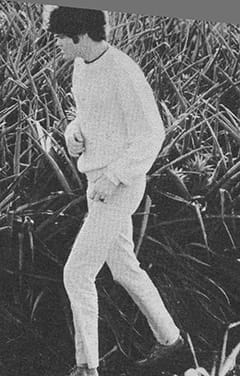 The television—a color set—was on in the other room and we watched it for awhile. No one was paying strict attention to either the movies or the television. They would look for awhile, then walk around awhile.
Micky has a groovy house. You go down these steps to a playroom or den or whatever you want to call it, and Micky has this fantastic machine (likely a Moog synthesizer) set up. It's theoretically supposed to make every sound a machine can make musically. We fiddled around with it for at least an hour.
Micky is really a groovy host. He's very friendly and makes sure he's introduced to everyone who's there if he doesn't know them.
Davy Jones was there too. I think he and Micky are pretty close friends as there seemed to be a lot of communication between the two guys.
I don't remember exactly what Micky was wearing but it was flowery—probably a wild flower shirt. I remember thinking that he looked very casual. Everyone was casual actually and wearing just what they felt like, from suits and ties to jeans and leather.
Micky was also eating ice cream all night, drumsticks with a sugar cone and chocolate on top. He apparently loves ice cream as I never saw him without some nearby.
The Knickerbockers were at Micky's party without Jimmy Walker, who has left them to join Bobby Hatfield in the Righteous Brothers. Lots of other people were there, and the distribution was pretty even between men and women. I mean, there weren't too many girls or too many guys.
I left at about 5 a.m. and watched the sun come up on my way home. And the party was still going strong!
[Scans by This Lovin' Time]