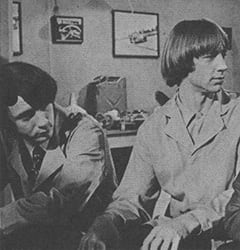 What is it like working day in and day out with the Monkees?. No matter how great or loveable [sic] four people are, when you're constantly around them problems have to arise—or do they?
"Lippy," who is the cameraman on the Monkee set knows the four boys probably as well as it's possible to; from eight in the morning until six or seven at night, every day, they work together and often under the most strained conditions. Not only has he shot every Monkee show (with the exception of the pilot), but he and his wife, Charlotte, have had the boys over to their house.
Lippy has been in the "business" 45 years; he's a highly respected, top-flight professional. So it's especially interesting to hear his comments on the boys he's worked with day and night for the last two years.
Lippy looks at The Monkees

Permalink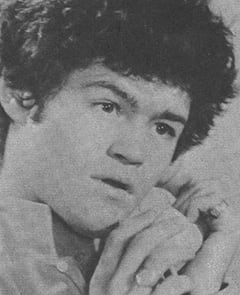 "I was a cameraman on 'Circus Boy' with Micky and we were very close, so I know him from way back. And David I took a liking to him as soon as I met him. I have more warmth for David than any of them. Mike I admire because I always kid him and say, 'You're a Will Rogers.' He certainly has a subtle way of acting and a sense of humor.
"Peter is a sincere individual—and I love to listen to him throw his big words around. He has an exceptional vocabulary, which I don't have but I certainly enjoy people who do. And when someone makes a mistake in grammar Peter is the one who can spell it out, and tell them the right word. He's like a walking dictionary—anything you want to know you can ask Peter and he can tell you. He's had a wonderful background.
"Each boy is such an individual. Davy's background comes from the stage. To me, Davy is like a little Errol Flynn. My wife and I enjoyed every minute when he came over to the house. He was just like our son. You just want to always be warm with him because he's so wonderful. And that's how I think of all four boys.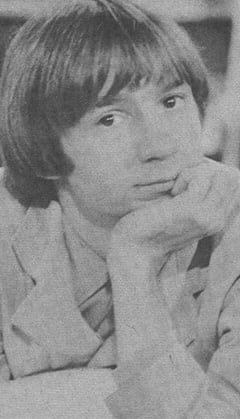 "It's amazing to get four people who get along as well as they have so far. They're all so different… and different to work with. Whenever you photograph Davy he always looks good. He's got that great face to photograph.
"They've all learned to get into the right light on stage so they look their best. I give them a few suggestions like, 'Keep your head up,' but I don't want to change their personalities. They all work with us and try to get their lines. It takes a pro to do a scene and be able to move all over the set to get into his lights and remember his lines which all of them have remembered to do. These boys are really becoming professionals, it's just like second nature to them now.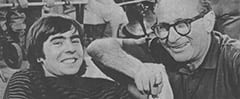 "Davy's actually the only one that we used to see. He liked Charlotte's cooking and he liked Charlotte (my wife).
"In fact one weekend he flew us up to Las Vegas and we had a wonderful time. Then he took us up to San Francisco; he's been so good to us and we just love him. If you'd ask which one of the boys do you like best… I like all of them, but I'd have to say Davy. I feel at home with him.
"I think I'm one of the boys' best publicity agents. We get pictures for everybody we meet because we think so much of the boys and we love anybody who watches the show.
"One day Charlotte and I were flying up to Vegas, and we saw six little tots and their mothers—three years old on up to ten—and we started talking to them and we wanted to know if they liked the Monkees. Sure enough, every one of them loved them, so when I got back to the studio I had a picture autographed to all those kids and sent it off to them. I bet I've sent off more pictures of the Monkees than the Monkees have sent out themselves. My wife also… every day I go to work I have three or four names in my pocket to get autographs for.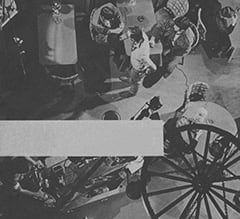 "All four have good futures. I think they're smart enough to take advantage of it. You hear stories against them at times, but I think a lot of that is just publicity.
"I think they're sincere and honest and good American boys all of them. And they know right from wrong. They live clean lives. Micky has his little girlfriend and Mike is married and has two beautiful children. And they're all sensible boys. Peter loves to go back and see his folks when he gets time off. He often tells me about his father and about his being a teacher, etc. And David has taken a couple of trips to see his dad and his sisters in England.
"They all have to go places in this business—and amount to a lot!
"The only thing I can say is that I have enjoyed every minute that I have worked with them—we've done all the old tricks we used to do in comedies years ago…"
A wonderful compliment

Permalink
Lippy adds that all the other people who work with the boys feel the same love he feels for them. There's a constant air of fun and relaxation on the Monkee set—which is such a relief from other shows that go about a day's work as though it were deadly serious, with no smiles allowed.
These compliments coming from a man who has seen the greatest of them through the lens of his camera should finally prove, once and for, all, how great the Monkees really are!