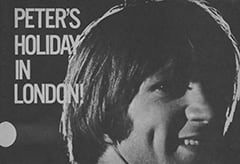 The scene at the Mayfair Hotel in London was not new. Fans crowded around the doors and filled the lobby waiting to see their favorite people—the Monkees. But these fans were a bit more industrious because Peter Tork and Davy Jones were supposed to be on secret holidays!
It's really impossible to keep a famous face like Peter Tork's under cover, but while Peter was in London he did have a few days peace. Sporting a two weeks' growth of dark beard, Peter flew into London for a vacation and went generally unnoticed for several days.
To do this, though, was quite a task. It meant going through many special arrangements at the airport, traveling around in a Rolls Royce limousine with black smoked windows and bodyguards. It also meant going out mainly at night. All of which Peter managed to do.
Peter had gone to London to see his good friend, Bobby Finch (Likely actually Barry Finch), who plays in a British group called "The Fool," and designs clothes for the Beatles' new boutique The Apple.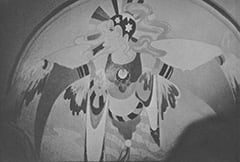 Early during his first week there, Bobby took Peter and his guests Karen Harvey and her son, Justin, who are Pete's good friends, on a tour of the clothes shops in Chelsea. The first stop, of course, was The Apple, where Peter bought a rajah coat of red satin with a groovy gold braid collar.
After The Apple, they all traveled on down Kings Road and visited "Granny Takes a Trip" and did some window shopping at the other boutiques along the way.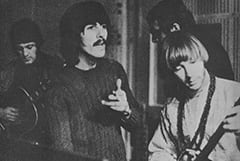 Later that afternoon Peter got in touch with George Harrison and George invited him to sit in on a recording session that evening. George was working on the musical score he wrote for the movie, "Wonder Wall." When Pete arrived at the studio George asked him if he would play five-string banjo on one of the cuts.
Peter was more than delighted and after a time they put down some beautiful sounds. Peter mentioned to George that he'd like to see the "Magical Mystery Tour" film so George made arrangements for Peter to have a private screening at the hotel.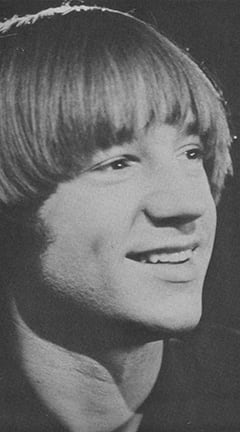 Peter really flipped for the Beatles' fantasy film and watched it through several times. One time he even took color slides while it was being projected on the screen.
In the evenings, Peter could go out a little more easily. On New Year's Eve, Jonathan King took Peter around to the Speakeasy Club, where just about every pop star in London was welcoming in the New Year.
Peter ran into Davy Jones, among others; and then spent quite a while talking with Cynthia Lennon who he had met at the recording session earlier. Cyn was dressed in a fabulous outfit of satin blouse, satin skirt and satin boots! Peter was really knocked out by Cynthia, whom he considers "a lovely lady."
Another night Peter made the theatrical scene. He went to see "Wise Child," a comedy currently playing in London. Peter was especially impressed by the British comics and their dry sense of humor.
By the middle of his first week there, the fan scene became impossible. One girl even threw herself through the plate glass window at the Mayfair Hotel to get close to Peter. Of course, the hotel management by now was not too pleased so Peter decided to move to the Royal Lancaster Hotel.
One night Peter and his friends went to the opening of a new club called "Revolution." It's a strange set up with a circular dance floor in the center of the room surrounded by chairs set in bleachers, somewhat like a miniature baseball stadium. A group from "Here We Go Round The Mulberry Bush" provided the music and Peter really loved the freaky atmosphere.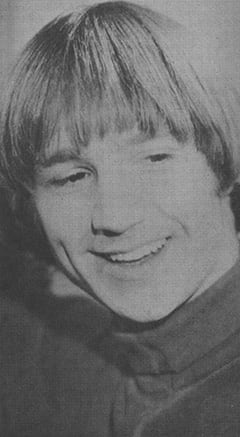 Peter did spend one very relaxing afternoon at Jonathan King's family home in the country. The English countryside can't be beat for a peaceful atmosphere and Peter really enjoyed his day there.
Toward the end of his stay, the fans would congregate outside the hotel in the snow from seven in the morning until nearly midnight. It became so impossible to come and go freely that Peter just stayed in his hotel and had friends drop by. He left London for Los Angeles after ten days and after a three hour wait at the Heathrow Airport, which was snowbound.
Despite his lack of freedom, Peter loved his holiday and it turned out to be a restful ten days, which a Monkee can always use!