For a whole week Peter, Davy, Mike and Micky had been moping around. It began a couple of days ago when some friends of Davy had some English friends over and all the Monkees came to meet them. Seems the two had just gotten back from a trip all over Europe and even down to Africa.
They'd seen Germany, France, Italy and all the outasite countries of Europe from the back of motorcycles—which they say is the only way to travel. They started telling the four about the groovy people they'd met and the fantastic meals they'd eaten. By the time they were through, the Monkees had really been bitten hard by the traveling bug.
Micky dug the idea of France—all those lovely girls, and especially Paris in Spring—what a groovy city! Peter was torn between visiting Spain and Italy and decided he'd just have to travel through both. Davy loved the idea of a Greek island with plenty of sun where he could swim all day, and Mike thought Austria would really be interesting because it has a lot of gorgeous countryside, and of course Vienna is the greatest of the old, old cities.
As Davy's friends left they gave him a gift they'd picked up in Europe—a big beautiful cookbook which had recipes from countries around the world. They knew he loved to cook and he was so delighted with it that he wanted to try something immediately. And naturally Mike, Micky and Peter didn't want to be left out so each one picked something to try from a different country. And here are the groovy goodies they picked…
Peter's drie in de pan (raisin pancakes) Holland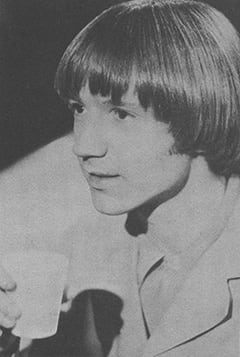 ½ cake or package yeast
½ cup lukewarm milk
¾ cup sifted flour
½ teaspoon salt
3 tablespoons seedless raisins
4 tablespoons butter
Soften the yeast in ¼ cup of the lukewarm milk for 5 minutes. Stir until smooth. Sift the flour and salt into a bowl. Add the yeast mixture and mix well. Add the balance of the milk and beat well. Cover and place the bowl in a pan of warm water. Allow to rise for 1 hour. Wash and dry the raisins. If they are not very fresh and plump, soak them in hot water for 15 minutes. Add the raisins to the batter, mixing lightly.
Melt half of the butter in a frying pan. Drop a tablespoon of batter at a time into the pan, to form small pancakes. Bake over low heat until brown and well done on both sides. Serve sprinkled with sugar.
Micky's murbeteig (sweet pastry) Germany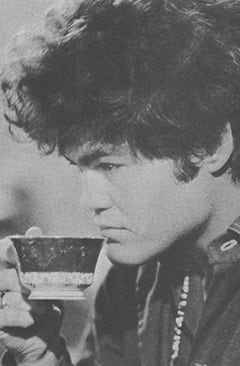 2 cups sifted flour
⅛ teaspoon salt
½ cup sugar
½ pound butter
1 egg
1 tablespoon cold water
3 tablespoons heavy cream
½ cup blanched walnuts or almonds, chopped fine
Sift the flour, salt, and 2 tablespoons of the sugar into a bowl. Add the butter, using one hand to blend until smooth. Make a hollow in the center of the mixture and place the egg and water in it. Mix all together until a dough is formed. Wrap in wax paper and place in the refrigerator for at least 2 hours, overnight if possible. Then: Roll out about ¼ inch thick on a lightly floured surface. Cut with a cooky [sic] cutter into desired shapes, brush with the cream, sprinkle with the remaining sugar and the chopped nuts. Place on a baking sheet. Bake in a 375˚ oven for 15 minutes, or until lightly browned.
Mike's chepa (cheese spread) South America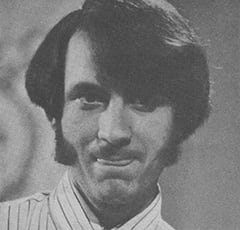 ⅔ cup shortening
2 eggs
1 ½ cups grated American or Cheddar cheese
2 ¼ cups corn meal
¼ teaspoon salt
⅓ cup milk
Cream the shortening. Add the eggs, beating well. Add the cheese and mix until smooth. Combine the corn meal and salt. Add to the cheese mixture, alternately with the milk, mixing steadily. Knead together with the hands until well blended. Preheat oven to 375˚. Place the dough in a buttered 9-inch loaf pan. Cover the top with a piece of aluminum foil. Bake in a 375˚ oven for 35 minutes, or until firm.
Davy's mince (hamburger) Scotland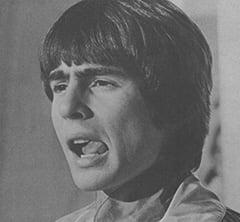 3 tablespoons butter
2 pounds beef, ground
3 tablespoons boiling water
2 teaspoons salt
1 teaspoon pepper
2 onions
Melt the butter in a saucepan and add the meat, stirring constantly. Do not allow lumps of meat to form. When the meat is brown, add the water, salt, pepper, and onion. Cover and cook over very low heat for 35 minutes, stirring frequently. If desired serve with "skirl in the pan" (the recipe follows).
Skirl in the pan
⅓ cup butter
2 onions, chopped fine
½ cup oatmeal (Scotch oatmeal, if possible)
½ cup boiling water
2 teaspoons salt
⅛ teaspoon pepper
Melt the butter in a saucepan. Add the onions and saute until brown, about 10 minutes, stirring frequently. Add the oatmeal, stirring constantly. Add the water, salt, and pepper and mix well. Cook over low heat for 20 minutes, or until soft. Serve with "mince."