St. Thomas, V.I.
Dear Nicolette,
How right you are! You may write to adorable LUKE in care of Ivan Tors Prods., 650 N. Bronson, Los Angeles, Calif.
---
Beauty bug
Dear Miss Stavers,
I ordered 16's Popularity & Beauty Book and it has turned out to the greatest boost to my morale (not to mention all-round self-improvement) since DAVY JONES! I highly recommend it to all of your readers who long for more teenage happiness!
Nora Weiss
New York City
Dear Nora,
You are lovely—in every way. All other 16-ers who are dying to get lovelier, quick turn to Page 13!
---
Sajid forever!
Dear Miss Stavers,
Jenny Brune—who wrote that dready letter about our WONDERFUL SAJID KHAN in the Feb. ish—is a PRUNE! I mean, that girl really needs HELP! SAJID, the gem of the Far East, is now a shining star in America's skies. He's talented and gorgeous and we all LOVE him! So there, Jenny. By the way, I have read three different birthdates for SAJID. Which is the correct one?
Frances Dellon
New Orleans, La.
Dear Frances,
In his very own handwriting, SAJID wrote me that he was born on December 28, 1952 (Correction)—and that makes him 15 years of age. Thanks for defending him—you were not the only one. I received literally thousands of letters from Sajid-luvvers!!
---
Jay & Techniques
Dear Miss Stavers,
Please tell me where to write to JAY & THE TECHNIQUES.
Brenda Frew
Detroit, Mich.
Dear Brenda,
Here is a pic of J & T's—and you can write to them in care of Smash Records, 35 East Wacker Dr., Chicago, Ill.
---
Love! Love! Love!
Dear Miss Stavers,
It looks like every month you get a vile HATE letter from a reader—either knocking the MONKEES, SAJID, somebody's hair style or even my beloved 16!
This is a LOVE letter. It is to tell you and your readers how much I love 16 and each and every performer you write about and print pictures of. It is a letter hoping to send out love (instead of hate) vibrations to everyone all over the world—even those who write hate letters. LOVE IS THE WORD AND THE WAY!
Betty Parkinson
Duluth, Minn.
Dear Betty,
Thank you from the bottom of my heart for your beautiful and inspiring letter. You're right, and like they say in the song—"what the world needs now is love, sweet love."
---
Franco Nero
Dear Miss Stavers,
I have gone ker-pow over handsome FRANCO NERO, who plays Sir Lancelot in Camelot. Can you tell me where to write to him?
Larraine Canny
Bronx, New York
Dear Larraine,
Here is a groovy shot of FRANCO and you can write to him at Warner Bros. Pictures, 4000 Warner Blvd., Burbank, Calif.
---
Tommy & Bobby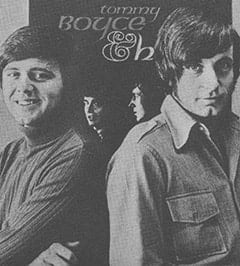 Dear Miss Stavers,
I just heard TOMMY BOYCE and BOBBY HART's new A&M single record I Wonder What She's Doing Tonight—and I am now dying to see what they look like!
Kathy Martimer
New York City
Dear Kathy,
T & B are really astral! Here—take a look at them, and if you care to write to 'em their address is A&M Records, 1416 N. La Brea Ave., Hollywood, Calif. If you mention that you are a 16 reader you will get a prompt reply!
---
Super giant pin-ups
Dear Miss Stavers,
I'm in "wig city"—I just got my great set of ten huge all-star pin-ups. They are truly perfection! DAVY is almost life-like! Thanks so much!!
Patty Green
Durham, N.C.
Dear Patty,
It's my pleasure, believe me. Any other all-star-cravers should turn to Page 45 pronto!
---
Misses DC5
Dear Miss Stavers,
What are my faves—the one and only DC5—up to these days?
Marian Matton
Chicago, Ill.
Dear Marian,
DAVE and the 5 have just finished shooting a new series of six-specs which are scheduled to be shown by ATV in England from April on. The very same TV series will be shown in America in color at a later date. The DC5 hope to be back in the States for a tour soon.
---
Lost in Space-r
Dear Miss Stavers,
I think that ANGELA CARTWRIGHT of Lost In Space is a doll. Where can I write to her?
Bill Spence
Akron, Ohio
Dear Bill,
Here is a shot of ANGELA as she appears on Lost In Space. You can write to her in care of CBS, TV-City, Hollywood, Calif. Be sure to print "I Am A 16 Reader" on the outside of your envelope!
---
"John Henry"
Dear Miss Stavers,
WOW! I've just found out about TOM NARDINI, who plays, "John Henry" on Cowboy In Africa—and I wanta know more! Can you help me?
Terry Heller
Brooklyn, N.Y.
Dear Terry,
Here's a "help-ful" pic of TOM and you can drop him a line at ABC-TV, Hollywood, Calif.
---
We apologize to the Directors of Achievements Limited and to the authors and artist for unauthorized use in 16's Winter SPEC '67 of material from their book Up The Beatles' Family Tree—copies of which may still be obtained price $1 post free from Achievements Limited, Northgate, Canterbury, Kent, England.
Magazine: 16
Editor: Gloria Stavers
Published:
Volume: 9
Issue: 11
Publisher: 16 Magazine, Inc.
Pages: 64–65