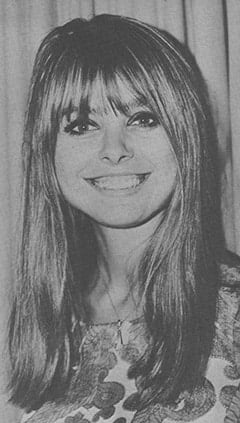 If you're troubled by the way you look, and you don't know what to do about it, read Samantha Juste's helpful tips on how to make yourself over into a whole NEW YOU—every month in 16 starting right here!
Adorable Samantha Juste is not only a successful television personality in London; she's also a top model. Unlike most models, Sammy clings to the natural look—exactly the kind of look that makes most boys go ga-ga over a girl. (Well, it worked with Micky Dolenz—didn't it?)
Samantha has decided to write a regular column in 16 giving you the inside dope on her beauty secrets, plus answering questions about anything you might want to ask her about beauty. But first things first. Lend an ear while Sammy reveals her make-up beauty secrets to you.
Before you put on your make-up, you should be sure that your face is spotlessly clean. Actually, skin care should be number one on your beauty list, and make-up should be number two. Eating lots of fresh fruit and green vegetables is the best prescription I can give you to make sure that you have a healthy, glowing skin. That, combined with fresh air, exercise and cleanliness will help you to have skin that looks groovy and smooth, instead of rough and pimply.
For everyday, I wear as little make-up as possible. This means that I rub a dab of hand lotion on my face and when it is dry, I dust a tiny bit of powder over the shiny parts. I use a minimum amount of mascara, and my final touch is a layer of lip gloss.
However, if you are going to a party or a special event, you may want to look "soopa" and wear a bit more face make-up. For these special occasions, here's what I do:
First, I apply Max Factor medicated foundation all over my face and neck (be sure to pick the color that properly blends with your skin tone). Next, I press a little Creme Puff powder over my shiny spots, and then I dust a little Blush On over the hollows of my cheek bones in order to hide them.
The next step is eye make-up. I use powdered white eyeshadow on my upper eyelids and then draw on an eye-line with a dark green pencil. (You have to experiment with eye-line colors and find which is best for you). If you like false eyelashes, I suggest that you use Eye-Lure. I find them easiest to handle. I brush Revlon Fibrelash Mascara on my top and bottom lashes, and then I lightly pencil in my eyebrows where necessary. The very last thing I do is put on my lip gloss.
Taking off make-up is just as important as putting it on. It should be done carefully and thoroughly. I use Max Factor cleansing cream and skin freshener to remove my make-up. If you have oily skin, I suggest that you also use an astringent. Last of all, the most important facial beauty advice I can give you is to keep your face clean, enjoy a sensible diet, and get plenty of sleep and fresh air.
See you next month, when I'll tell you how I take care of my hair. The May issue of 16 goes on sale March 19.