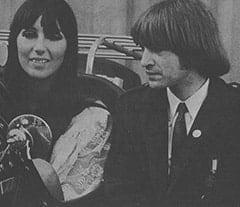 What's the best way to meet the Monkees? The Beatles? Sonny and Cher? Meet Rodney Bingenheimer first! Rodney is Hollywood's man-about-town, the one person who knows EVERYONE, the person to see when you want to meet someone!
Because all your faves have unlisted telephone numbers and live in places that most people don't know about it's often difficult for them to meet each other, particularly if they're just visiting Hollywood. So, they get in touch with Rodney and he arranges all the introductions and tours. Everybody all over the world knows about Rodney and whenever English or French or Australian stars come to the States they're told before they leave home to "get in touch with Rodney first". They do and he not only introduces them to whomever they want to meet, he also takes them around on a personally conducted tour of the "innest" spots in town.
Rodney grew up in Mountain View, California and lived just about like every other teenager in America until the day Sonny and Cher came to town. He met them and it was instant friendship. They asked him to come down to live in Los Angeles and he accepted the invitation.
After he arrived they helped him to get started in show business. Through Sonny, he got parts in the movies, "Warning Shot", "Divorce American Style" and "Mondo Hollywood". While he was playing in these pictures he began to meet more and more people in the industry and gradually he evolved into Hollywood's official "introducer".
Rodney's life is always exciting. For a while he played Davy's double on the "Monkees" and right at the moment he's slated for parts in "2000 Years Later" and "The Flower Children", a movie with Nancy Sinatra and Jon Provost.
Hollywood is such a constantly changing city that you can't often tell from day to day just what will be happening but there's one thing that you always know in advance. If there's a party, a concert, or anything at all where there will be groovy pop stars, Rodney will be there. And, best of all, he doesn't go steady so there are quite a few girls who get to meet the faves as his date!
Peter Tork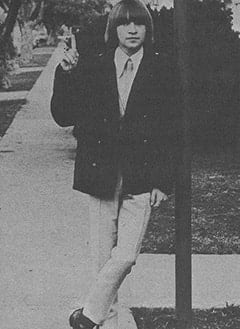 Rodney has built up quite a following in Hollywood. In fact, in some ways he's better known than some of your faves by the people on the inside. For instance, Rodney was walking out of a folk club one night when Peter Tork and a date walked in. Peter called out, "Hi! Rodney," and Rodney yelled back, "Hi, Peter!" Then Peter turned to his date and said, "See, you didn't believe I knew him, did you?" It turned out that his date hadn't believed that Rodney knew who Peter was!
And quite recently at the Herman's Hermits concert in Southern California Rodney got mobbed as he tried to leave the auditorium. Fans stuffed his arms with toy animals and he required assistance in order to leave safely. This wouldn't be so notable ordinarily because Rodney often comes close to being mobbed. What is notable, however, is that Davy and Peter were at the concert, too, and not only did they not get mobbed, nobody even noticed them!
So, if you want to meet your faves, or if you just want to have one of the most interesting discussions you'll ever have on what's really happening in Hollywood, get in touch with Rodney Bingenheimer—Hollywood's man-about-town!