When four people spend as much time together during the week as the Monkees do, they usually take off on their own private wild flings on the weekends.
But in the first Saturday of this month something happened to all four Monkees at the same time—they got hit, blop! between the eyes with Spring Fever. Even married Mike who's always so practical started daydreaming.
They all got together early in the morning and decided that the greatest way to celebrate the groovy day that was just starting in sunny California was to make up some picnic things and take them up into the ol' hills of Hollywood and have themselves a feast.
Micky got on the phone to some girls and fellows and then everybody dived into the kitchen to make up their favorite picnic bring-along type food.
Here's what they came up with in case you get hit with the same Monkee-biting bug and want to take off to your hills.
First, Davy cut thick slices of bread he'd made the night before and spread butter all over them—it's delicious, and Australian no less!
Davy's Aussie oatmeal bread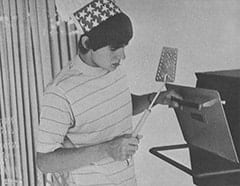 1 ¼ pound butter
⅓ cup dark brown sugar
¼ teaspoon baking soda
2 teaspoons water
1 ½ cups oatmeal
1 teaspoon powdered ginger
Cream the butter; add the sugar and beat until light and fluffy. Dissolve the baking soda in the water and add, stirring well. Add the oatmeal and ginger, mixing well. The mixture should be fairly firm. If necessary, add a little more oatmeal. Knead lightly on a floured surface. Preheat oven to 300°. Press the mixture into a buttered baking dish, about 8 by 12 inches. The dough should be about ½ inch thick. Bake in a 300° oven for 35 minutes, or until brown on top. Cut into squares while hot (if desired).
Peter's special sandwich mixture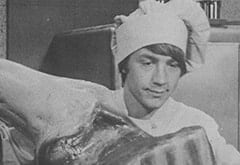 Equal parts: mashed avocado
cottage cheese
Mix together and sprinkle with sesame salt. Spread on crackers or on bread. Use butter and/or mayonnaise on the bread if desired.
Micky's super-duper sandwich
3 slices rye bread
3–4 slices salami
2 slices turkey (optional)
2 slices Swiss Cheese
Lettuce
Butter, mustard and mayonnaise
Butter first slice of bread, place salami on top. Cover with second slice of bread, spread mayonnaise on top. Put Swiss cheese on top of second slice of turkey if wanted. Cover with third slice which has mustard (face down). Cut into quarters.
Mike's spring-fever special sandwich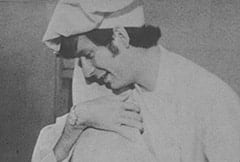 (This is especially good hot)
1 slice cheese
1 slice ham
2 slices bacon
Mayonnaise
For each sandwich, toast both slices of bread (crusts trimmed), on one side. Spread the untoasted side of one with mayonnaise, cover it with a slice of ham and then cheese, then place 2 partially cooked strips of bacon on top. Then turn the other piece of toast to brown. Place the sandwich under low broiler heat until the bacon is crisp and the cheese melted. Place mustard on the second toast and cover. Eat immediately if possible.