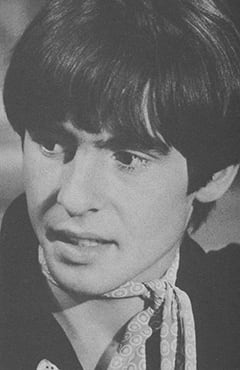 A Last-Minute Report of All The Monkees Action!
Here is a rundown of what's been happening with The Monkees.
Micky bought a go-kart just to drive around the streets surrounding his house; but, now, he wants to sell it for a faster one. He wants to buy an Endurokart which can reach speeds of 130–140 mph. He'll be directing an episode of the "Monkees". He also wrote the script for the episode. Micky's new nickname is "Fuzzy". The other Monkees decided on the name. Recently he's been showing movies at his house. His favorites are "Alice in Wonderland" and a cartoon called "The Dot and the Line". Micky went north to Los Gatos in California, to spend the Thanksgiving holidays with his family.
Davy lost his German shepherd puppie named "Susie" so he went out and bought another, and named it "Susie", only it's a male shepherd. He went to England for Christmas to spend a month with his family. I should mention here that the boys will have January off after filming the last episode for this season.
While in England, Davy bought an Honda sports car. He's waiting for it to be delivered. At last he heard it was on its way, via boat. He plays football with myself, Neko, David Pearl, some members of the production crew, and whoever else wants to play. We play on Sundays. His favorite positions are end and linebacker.
Mike moved into his new house last week and will just have time to get settled before his second child arrives, which should be early January. His black Cadillac limousine now has black-tinted windows and white pin-stripping around the detail work. He's been producing a group called the "Penny Arcade," and his own 51-piece orchestra, the "Wichita Train Whistle".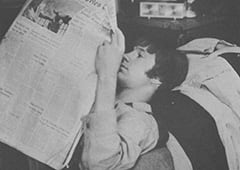 Peter's M.G.B.-GT, which he ordered while on tour in England, has arrived, and it's red—he's been studying Japanese, not only for the far east tour, but, also for painting. He wants to make Japanese paintings with lettering. Peter gave every member of the production crew love beads to wear. The grips, electricians, camera men, and prop men all wear beads now. Peter entertains the visitors on the set by playing his guitar or banjo.
Shooting for the show wrapped December 22; the boys will take a month ff [sic], then start shooting their first movie about the middle of February. They figure the feature to take about 8 weeks to film and then they'll do a far east tour. They plan to tour Hawaii, Australia, New Zealand, Japan, and the Phillipines [sic]. There is also talk of the series selling for the third season.
That's it. I'll have more exclusive Monkee scoops in next month's Flip! On sale February 8th!