Linda & the Stone Poneys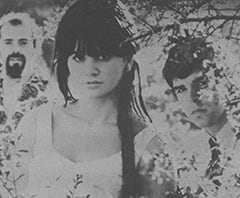 "Look for a girl with long black hair and big brown eyes, and that'll be Linda." We looked for a girl with long black hair and big brown eyes—and that was Linda Maria Ronstadt, the lead of The Stone Poneys.
Like Diana Ross with The Supremes, Linda has been given star billing with The Stone Poneys, a new group out of Los Angeles who were lucky enough to have their biggest hit written by an "unknown" songwriter named Michael Nesmith!
"Different Drum" pushed The Stone Poneys into the groups' groove, and they're going to be groovin' from here on! Linda (who was born on July 15, 1946 in Tucson, Arizona) has been groovin' ever since she was at the University of Arizona. But she realized that she had to go where the action was—Los Angeles or New York—and since LA was closer, she and Bob Kimmel (the second Stone Poney) moved to Los Angeles.
Ken Edwards, the lead guitarist, joined the group in LA—and The Stone Poneys were happening! After a two-week stand at The Troubadour (where Mr. Nesmith had also once performed), Capitol Records flipped for The Poneys and signed them to a long-term contract.
Which all proves that a beard (Bob's), a shag of curly hair (Ken's) and big brown eyes (Linda's) are what a Stone Poney is made of. Plus good music—Mike Nesmith-style!
The Sunshine Company
Happy!
That's all The Sunshine Company wants to be, and they invite you to enjoy life along with them! (How can you refuse such a groovy invitation?)
Maury Manseau is the leader of the group, and a groovy guitarist and singer.
Mary Nance is the only girl in the group, and Maury says that there's much more to Mary than her auburn hair and big blue eyes—like her rich and pleasant voice, for instance.
Larry Sims has been playing the guitar since he was 12, and he's happy with The Sunshine Company. But his true dream is to become a really fine actor. Which is what happens when you live in Hollywood.
Doug Mark also has a dream—to write a hit song. And he'd love to record it with The Sunshine Company. But it hasn't happened yet, although Doug's trying very hard.
Merel Bregante left his drum in a hard rock band to get into the more lyrical groove of TSC. He still produces a solid beat, which is the key to the group's sound, but he finds his drumming much more creative than it's ever been.
Maury, Mary, Doug, Larry and Merel have only one goal—to make you happy.
That's what The Sunshine Company is all about!