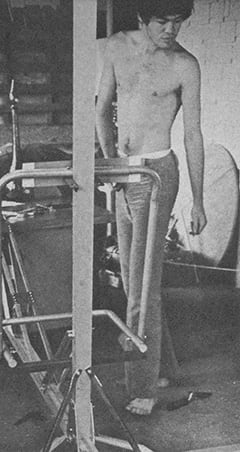 Unless you have the kind of heart that won't flutter and fail when it's excited, better stay away from this outasite flight with this mad, mad Monkee in his boss whirlybird!
Micky has always got some creative project going, whether it's making lampshades out of wire or redecorating his house. But would you ever guess that he's come up with the idea of building his very own gyrocopter! And of all places, he's assembling it in his living room!
So what's a gyrocopter, you ask? It's sort of like an airplane, but more like a helicopter. Anyway, it flies to about five hundred feet straight up in the air, and when Micky finishes building it, that's exactly what he plans to do with it!
Picture yourself hopping aboard and taking off with pilot Micky sitting right next to you. Quick as a flash, you're soaring above trees and over the Hollywood hills. The whole world is spread out below you, so you pull out your trusty Monkee Map and decide with Micky which groovy places to visit.
Peter's first
Imagine it's a lazy Saturday, so no one will be working at Screen Gems. So, first on the agenda, from Micky's house, you'll head clear across Hollywoodland toward the Tork residence. Micky just lands the copter on the side of the hill in Peter's yard and you pop in on Peter for a few minutes. He and some of his Buffalo Springfield buddies might be making music on guitars and sitars and tambourines, so you get in on the act for a few minutes.
Then you take off for a short shopping spree. When Micky lands in the parking lot of The Copper Skillet, the Monkees' fave lunch spot, you realize the first stop is Lenny's Boot Parlour across the street where Micky stocks up on some of the latest garb for his way-out wardrobe.
Next, it's off to Wallich's Music City where, for lack of landing space, you have to park the whirlybird on the roof! Micky will insist on buying you an album and, since you already have all the Monkee music (you always grab it the minute it's released, natch!) you choose the latest Beatle album.
Stop at Davy's
By now, the sun will be starting to set and the view from way up in the clouds is outasite! You sail over Sunset Strip, and then hover down to Davy's house where you, Micky and Davy talk, drink Cokes and listen to records for awhile. Davy's always got the welcome mat out for his friends and fans.
By this time, you and Micky are both starving, so you circle the Strip a few times, looking for a makeshift runway. You finally have to settle for the roof of the Whiskee-A-Go-Go, but that's cool since you're planning to return to that fave spot to dance after dinner.
Hamburger Hamlet is the place to eat, because you can sit outside at the sidewalk cafe tables and watch the hippies go by as you down cheeseburgers and malts. After dancing up a storm at the Whiskee, you climb back into the gyrocopter and sail off once more into the neon-and-searchlight bright Hollywood night sky.
This time it could be to Mike and Phyllis' super-fantastic new home where you hear the chords to Mike's latest song. Then you and Phyllis settle down to talk girl-talk while Micky shows Mike how he went about building the high-flying creation. Christian insists on getting into the act and sitting at the controls while the guys give him a flying lesson.
Now that you've literally dropped in on everyone, you and Micky can spend some time together—just the two of you. This is the part of the flight he's been saving up for last. You take off and head west, flying over West Los Angeles, Beverly Hills, and Malibu. The people look like ants and the cars like toys all sparkly with a million tiny lights that seem to be colored stars. It's all so beautiful that it takes your breath away!
Perfect ending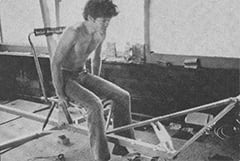 As you look out your window, you find it very dark below. But as you look closer, you see waves shimmering in the moonlight, and you realize you're flying low over the ocean!
The beach is the perfect landing strip, so Micky parks the 'copter there. You get out and walk along the edge of the waves. Maybe he'll even sing to you and give you a quick, soft kiss before you board again and fly back to Monkeeland.
Your tour in Micky's gyrocopter could very well be a reality before long… Micky is drilling in the last few bolts and he'll soon be ready to do some outasite soaring! Only one small hang-up remains. He's building it in his living-room, so he'll have to tear down an entire wall to get the boss bird out of his house!