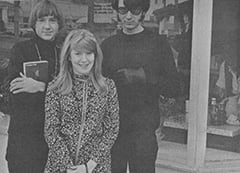 FaVE's "Meet the Monkees" Contest Winner's DREAM COMES TRUE!
It seemed like only a few minutes ago when United Air Lines Flight 289 had taken off from our airport in Portland, Oregon. I couldn't believe that now we were hundreds of miles from home and on the outskirts of Monkeeland! I felt that beyond the plane's door awaited three of the most glorious days I'd ever have in my life. Were all my hopes and dreams really coming true? Was I really going to meet the Monkees?
Sort of scary
But I'll have to admit I was a little afraid. All my friends had seen me off at the airport. Everyone on the plane knew who I was and why I was there and they all congratulated me and said they hoped I'd have a good time. Thoughts of "Monkees" were all I had on my mind.
Kam Lytton, a writer from FaVE, and Roland Thurman, FaVE's photographer, met me at Los Angeles International Airport and we hit it off right from the start. They took my mom and me to get our baggage. I had several suitcases, filled mostly with presents from my friends for the Monkees, presents that they had made themselves. There was a custom-designed psychedelic phone book for Peter containing one number—that of the girl who made it for him! And there was a bracelet with "David" engraved on it. Plus nearly a hundred other goodies.
While we were zipping down the freeway, I noticed all the cars and before I realized what I was saying, out came "Hey, look at all the California license plates!" Funniest thing, since we were in California! But in Oregon I always look for them because they might be from Monkeeland.
Magic words
As we left the freeway at the first Hollywood exit, I saw the tall, modern FaVE office building at Highland and Hollywood Boulevard. Here's where it all started for me—the place to where I'd mailed a little slip of paper with a few words on it. They had been words that I felt about the four most wonderful guys in the world, Davy, Micky, Peter and Mike, and they turned out to be the luckiest words I'd ever written!
Even with the Christmas trees all along the street, it was just like summer to me, all warm and sunny—sixty-five degrees is hot where I come from! We checked into the hotel on Hollywood Boulevard, right across from Grauman's Chinese Theatre and went upstairs to our room clear at the top, on the twelfth floor.
Flower power from each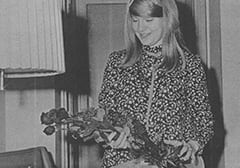 Inside the room FaVE had reserved for me, the first thing I saw was a long gold box with a pink ribbon around it. I ran over and opened it. Inside I found four long-stemmed red roses, one from each of the Monkees!
There was a little one that hadn't quite opened that had to be from Davy. The one with the leaves turning all crazily every which way must have been Micky's! The beautiful one was just right for Peter and there was one that almost looked serious, from Mike! I put them in water right away.
But that wasn't all! Would you believe five presents from the guys? It was just like Christmas! There was the grooviest pink, yellow and orange mini-shift from Davy, a yellow beret from Mike, a flower pin from Peter, and an orange shoulder bag from Micky! Besides that they all gave me a pair of black Monkee mini-boots together! A whole outfit plus four roses from the four greatest guys in the world!
I hurried and brushed my hair and freshened myself up. It was 12:45 and we were supposed to be at the Copper Skillet, the Monkees' fave lunch spot, at 1:00 for lunch.
We walked up the sidewalk to Sunset Boulevard, looking in the Copper Skillet windows, trying to see if Micky was there. I just couldn't go back without meeting him! There were other stars like Bobby Sherman but no Monkees.
Inside, I went around, touching all the tables—maybe they had eaten at one of them! We sat by a window facing the direction Micky would be coming from. I didn't even think to read the menu—I just kept looking up and down the street. Finally the waitress suggested a hamburger. Then I remembered that hamburgers had always been my favorite food, so a hamburger it was.
Spots Micky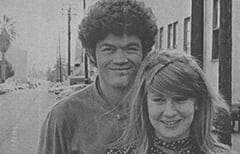 I waited and then—there he was! Micky was riding in the back seat of a black Mustang with some very serious-looking people, just a few feet from me! But they couldn't come in. There was no place to park!
I was disappointed but so excited at having seen him! Anyway, I hoped I'd see him later and we'd get the chance to talk.
When my hamburger came, I tried to eat it but I just couldn't. I could get down only a couple bites because I was much too excited.
Peter knew her!!
Finally 2 o'clock came—time for the Monkees to go back to the set. We started to walk toward the guard's gate at Screen Gems. We began gabbing and for some reason I happened to glance back into the Copper Skillet window. Someone was smiling and pointing at me. It was… PETER!! He knew me from my picture in FaVE! He and Mike had just gone into the restaurant and started to sit down in a booth when they spotted me. Peter was motioning for me to come back in. So, of course, we did!
"Hi! Great to see you!" he said.
I couldn't believe he'd recognized me first and I babbled something like "How did you know?"
"From your picture. I know who you are. You're Kim Larson and you wrote some beautiful things about us! Come on, join us!"
I did and Mike nodded hello, but Peter was the one who was talking. He's adorable and really a crazy guy! He was always cutting up, kind of wild like Micky.
Peter talked about my contest entry and about the show.
"Come on out and let's get some pictures on the sidewalk," he said.
So out we went and I got right between Peter and Mike and we all smiled for the camera. They were both so friendly and funny! We walked down Sunset Boulevard together and up to the guard gate. Then they said they'd see me later and hurried into the set.
I looked around. I was right by Stage Seven, where the Monkees spend so many hours making the show. I even saw some of the Monkee cars in the parking lot.
Then that same black Mustang turned down the street and there was Micky again. The car still had those serious people in it but Micky turned around and waved at me. I was sure I wouldn't get to see him for a few hours yet because he looked so busy, but as soon as the guard had let the car into the gate, he hopped out and came back to me. He's so cute!
Meets Micky
He came up and apologized for not being in the Copper Skillet for lunch. Then somebody yelled from across the lot, "Hurry up, Micky! Everything's late as it is! We're going over to the Columbia ranch now to shoot and we're leaving in a few minutes!"
But he shouted back, "Just a second!"
Then he turned to me and put his arm around my shoulders. I melted! "Why don't we have a picture or two taken together and then I'll see you at the set later—OK?"
It sure was OK by me! After that, he headed for the Stage Seven entrance to get ready to move to the ranch.
Then I turned around and saw a car driving down Beachwood right toward me. Davy was driving! I knew he was late because Micky was already inside. But when Davy went by, he smiled and waved to me. He knew who I was, too! Then he disappeared around the corner. I thought to myself, "Just a few short hours and I'll be with him. I would be Davy Jones' date tonight!"
It would be a few minutes before they would get all their equipment out there and set up and I wanted to see some of the Monkee hangouts around the area.
We walked over to the magazine stand where Peter goes and started glancing through the magazines—everywhere I looked, I saw pictures on covers of Peter, Micky, Mike and Davy. Of course, FaVE was right there! I saw all the papers and magazines of the show business world—"Billboard", "Daily Variety", "Hollywood Reporter." I knew that all the Monkees keep up on them, so I bought a copy of each.
Then we went next door to Lenny's Boot Parlor where the Monkees often buy their clothes. It's full of groovy clothes—the exact type of store that the Monkees would like.
Visiting the set
It was time to head out for the ranch by then, because everyone had left with the cameras and all that. When we got there, we had to walk through deep mud because it had rained the day before and the ranch is authentic, right down to the ground!
The Monkees had just gotten there, but they weren't in sight because, instead of being on the Western street, they were going to film way over in the jungle area. So we trudged through more mud. We couldn't seem to spot them, but from far away, I could hear someone yelling directions. And I'd know Micky's voice anywhere!
On the way, I saw who I thought were the Monkees from a distance, but it turned out to be their stand-ins who were dressed up, playing their doubles. The first Monkee we saw when we got to the set was the director, Micky. He was trying to get this plant to grow for the scene and they were also trying to blow some smoke in a certain direction, but the wind kept blowing it the wrong way. Finally it worked but then it all came out at once and everyone was coughing.
Kim and Davy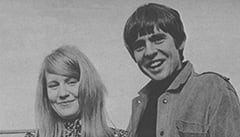 Suddenly, I heard this English accent saying "Hi, Kim. How are you?" I turned around and there he was—Davy Jones! And he had come up to me. Those guys are so thoughtful. They really didn't have to bother, since they were so busy. Davy suggested having some pictures taken, so he put his arm around me—and I never even thought I'd touch him!
After we had talked a couple of minutes, Davy grabbed Micky and said "Have you met Kim?"
And Micky answered, "Yes, I sure have! People have introduced us eight times now!" It was really funny!
We stayed for awhile to watch them film. They really work! Then it was time to return to Screen Gems and pick up the Monkeemobile for my Monkeeland tour.
When we got there, lots of girls were standing around the guard station and they asked me all kinds of questions like, "Are you really going to be Davy's date tonight?" and "Are you honestly going to go to all their houses in the Monkeemobile?" I answered yes, because it was all true. I had no idea how they'd found out about it until I remembered it had all been printed in FaVE.
I'd already met the Fabulous Four, talked to them and had my picture taken with them. I knew I was the luckiest girl in the whole United States—in the whole world, in fact!
Kiss from Davy?
The girls talked to me and asked me how it felt to win, how it felt to have met the Monkees. One even said "Do you think that Davy might… kiss you?!" And I just shrugged. Who knew? Everything was so magical, anything could happen!