DAVY… for making Kim Larson's visit to Hollywood a magic memory she'll treasure always.
PETER… for pointing the way to a beautiful spiritual life for everyone.
MIKE… for being the most patient, loving and considerate father in the whole wide world.
MICKY… for all he's done to bring about a true understanding of the dignity and nobility of the American Indian.
Here are this month's winners of FaVE's beautiful people flower power award. Peace and love to them from FaVE.
SALLY FIELD… for the wonderful sweetness of her portrayal of Sister Bertrille on "The Flying Nun".
TOMMY SMOTHERS… for sending our way one of the best comedy shows on TV.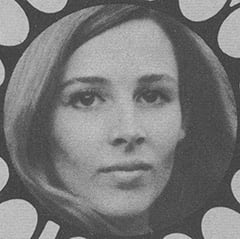 PHYLLIS… for being the loveliest mother and the Number 1 femme fave in the U.S.A.!!
PAUL REVERE… for bringing us all the beautiful new Raiders to sing along with Mark.