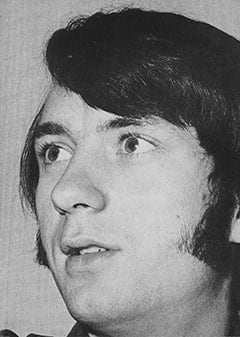 High in the Hollywood Hills, over on the far side of America, is a house called Villa Antelo. And one day last week the owner decided to put in a long-distance call to London, England; to me. Took time getting through but eventually a well-known, super-deep, drawling voice with "Texas" stamped all over it came through crystal clear cross thousands of miles.
The voice of Mike Nesmith. Even the operator was suitably impressed. Mike was phoning to talk about things in general, his house in particular and just about anything else that took his fancy.
"Hi, this is Monkee Mike and I gotta lot to tell you but you don't have to worry as I'm paying for the call! Seems a lot of you in Britain want to know more about where I live and I sure don't mind sharing my household secrets with you because I figure it's great that you're so interested. No, on second thoughts, I'll keep just one or two little personal secrets to myself.
"Let's see—my house. Well, it's named after Antelo Drive, and Phyllis and I have tried to adapt the whole place to suit our own personal taste. Like we got it all decorated in contemporary style. I guess the real gas is that the house is situated on top of a hill which gives us a 360 degree view all the way round. Look out one way and you can almost see the Pacific Ocean.
"Look the other way, and you see the valley, which is also real groovy scenery. When we started living here, it was just a single-storey house, a bungalow, but we added on a whole upstairs department. There's a bedroom for Christian and a special guest room. Two beds upstairs, in fact, and two downstairs. Makes us even higher in the sky.
"Oh yeah, I have my own special den. Centre-piece is a vast long table say nearly twenty feet long. Mostly this is littered up with all the rubbish I collect, like jottings for new songs and some notes I made that I can't even read right now. I'm not the greatest writer in the world—by which I mean that my scribbles are unintelligible to anybody else!"
Me: Mike, what musical equipment have you got at home?
"Music, in some form or other, is just about the dominant thing round our place. But equipment? Hang on while I just check for you. Well, I can see at least four guitars, but I got an idea there are some more maybe upstairs. Two organs and two pianos—oh, yeah, and my own collection of amplifiers.
"I've also got my own studio. I built it up from scratch and it measures around twenty feet by twenty feet. But when we want to do a big session, it really isn't big enough. So I plan to switch the garage over and that will eventually become the main part of the studio—the present place will be the control room. That way we'll be able to experiment more with sounds… finding something new is quite an obsession with me these days.
"But most everywhere you go on the Nesmith estate you'll hear music. We've got around three acres of grounds here and we have quiet 'n' peaceful music piped out over the whole area. The speakers are hidden way up in the trees and deep inside the bushes. So you can go for a stroll and there in the background are some easy sounds. Real restful after a day in the studios working on a Monkee show!
"And all the rooms are fitted out for sound. That good ole piped music keeps on going all the time, though not so loud as to interfere with conversation. It's a good atmosphere for parties.
"I was telling you about this constant search for new sounds. I'd like to elaborate on that a little, because it's a very serious part of my life right now. Soon you'll be hearing our new LP and we're very excited about it because we've got some really new ideas going for us.
"These ideas came up through working nights in the studio. Boy am I doing a lot of talking—sorry to go on so, but there are so many things I'm excited about right now. You can say that we're all very happy about most things, specially about 'Daydream Believer' going on to do so well your side of the Atlantic. Just for a moment there we were worried, but the fans came through to clinch it. And it was just great here in the States.
"You know how it is, you get a few hit records and then every one gives you palpitations. So many guys are waiting to pounce if you flunk out on a record. 'The Monkees are finished'—all that kinda thing. So let's just say we're all very grateful to all you Monkee fans everywhere in the world. All the other guys say 'Hi', too".
Me: Just before you go, how are you getting on with your dogs and cars?
We've got two dogs running round the place. That's Frak and Stotte [sic]—Stotte [sic] is a German shepherd dog… boy, a real killer police dog. Well, so we tell any unwelcome guests! Plenty of room for him to run around, baring his fangs and barking loud enough to drown out the music. Still, you'll know why he's so energetic when I tell you he used to belong to Davy—he had him when he was living with me.
"Funny thing about the Radford mini. You probably know I had it done out with smoked glass all the way round. Well, one of the local police officers just wouldn't believe that I could see outa the windscreen when I was driving. He called me into the side then had to get in the car and test it for himself. Never seen anything like that before, obviously, and he went away shaking his head and muttering to himself.
"Course living here is even more exciting now there's the addition to the Nesmith family. I kinda like this role of playing the proud poppa. Oh yeah, Phyllis just reminded me about our bathroom—she's very proud of it. We have these sunken marble tubs in there—like old Roman times. Makes me scared just thinking about all the money I must have spent. But it's all worthwhile, 'cos I enjoy being at home more than being anywhere else.
"Hear those pips? Guess I been talking much too long. Don't you forget now—you give my love and everything to all the fans in Britain. Hope to talk to you all again real soon.
"Goodbye now."
And the amiable Texan replaced the receiver.