Fabulous JOHN, PAUL, RINGO, and GEORGE continue their incredible pop fantasy life. They've completed an hour-long TV special which they produced, wrote, directed, and starred in themselves. Actually, JOHN and PAUL did most of the work—RINGO and GEORGE just meditated and looked good. The show, if you don't know already, is called "THE MAGICAL MYSTERY TOUR," and it promises to be a wild event indeed. It's about a trip the BEATLES took (in an old bus which they psychedelicized) around the English countryside. They brought some friends with them and picked up dozens of people they met along the way—old people, teenyboppers, rock 'n' roll singers, stripteasers, etc.
What else for the BEATLES? A store? That's right, the BEATLES are financing a very strange shop that will be called, simply, APPLE. It's being designed by a quartet of wild world wanderers named SIMON, MARIJKE, JOSJE, and BARRY. Who knows what kind of insane things they will sell there.
Newsies:
The BEATLES are off to visit with their meditation mentor, MAHARISHI MAHESH YOGI. Now, MIA FARROW, the ROLLING STONES, and DONOVAN have become disciples. Hippies recently paraded through the Haight-Ashbury section of San Francisco in funeral garb, carrying a coffin draped in black. This ceremony marked the "death of the Haight" as the West Coast center of hippiedom. DAVID HEMMINGS, star of "BLOWUP," announced that he has been secretly married to actress GALE HUNNICUT. CHAD STUART and JEREMY CLYDE's new album, "OF CABBAGES AND KINGS," is a new thing for that group. Creating quite a sensation among the Undergrounders of New York and San Francisco, is the trio, the CREAM. Another Undergroundie bound to surface: the ELECTRIC FLAG, AN AMERICAN MUSIC BAND. They did the soundtrack for the ROGER CORMAN / PETER FONDA flick, "THE TRIP." RAIDER MARK LINDSAY was fined 90 dollars for a speeding violation. The VANILLA FUDGE's stunning first album moved up the charts like lightning.
MAMA CASS was arrested in London for stealing twenty dollars worth of blankets and a key from the Embassy House Hotel, where she had stayed several months ago. This was the first time she had been in England since the alleged theft, and she was picked up by the police as soon as she arrived at the airport. The MAMAS AND PAPAS are on an extended European vacation.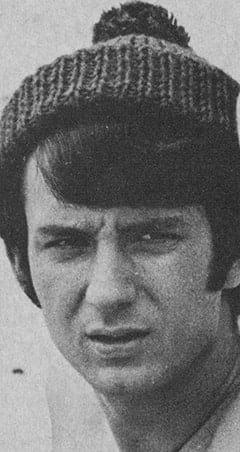 That old (he's not a teen anymore) PETER NOONE is up to something new. He met singing chick SUSAN MOORE, whose voice flipped him so much that he decided to produce her records. He's done two so far. You better watch out for that girl—she's coming on strong. By the way, PETER was in France on an extended vacation when he met the very darling singer and actress, FRANCOISE HARDY. He was impressed.
MONKEE MIKE NESMITH has been designing some very groovy fashions, using his wife PHYLLIS as the model. Some fashion moguls have approached him with contracts in their hands. Mike is excited about this new field, but he hasn't made any agreements yet. He wants some time to think things over. Of course, this won't affect his position with the MONKEES—he's not about to leave that set-up. This would be just a minor sideline.