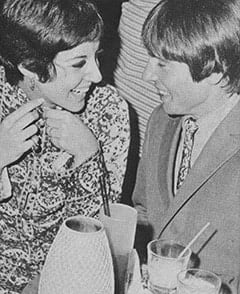 Look how long it took sweet-'n'-sexy NANCY SINATRA to win her first goldisk, BOOTS, in 1966 A.D. A dozen pre-BOOTS singles with wet fuses spluttered out though she tried like a firebug to make them catch fire and take off.
All you had to do was ask her to do her thing on any rinky-dink 40-watt station and she'd show up to plug her song and rap with the jock about it.
After Boots broke the jinx, Nancy had nothing but disclicks. She made it on her own with no help from her old man. The men with the money bags laid it out for her Movin' With Nancy TV spectac to the tune of half a million buck$. Guests Frank Sinatra and Dean Martin were hired for the job, and not at cut-rates either.
Maybe it could also happen to another ambitious daughter of a famous dad, namely Dean Martin. Deana Martin, 19, Dino's step-sister had a couple of ballad bombs on Reprise and earned pin-money on a show or two with her pa. Elder sis Gail, 21, was warbling the same type of songs with the same luck-outs.
Now Deana darling went drastic, cut her knotty hair, sent her conservative clothes to Good Will, splurged on a wild boutique wardrobe and swapped her pretty songbag for a hard rock sock.
One recent memorable night Deana unwrapped and introed her new band, the Chromium Plated Streamlined Baby to a celeb-packed audience at the Whiskee-a-Go-Go on teeming Sunset Strip. Belting out the power-packed, hard-driving freakadelic rock, she brought down the house. Quite a night for the kids! Uncle Milty Berle emceed the opener with a gaggle of knee-slappers. Dino Martin and Tina Sinatra hosted. Davy Jones and Sal Mineo stayed through two shows. Figure the whyfore of this: Davy popped into the Whiskee office and changed clothes three times during the evening.
A few nights later Davy showed up at the press and swellebrity opening of another fabulous new band, the Lewis and Clarke Expedition at Ledbetter's Jazz Club in West L.A. This time Davy's date was the Flying Nun, Sally Field. A cuter couple would be hard to find.
David Crosby believes the Monkees quartet is coming up as one of the biggest, brightest, heaviest music aggregations of the world. He points out that the Monkees, first accepted by the so-called bubble-gummer teeny-whopper set, have now wormed (maybe wormed isn't exactly the right word!) their way into the hearts of the super-teens and young adults. We dug Crosby's capsule history of the birth of the Monkees and where they're at today. In an essay for the underground press, David wrote:
"There was a man and he said to his flunky, 'Hey, Sol, I want ya to go out and buy me four long haired cats, but not too long. We wanta keep it just right. I want a pretty one, and I want one of those, and I want one of these and… ah… one of those other kinds. Now I wancha to take five hundred million dollars to put the group together and we'll…'
"And he DID it," Crosby's story continues. "Only trouble is that they picked four dynamite cats… bright, aware, grooving, creative cats. The cats were dropped into a freak scene and were stunned by it at first, buffeted by it, and attempted to cope with it, and have now outgrown it. They're growing faster than anybody I know, man! And they are coming out of left field and making it monstrously with the Eastablishment people of all ages.
"The Monkees are well aware of what they've got and what they can do with it and they're groovy cats. They're human beings of a high order and they like Love and they like nice things and quality music."
Dave Crosby never bad-mouths anybody but he rarely raves like that about anyone either. Dave, one of the original Byrds, has been pushed out of the group in a fast double squeeze play that put Gene Clarke [sic] in again. Lean Gene who quit the Byrds two years ago to form his own band, is jumpin' joyful over his reunion with Jim (Roger) McGuinn, Chris Hillman and Mike Clarke. Not only did Gene bomb on his own but the Byrds slipped in popularity too.
We think the changes will work out for the good of all. Dave is too much of a maverick to work in team harness. As of now he intends to live on his new schooner, create new music and perhaps write a book before returning to the shoreside rat race. He was asked to join the Buffalo Springfield, now in the throes of a music and management reorganization, but this would put him right back in harness. He'll do his thing in his own independent way.
Way back in the pre-rock era there was a teen-age Dakota kid named Bobby Vee who owned and operated a charmy smile, cute dimple and go-go-gorgeous pipes that earned him five gold records in a row.
In late 1963 the earth-shaking Beatlequake created a gigantic tidal wave of new sound that swept Bobby, Fabian, Frankie Avalon, Tommy Sands and other idols of the day into the Ocean of Oblivion. Five years, one wife, three children and 22 non-hit records later, Bobby Vee rose out of the briny deep to make his own waves with a monster smash, Come Back When You Grow Up, and a fast-rising album.
We remember when Bobby got his first showbiz break along about 1959–60. He was hired in a hurry to topline a Minneapolis show replacing an artist, Buddy Holly, who couldn't appear because of his death in an air crash on the way to the place. Bobby's rush-rush rehearsal came on as chaos on account of an eccentric, oddball piano player in the background band whose unprovoked arpeggios, dislocated glissandos and wild crescendos drove Bobby up the wall. Finally he had to tell the would-be Van Cliburn to go flog the ivories somewhere else. And thus it was that Bobby Vee became the only guy in the world to fire Bob Dylan off the concert stage.
Dylan, after a year-long absence from the music scene, is making another heroic effort to finish the album he left half-undone last spring when he walked out of a Nashville recording studio without explanation. He went home and wrote on his book Tarantualla, another unfinished project. Dylan's reappearance shocked the recording crew. He'd cut his long curly hair, sprouted a swooping mustache, dropped 20 pounds, looked wan and spoke low—nothing like the Bumptous Bobby they'd known.
While Dylan was on the inactive list, Donovan disciples and press agents began hailing him as the New Messiah of Mystical Music and Poet Laureate of the Hip Cult. If anyone deserves such an exalted title, the Dylan followers say, it's Bobby Vee's former piano player.
Can we kick the Beatles habit? Nah, not as long as they persist in laying bright new exciting stuff on us like the self-scripted, self-directed, self-produced Magical Mystery TV Tour. It should have been expanded into a full-length movie so we could get our fill of encores. Many Beatle people saw Hard Days Night and Help! ten or twenty times. One Saginaw chick claims she saw Help! 100 times.
It says here on this publicity handout that Ringo Starr, Marlon Brando and Richard Burton will cameo co-star in flippy-trippy movie Candy, based on a scorchy novel cooled out by a squad of sweating script scribes. Mama Michelle Gilliam, the Mrs. John Phillips, was offered the title role—she'd be a perfect Candy—but had to bow out as she'll be expecting about the time the picture will be shooting in Rome. Runner-up is comedienne Jill Banner, corn-fed Iowa doll who zapped audiences as the super-sunshiny Snow White in James Coburn's goofy-spoofy The President's Analyst.
The contemporary scene is changing so fast that Sonny and Cher must run to keep up. Once they were the advance guard of the tradition-breakers, now they have a sinking feeling their feet are dragging.
"The extreme hippies today consider us squares, and the squares think we're hippies," sighed Sonny Bono. "LSD made the difference. We're beginning to preach a little more in our songs because we're worried about the kids. We feel a message coming on."
S/C aren't museum pieces yet. Sonny is 27, Cher is 21. She often says she had more fun when she was 17. Growing up is hard to do.
When Terence Stamp is on Our Town for a film or a spree he's a familiar and spectacular sight around the streets and discotheques. His customary garb includes fringed suede jackets, moccasins, Indian beads, mystic symbol neckchains and all the hippie regalia but flowers in his hair.
After finishing Blue at Paramount, Terry spent his last night in California dancing at the Daisy Club with cool blonde Peggy Lipton before jetting to London and from there driving to Dorset for a gathering of press and VIPs to tour the Thomas Hardy country where the fantastic film Far From The Maddening Crowd was made. Terry and Julie Christie could win Oscars for their performances in that super-film.
When his super-jet was grounded in Ireland by dense fogs in London, Terry frantically sought and found a daredevil chopper pilot to fly him direct to Dorset. But Dorset was socked in by rain and fog. The pilot landed blind in a sheep pasture ten miles from town. Terry started hiking. After slogging through mud and slime for three miles he reached a road and hitched a ride on a hay wagon.
Muddy from head to toe, smelly from the unmanicured pasture, drenched to the skin, wearing the weird hippie rig and squatting on top of the hay load, Terence at last arrived at the fancy hotel where the VIP tour was to start from, two hours late. The MGM studio brass accused him of pulling off a very unfunny gag and even some of the VIPs were uptight because he was late. That in turn teed off the hot-headed Terry. Only Julie Christie, no stick-in-the-mud, thought he was beautiful. When she heard the story of his adventures, she laughed and laughed until she cried and nearly died.
Though he wears suits, matched ties and pocket hankies, and short hair, Bobby Darin is a devoted admirer of hippie doctrines and arts, especially the music. Says he: "They reflect a great deal of intelligence, insight and beauty. People who criticize can't differentiate between the true hippies and the hippiebums. Man, don't put the knock on hip to me. I'd be delighted to sing free at their pop festivals and love-ins but I can't just push my way in without being invited."
Mod folk weddings follow a new mode now, as witness last summer's marriage of Eric Burdon and Angie King.
Creed Batton, lead guitar Grass Roots, and bride, Joanne, were wedded in a solemn and colorful ceremony under the arch in the scented garden of the Oriental-Indian Self-Realization Temple, Santa Monica, by a Hindu holy man. The bride shimmered in a brocaded sari woven with love and patience by the silkworms of Kashmir in the snow-capped Karakoram Mountains of India, and the groom wore the loose flowing costume of the Valley of the Ganges.
The blessings of parenthood are about to be bestowed upon Brian and Marilyn Wilson, Michelle and John Phillips, Priscilla and Elvis Presley. Can you imagine what kind of a world it will be in 1984 when those kids are 15?
The Mama's and Papa's are in a state of confusion about their future as a group. Their planned concert tour and long European vacation was a turn-off. Denny was the first to cop out and come home to his girl friends and motor bikes. Next came Cass who had a happening in the London clink over a hotel bedding beef. Michelle and John are still on their trip at this writing. Cass said they're going to go their own ways for now and may record another album in about six months if the vibrations have changed for the better.
Networks and concert bookers want the Stones back now that they're off the hook on the drug charges. Someone suggested a title for their next TV show: The Rolling Stones Gather No Grass.