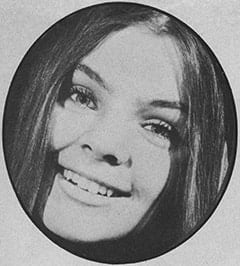 Jane Steele talks about her first Hollywood visit where she got to see her friends the Monkees!
My life since starting as an actress has been a continual whirl of meeting great performers and groovy people all over the country. I could hardly believe it when one of my favorite Broadway performers, Davy Jones, became a famous pop star with the Monkees.
I got a chance to meet all the Monkees over a year ago when I was Davy's guest at the Monkees' press reception in Chicago, which is my home. All this in my first 15 years!
I turned 16 last July, but the luckiest day of my life so far was September 21st. That was the day I got my driver's license and my agent told me that Walt Disney Studios wanted to interview me the following Monday!
Week in Hollywood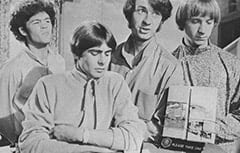 I had been planning to make my first trip to Hollywood for only two days, but so many things came up I got to stay a whole week in that fun city. I was busy at Disney Studios my first two days in Hollywood, but just the same I was able to enjoy the great weather and the beautiful mountains that surround Hollywood.
In the evening I had a ball going to "Wil Wright's Ice Cream Parlor," which is a great place decorated just like the old-time ice cream parlors, complete with the red and white striped table cloths. I ordered a banana split and I think it was the best I've ever had. Another night I looked at darling little puppies at a shop called "The Doggery."
My third day in town I left a message at the Screen Gems Studios for Davy to call me at my hotel if he got the chance. Later, just as I was leaving my hotel room, the phone rang and it was Davy! He invited me to visit him and the other Monkees on the set that afternoon. I could hardly wait!
Early that afternoon I had an appointment with producer John Derek in Beverly Hills. John Derek is the man who produced Dino Martin's film, "A Boy, A Girl." After meeting with Mr. Derek I zoomed over to Screen Gems to see the Monkees.
Visit with Monkees
Just when I arrived the director had called a break in shooting, so I had a great chance to visit with everyone. I got to meet the Monkees' director, Jim Frawley, who is just fantastic.
Davy was glad to see me and he was really interested in how all my interviews were coming along.
On the set, the episode that was being shot was about a ballerina who kept appearing at the Monkees' house in a red leotard, pink tutu and red ballet shoes. Peter was dressed as a Russian from whom the ballerina received red roses. The whole scene was very funny.
Have they changed?
The Monkees, as far as I can tell, haven't changed in the years since I first met them. They remembered me in Chicago and were just as friendly and fun as at our first meeting.
However, as a group, I don't think they are the same as a year ago because their music isn't the same as it was a year ago. The groovy thing about the Monkees is that they and their music are able to adapt and keep up with the times.
Even greater now
The Monkees have only changed for the better. For example, their hair and dress is a little bit different, but they're just keeping up with (and sometimes setting) the trends and styles of today. On the set Davy was wearing those East Indian clothes and he looked absolutely darling!
We didn't get to do anything together that evening because Davy wasn't feeling well and he left the set early. The other boys stayed on the set until 10 o'clock filming. The Monkees are so professional, I think many young and older performers could easily pattern themselves after the Monkees.
Fun all week
The rest of my fantastic week in Hollywood was spent doing so many different things in connection with my work. When I was free from the interviews and meetings I would try and see as much as I could around the city.
I went back to Wil Wright's for another banana split and I had breakfast one morning at Schwab's Drug Store. I went shopping at the many boutiques on the Sunset Strip, but my favorite boutique was "Paraphernalia" in Beverly Hills.
More than anything, the scenery in Hollywood was the best, the mountains were unbeatable! I enjoyed California so much I didn't want to leave. And believe me, I'm looking forward to the day I can go back. It's the grooviest!