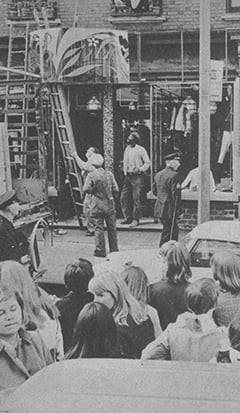 Davy opens his very own store in New York's Greenwich Village… where you can get clothes just as groovy as Davy's for almost nothing!
Davy Jones has, for many years, had a great debt hanging over his head. It is a debt that he invented because Davy feels he owes a great portion of his success to his fans.
For many months Davy has been searching for a way to pay back the admiration and respect he is continually given by his faithful followers. Finally, his searching stopped, Davy came upon the idea to open a shop, geared specifically to his followers and friends alike. His dream came true in "Zilch."
Davy's watchful eye
"Zilch" is the fantastic shop owned and guided by David in Greenwich Village in New York City. It features not only the grooviest, up-to-date clothes anywhere, but also a section for custom-made clothes. Inside, you'll see the most beautiful profile of David, made by lights flashing on and off in hundreds of different colors. It was a piece of art done by a group of artists in the Village.
After the rough ideas began on paper, Davy couldn't wait to get his shop open to the public. For several consecutive weekends Davy traveled to New York to check on the progress of the shop. As Davy remembers, "I wanted to put the shop together myself. Every weekend I'd sit down with the carpenters and explain just how I wanted this or that. Then when I'd come back the next weekend it would be done and I'd check everything over."
Finally finished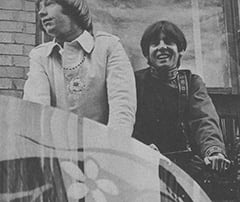 Then, finally, it was near completion. A big psychedelic sign marks the shop at 217 Thompson Street. There are two floors—the bottom floor was not yet completed for the grand opening. The ground floor features an exclusive line of clothes designed by Davy, himself. Also, this is where you can have a suit or dress custom tailored by Davy's personal tailor.
Upstairs is a wild room full of racks of the greatest clothes you've ever seen—"Zilch" coats, just like the East Indian coats Davy loves to wear, plus scarfs, beads, bells and sweaters galore. As Davy says, "Everything I chose for the store is what I'd wear myself."
Pay back debt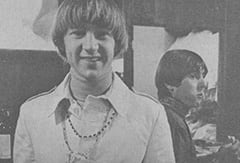 The beautiful part of the whole extravaganza, and this is the way Davy feels he's paying back his friends, is that all the clothes are very inexpensive. Sweaters you might buy elsewhere for 15 dollars only cost six dollars. You can find mod jackets for only six dollars. The profit will come mainly from a volume of mail orders, not from the prices of specific items.
To make this project extra special Davy held a grand opening in October for all his friends. He gathered up a group of friends from Hollywood—Peter Tork, Sally Field, Lynne Randell and a few others—and flew back to New York with them. He invited all his long-time friends from New York and they all met at his shop opening.
Fans invited too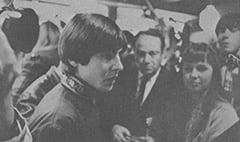 Davy also had his pal, Gary Stevens of WMCA in New York announce the opening so no one would be left out. Davy made sure this was done because, "I wanted the kids to see the opening. They are a part of me too, just like my close friends are."
The end result was a fabulous afternoon, where 2,000 fans saw Davy as he showed his friends around the shop. But even when the fun day ended and everyone left, Davy stayed on for two extra days working on the shop to add some more of that magic personal touch.
Because Davy realized that not everyone could be in New York and visit his shop, he has made up a complete catalogue, so that anyone can order his groovy gear through the mail. All you need do is send .25¢ to "Zilch", 217 Thompson Street, Greenwich Village, New York, New York. Happy shopping.